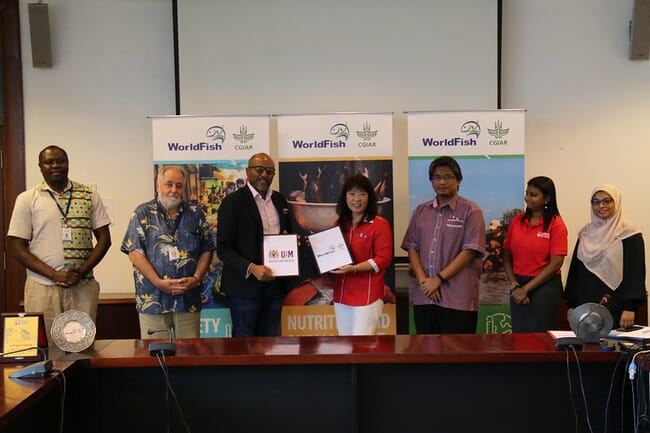 Collaboration between WorldFish and UPM dates as far back as the year 2000 when the two organisations, along with the other partner organisations, worked together on the Reefs at Risk in Southeast Asia project.

"It was only natural that the MOUs with UPM and USM be renewed. Our institutions have much in common with regard to producing innovations to transform aquatic food systems to be more sustainable and resilient for a growing population in a changing climate. We look forward to scaling the innovations by Malaysian researchers to the countries where WorldFish works in," said John Benzie, WorldFish's acting director of aquatic foods biosciences.
Other forms of collaboration include the implementation of a research project on strategies and options for increasing and sustaining fisheries and aquaculture production to benefit poor households in Asia between 2001 and 2004.
"UPM and WorldFish have enjoyed a long footing friendship with each other. Over the last several years, several programs have been established in the field of research by individual institutions on both sides. We will continue to maximize our respective strengths and comparative advantages to complement each other's strategic work, especially in the areas of fisheries and aquaculture. This will be through our research institute - International Institute of Aquaculture & Aquatic Sciences (I-AQUAS)," said Nazamid bin Saari, vice chancellor for research and innovation at UPM.
Two decades of cooperation
Since the first MoU was signed with USM in 2002, WorldFish and USM have worked on projects including the sensory evaluation of genetically improved farmed tilapia (GIFT) – a fast-growing strain of tilapia developed by WorldFish and partners through selective breeding – and red tilapia cultured in ponds using quantitative descriptive analysis to accumulate technical data on the farming of tilapia to assist the Malaysian government in its efforts to increase tilapia production.
"It makes a lot of sense for us to work with Universiti Putra Malaysia, which has a long history in agricultural research including aquatic food systems. The same goes for Universiti Sains Malaysia – Malaysia's only Accelerated Program for Excellence (APEX) university – which is just right at our doorstep here in Penang. Both are among the top research universities in Malaysia and by working together, we can bring the top minds from each institution together to make aquatic food systems more resilient and sustainable for the millions of people who depend on them," said Eddie Allison, WorldFish's acting director of sustainable food systems.
One of the most recent collaborations between WorldFish and USM was the co-hosting of the World Seafood Congress in 2019. The congress was attended by scientists, leaders and private sector actors, even the Food and Agriculture Organization of the United Nations (FAO), to discuss exciting research innovations and collaborations as well as investment opportunities for building a sustainable and inclusive aquatic foods industry.
"USM hopes that this collaboration with WorldFish will continue to enhance sustainable fisheries and aquaculture research and scientific knowledge – finding solutions and to understand issues about aquatic resources – and able to provide students with future jobs and studying opportunities. USM also aims to promote good citizenship and nation-building through strategic neighborhood outreach and impactful projects. Therefore, we hope that the collaboration between USM and WorldFish will create a symbiotic and dynamic environment and provide an ecosystem for researchers and students to conduct research for global sustainability for healthy people and planet," said Aileen Tan Shau Hwai, director of the Center for Marine and Coastal Studies (CEMACS) at USM.

Advancing the UN's Sustainable Development Goals
More than 800 million people – half of who are women – earn a living from fish and other aquatic foods grown in and harvested from oceans, lakes, rivers and ponds. Aquatic foods also supply 3.3 billion with 20 percent of their animal protein needs. Small fish, shellfish and seaweeds in particular have enormous nutritional value with a lower environmental footprint than land-based animals. Sustainable management of aquatic animals and plants means stored carbon dioxide that would have otherwise been released to the atmosphere.
"Our mission to end hunger and advance the 2030 Sustainable Development Goals through science and innovation to transform food, land and water systems with aquatic foods for healthier people and planet will be supported by fostering collaboration with universities in Malaysia, where WorldFish has been based for 22 years. Renewing the MOUs with both universities for a period of ten years shows our commitment to working with Malaysian institutions to achieve a food-secure future for all," said Essam Yassin Mohammed, WorldFish's interim director general and acting senior director of aquatic food systems at CGIAR.
The MOU exchange ceremony held at WorldFish Headquarters at Batu Maung, Penang was also attended by staff from UPM's International Institute of Aquaculture and Aquatic Sciences (I-AQUAS) as well as USM's Center for Marine and Costal Studies (CEMACS) and School of Biological Sciences (SBS).