Briefly describe your career in aquaculture.
I started to work as a diver last summer. After a few short-term contacts I got lucky and found a permanent job with Akva Marine Services, working as a diver, mainly servicing fish farms. I knew nothing about fish farming beforehand. I grew up in the mountains, in Hallingdal, but we used to drive past a fish farm on the way to grandfather's house and I always wondered what it was like under the water. I now know why Norway has made so much money from fish!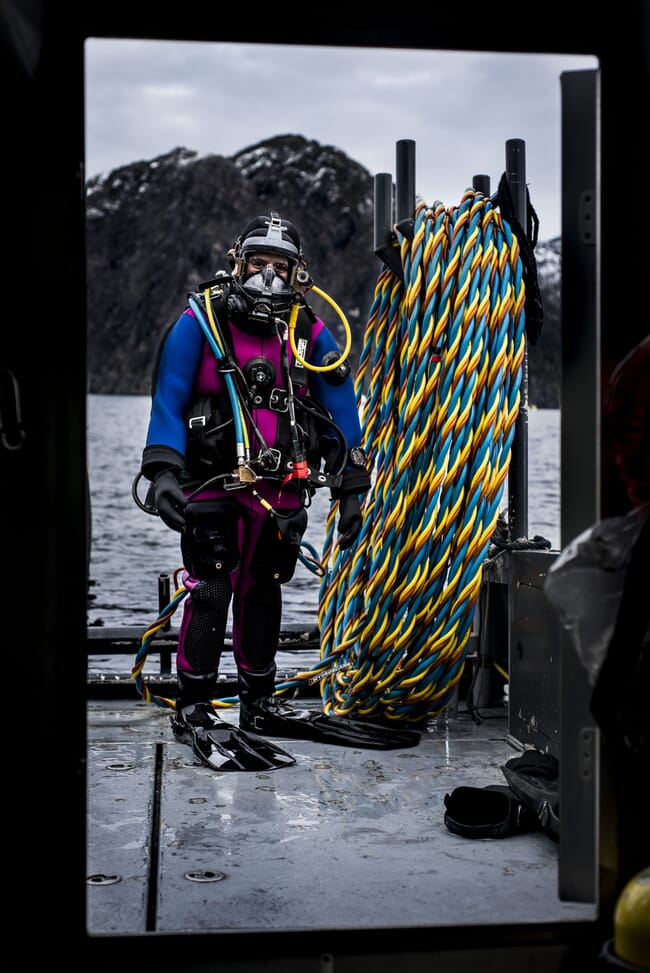 What inspired you to move from a career as a chef into aquaculture?

I'd been cheffing for seven years but had a bad knee which made it increasingly painful to stand and walk around all day. The doctors suggested that I should find a new profession, so I started to think about other possibilities. I have always loved water and diving, so I thought about becoming a scuba diving instructor. I applied for Norsk Yrkesdykkerskole (NYD), the Norwegian school for professional diving, and from there I realised that aquaculture was one of the best places for a diver to find work in Norway.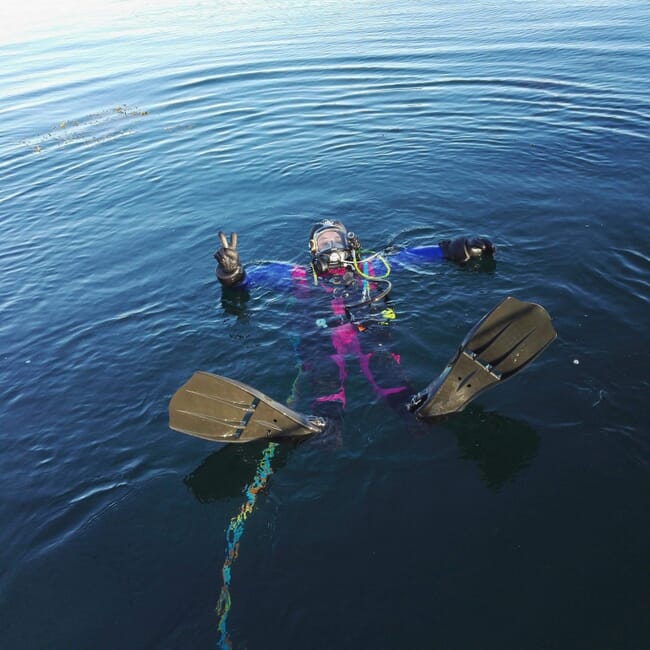 Was it hard to make the transition from the kitchen to being under the sea?
No, I don't think so. It's more fun to be able to dive, and be on a boat at sea all day, rather than being stuck in a kitchen. I love to be by the seaside. I have spent all my summer holidays by the sea in our cabin. I do miss my friends at home, but I'm hoping to start working two weeks on, two weeks off, so I'll be able to spend more time with them.
There have been some challenges. On my fist day on the job someone asked me to pass them a "chicken leg" – there are lots of tools with strange names and I had to learn a whole new vocabulary! I've also had to build my strength. To begin with my shoulders were very stiff from the work, but I've been to a physiotherapist and now do daily exercises to make it better and am getting stronger every day.
Describe a typical day in your current role.
On an ordinary day, we meet at the base [in Haugesund] where the boats and equipment are. The evening before, we get a note telling us where we are going the next morning. Then we check the equipment and sail off to our destination. The job varies: sometimes it's inspecting the cages and moorings, sometimes we have to fasten floats and sometimes we need to drill into the seabed to attach a mooring grid. We normally work in a team of three or four people and the amount of time we spend underwater depends on how deep we're going. If we're inspecting a standard 160m-diameter cage – though it depends on the depth of the nets – we're usually under for about 40 minutes at a time. My qualification allows me to go down to 52m, but we can only be down at that depth for six minutes at a time, so if I'm doing a job down there I have to be quick. If it's deeper that 52m we use machines.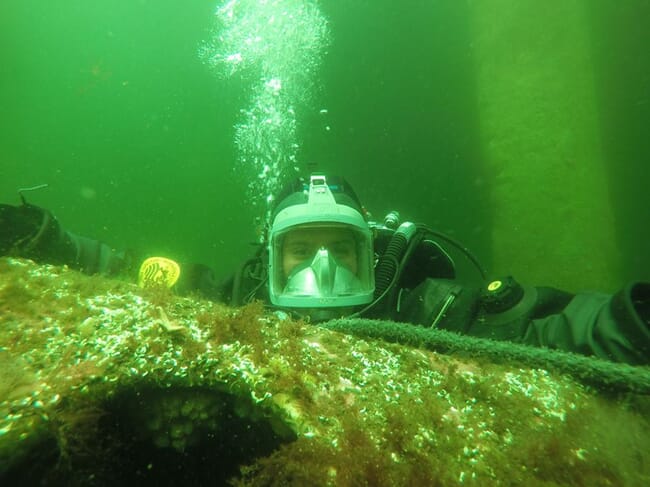 What's the most exciting thing about your job?
The most exciting experiences happen when you are outside the nets, fixing or checking things. Then you can suddenly discover seals, whales or orcas. I've seen quite a few Greenland sharks [Somniosus microcephalus, which can grow bigger even than great whites] when I've been diving. They look frightening, and their presence makes you want to get the job done more quickly, but I'm always thankful that I've not seen one inside the cage – that would be a different challenge!
It can be very exciting to be out in bad weather too: my very first day at work there was a serious storm and I assumed we wouldn't be going out – I'd never seen waves so big in my life – but there was a boat with a rope wrapped round its propeller and we had to go out. The rest of the crew were very calm and that helped persuade me that it was OK. It was exciting and we got the job done.
Are there any individuals or organisations in aquaculture who you've found particularly inspirational?
The really good divers who know how to perform perfectly inspire me. I've also been really impressed by the people who look after the fish in all weathers.
Have you encountered any challenges as a woman in your role as a diver?
Yes. I meet challenges every day, because it's a heavy job. Occasionally there are things I've not been strong enough to do, but I have very kind colleagues who help out and keep things running smoothly. Some firms said that they didn't want women divers when I was applying, despite that not being legal in Norway.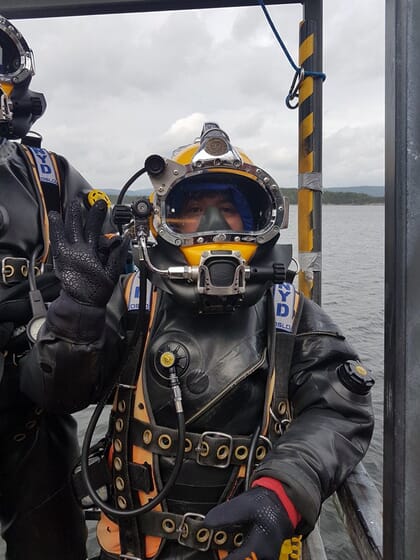 What advice would you give to women looking to start a career as commercial divers in aquaculture?
My advice to other girls who want to be divers is to try the best you can, be stubborn, don't give up and – when needed – don't be afraid to ask for help.
What would be your dream role in aquaculture and do you think it's realistic to achieve?
Just now my dream is to be as good a diver as possible. I want to be one of the best in the business and in time to be able to teach others how to improve too. I've still got a lot to learn, but I'm getting better all the time, and can now inspect a full 160m cage in 40 minutes. It used to take an hour.
What challenges in aquaculture would you most like to solve?
I think the fish should get more space, a greater feel of freedom.
What keeps you entertained when you're not inspecting fish farms?
I still like cooking and I still like cooking salmon – but only for other people, as I don't eat seafood myself. New challenges entertain me, the life at sea, sunshine on a calm day on the boat. That's when I enjoy myself. I also like climbing, hanging out with my friends and my boyfriend.