Sponsor message
Are you trying to break into aquaculture industry or already working in the field and looking to gain additional expertise for career development?
Women in aquaculture: Dr Solveig van Nes
Dr Solveig van Nes, Marine & Maritime Director of Creuna, Norway, has played a key role in initiating a digital education platform that teaches Norway's next generation about the vast potential of the ocean, as well as the importance of sustainability in harvesting and aquaculture.
Briefly describe your aquaculture career
I have 15 years' experience with research, R&D management and seafood industry collaboration from the research institute Nofima. This was followed by two years of managing aquaculture activities in the environmental NGO the Bellona Foundation, where I was working at the intersection between authorities, industry and research. I am currently in the field of communication and strategic advisory work as Marine & Maritime director of the Nordic customer-experience agency Creuna.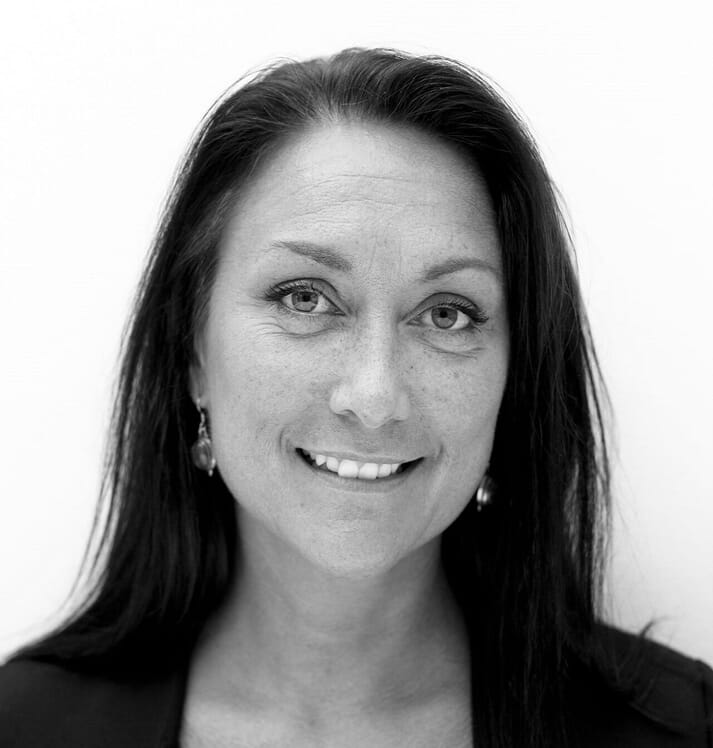 What inspired you to start in aquaculture?
A combination of luck, curiosity and stubbornness. I grew up along the coast and was always curious about life below the surface. This inspired me to study marine biology, followed by a doctorate in aquaculture disciplines. A long academic career meant a lot of work but it also confirmed my genuine passion for the marine environment and seafood, particularly when it comes to the environmental benefits of producing food at sea compared to on land. And, of course, seafood is healthy and delicious.
What's the most interesting, inspirational and unusual experience you've had working in aquaculture to date?
Some of the first experiences that come to mind are exciting ones, like meeting the minister of fisheries in Oman, and being part of an exotic, high-profile ceremony in Qingdao where the world's first offshore fish farm was handed over by a Chinese shipbuilder to SalMar, one of the largest salmon producers in Norway. Working in aquaculture has also sometimes taken me to places where you can't imagine people would live. For example, during a project in the northernmost parts of Norway, we had to conduct sampling at a fish farm in the Varanger Fjord – a place that could only be reached by boat. It was during winter (we were studying the effects of cold water temperatures) and it was windy with horizontal snow, air temperatures of -20°C, and it felt pitch dark due to the polar nights. But the scenery was breathtaking, and I realised I'd never have experienced it if it wasn't for my job in aquaculture.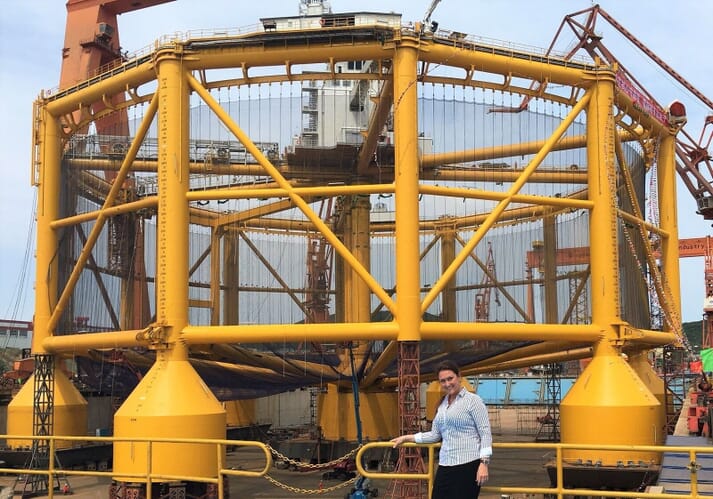 Can you elaborate on the importance of sustainability, how you address this and whether there is any technical or product innovation with the potential to change aquaculture?
Sustainability concerns have always been – and will always be – extremely important to me. They drive my dedication to the marine environment and aquaculture, education and knowledge transfer with respect to marine ecosystems and industries. One project I particularly liked working with – and still am following with interest – is a collaboration between Bellona and the seafood producer Lerøy Seafoods to commercialise integrated aquaculture – promoting the increased production of lower-trophic species like kelp that can use excess nutrients from higher-trophic species like salmon as a resource for increased growth, leading to recycling and increased biomass without increasing input.
One of the most exciting projects we've initiated at Creuna relevant for aquaculture is addressing sustainability concerns in a very modern, practical and exciting way. It is crucial that today's schoolchildren – the next generation – are prepared for the future, and our future lies in the ocean. They, and subsequent generations, need a basic knowledge of marine ecosystems and our seafood industry but unfortunately that's being provided today. Marine ecosystems, organisms, fisheries and aquaculture aren't taught until higher education and this is too late.
Our project aims to develop a digital education platform about the ocean and its industries. It will make teaching more fun for teachers and learning more fun for schoolchildren. More importantly, it will prepare today's younger generation for the future and give them the necessary knowledge to take care of our oceans while making use of their full potential. It will also stimulate them for recruitment and offer a more solid knowledge base at earlier stages that will enhance future R&D and innovation. It's very exciting to combine modern design and technology tools to develop an education platform with such an important purpose. Knowledge is undoubtedly the key to sustainable development.
Another exciting feature with digital technology is the possibility to share. Teachers can share tasks and pupils can compete or work together on bigger tasks. The content can also be constantly updated, ensuring relevancy and news value when it comes to information and external appearance.
Sponsor message
UMass Sustainable Aquaculture Online Courses Aquaculture is an increasingly important source of safe, nutritious, and sustainable seafood for people worldwide. Globally, aquaculture production must double by 2030 to keep pace with demand. These increases in demand for aquaculture products, food security considerations, and job creation have generated an increased need for skilled workers.
Discover how you can be part of this rapidly expanding industry.
Last but not least, using digital technology for education facilitates adaptive learning, or adaptive teaching, and embraces the fact that teaching can and should be adapted to individual scholars and students' learning needs.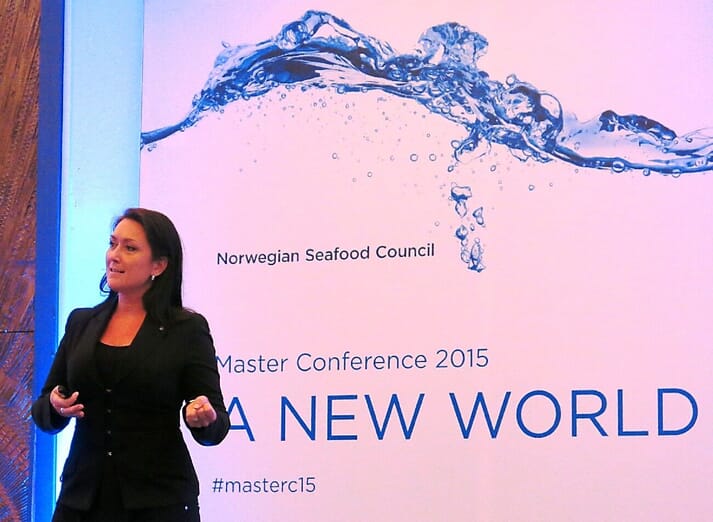 What tools are you using to develop this project?
The digital platform development needs technology (system development), design (look, feel, animation) and content (knowledge transfer and communication of subject matter). The learning experience is based on four principles or success criteria: knowledge about the ocean and sea-based industries, education programmes/curriculum standards, user-friendly mechanics and, last but not least, the fun factor. The aim is to complement existing primary subjects with knowledge about the oceans, and work closely with teachers, scholars, teacher-training colleges, academia, research and the industry itself to ensure relevance and quality of content, user-friendliness and educational quality.
How has the Norwegian aquaculture industry reacted to this project, and has it been implemented anywhere?
So far we have only completed the pilot. We worked on themes being taught in schools today, what technical equipment is available (how much digital access schools have), what the users (pupils and teachers) are like (what inspires them, their interests and needs), and we looked into different game mechanics and how they trigger learning. We are now working on financing the main project before we initiate development, so we are not quite there… yet! We hope that stakeholders such as the Norwegian Ministry of Trade, Industry and Fisheries, or the Ministry of Education and Research, and the seafood industry, acknowledge the need and potential to give marine ecosystems and seafood industries a place in the school curriculum, and contribute financially.
What would be your dream role in aquaculture and do you think it's realistic to achieve?
Seeing the ocean education platform being developed and implemented in Norwegian schools would be the first big, important step. My dream would be for it to then be translated and adapted to fit any geographic region. The knowhow and best practice to produce seafood in a sustainable way, environmentally, economically and socially, should be common knowledge around the world – even more so in developing countries. There is still a long way to go but I would love to be part of such an educational programme. As the Chinese saying goes: "Give a man fish and he has food for a day. Teach him aquaculture and he has food for the rest of his life."
What advice would you give to women looking to start a career in the aquaculture sector?
Go for it! I am confident that aquaculture will only become more and more important globally in securing food, feed, bioenergy and livelihoods and creating value. This industry will grow and develop for a long time to come, and will therefore definitely be an interesting and challenging (in a good way) employer in the long run.
What has been the aquaculture industry's greatest accomplishment in recent years?
The greatest accomplishment the Norwegian aquaculture industry has shown in recent years is its ability to adapt to and respond to increasing environmental demands and restrictions. The industry has invested greatly in R&D and innovation through the development licence initiative, with the aim of promoting knowledge and technology that will reduce the environmental footprint of seafood production and open up the use of new areas – such as offshore technology enabling farming practices at exposed areas at sea, which today's technology does not allow. This is still at a pilot stage, but I'm sure it will produce great results and innovations that are relevant to sustainable aquaculture development regardless of geography and species.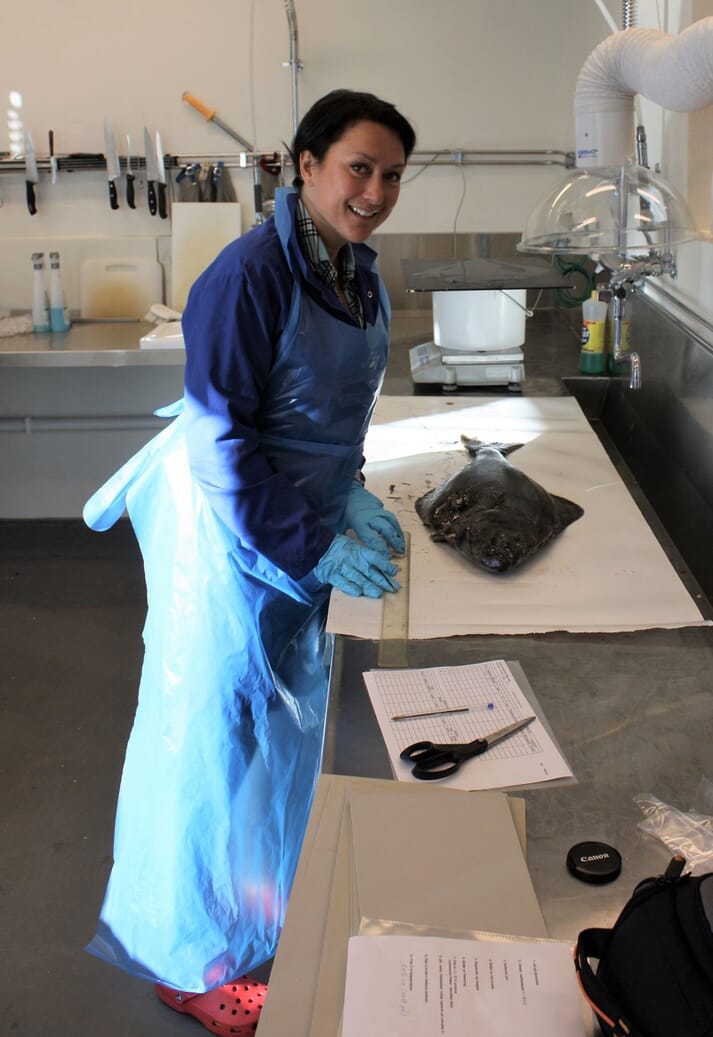 What outstanding challenge would you most like to solve?
I think I would like to solve the lack of awareness or realisation, or rather the need to quickly increase awareness and change. People in general, especially decision-makers, need to realise that we cannot continue to produce food as we do today. According to the Global Footprint Network, each year we consume 60 percent more resources than the earth can renew. Terrestrial food production requires 70 percent of our available freshwater resources. We need to feed 9 billion people by 2050. No food is not an option, so we need to produce more food using fewer (limited) resources, and with a lower environmental footprint. The answer is right in front of us.
Compared to terrestrial animal protein production, seafood production is by far more energy, resource and area efficient. Besides, seafood requires little or no use of freshwater. Seventy percent of our globe is covered by the oceans, but only 2 percent of our food energy from our oceans. Globally we still produce more tomatoes than fish.
We need to quickly find solutions for increased food production from the oceans. We need faster and more solution-oriented actions. That would be a large step in the right direction to solving an outstanding challenge.
What are your thoughts on women in aquaculture in Norway? How many are there in the field, and how are they represented in the industry?
Global surveys show that one in two seafood workers are women, and that unfortunately, they are over-represented in low-skilled, low-paid positions and account for less than 10 percent of company directors and a mere 1 percent of CEOs. In Norway, the numbers are a bit better with a 31 percent share of women on boards. This can partly be explained by a legal requirement introduced in 2003, that all public limited company boards must be made up of no more than 60 percent of one gender. But when it comes to top executive jobs – not affected by the 2003 legal requirement – the share of women is noticeably lower, and this does give the impression of a much more old-fashioned distribution of men and women.
We should keep in mind that the share of women in Norway's aquaculture industry is also lower in general. Statistics from the Norwegian Directorate of Fisheries for 2017 show that approximately 17 percent of all labour in aquaculture production is performed by women. We need to recruit more women to aquaculture to secure a good recruitment base for women in top executive jobs as well.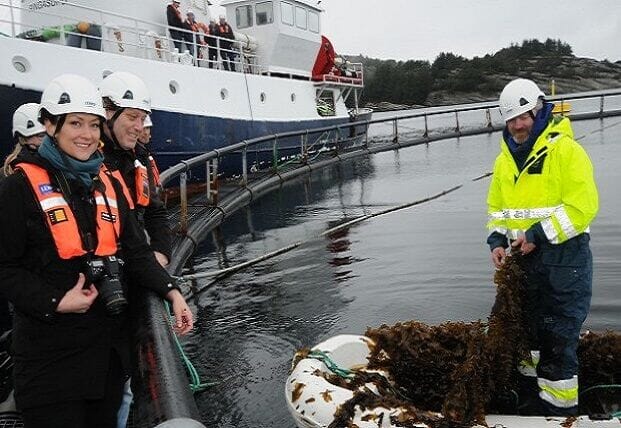 We've been talking about digital education platforms. Can you tell us the proportion of women studying aquaculture in Norway today?
When it comes to women studying aquaculture subjects at university in Norway, the numbers are very promising. In 2017 there were more female applicants than male (feamles made up 56 to 85 percent of applications in each aquaculture-related course). Since the total amount of applicants has also increased, so too have the standards for grades. And here comes the fun part: right now female applicants have better grades when they apply, which means that they will receive the best places in higher education for aquaculture disciplines. With time, this trend will also hopefully be reflected in top management.
From a personal perspective, despite the fact that I have been to many aquaculture events with a high share of men in top positions and have often presented before an audience of around 90 percent top male executives, I have always been treated with respect, and have not had any negative experiences. My experiences with the aquaculture industry are solely positive. So I can only advise more women to consider a career within aquaculture!
What can we do to encourage more young people to take an interest in aquaculture?
It seems that in Norway we are seeing a positive trend, with increasing numbers of applicants for higher education within aquaculture-related disciplines. But my experience is that a lot of young people are still unaware of the exciting job possibilities and enormous breadth of knowledge and type of jobs that exist within aquaculture. The school project I described would be a big step in the right direction for recruitment and early curiosity and engagement in aquaculture. The aquaculture sector itself also has a lot of potential to increase its presence in a positive sense, and take a more proactive role in communicating what it is and what it does. It has good stories to tell, and I'd be glad to help tell them.