Women in aquaculture: Dr Cecile Brugère
Dr Cecile Brugère, independent consultant and director of Soulfish Research and Consultancy, discusses transforming gender equality and food security in aquaculture
Although advancing steadily, the development of aquaculture remains highly sensitive to many factors. Extreme weather can damage farms and leave fish and shellfish susceptible to stress and physiological effects. The expansion of aquaculture worldwide, meanwhile, brings with it a greater use of feed resources, risks of conflicts with other activities and negative environmental effects if growth is unregulated or poorly managed. There is also increasing attention on aquaculture in developing countries, where the industry is seen as the only means of increasing fish production, but where capacity is limited, institutions are weak and adequate management measures are often not in place, limiting the full contribution the sector could make to economic growth, food security and human wellbeing.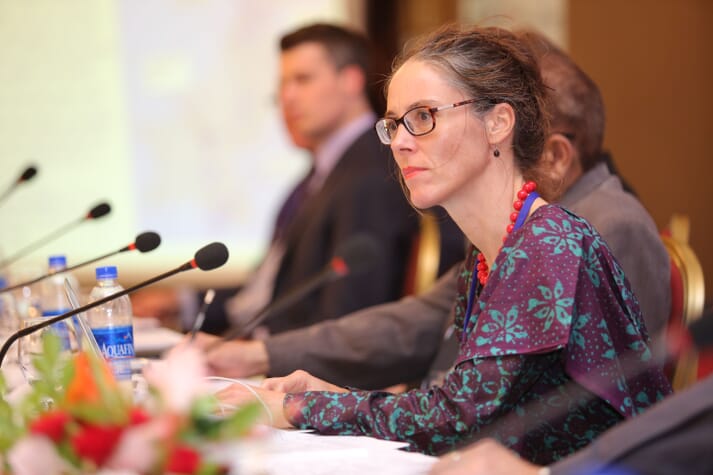 UK-based Dr Cecile Brugère works with international agencies and universities as an independent consultant on sustainable aquaculture and the economic, social and policy dimensions of the industry. She has been working in a research and advisory capacity in areas such as aquaculture and climate change, coastal ecosystem services, aquaculture policy formation and strengthening livelihoods in developing countries. She also has a keen interest in aquaculture and gender, and was one of the authors of a profile published in 2017 which provides an up-to-date description of the current situation of women in the sector and its recent evolution.
Briefly describe your aquaculture career
I have a business studies degree (from France), an MSc in ecological economics and a PhD in agricultural economics from British universities, which are rather unconventional degrees for someone working in aquaculture. Between my MSc and PhD I worked as a research assistant at the Institute of Aquaculture in Stirling, and this is how my career in aquaculture started. After my PhD, which revolved around the study of aquaculture to improve livelihoods in South Asia, I became a staff member of the FAO, focusing on aquaculture policy and economics. It was a dream! After nine years in FAO HQ I set up my own consultancy specialising in the application of socio-economic analyses and provision of gender and policy advice for the sustainable development of aquaculture.
What inspired you to start in aquaculture?
I've always been interested in coastal and marine issues. I saw aquaculture as something related and when I started working at the Institute of Aquaculture, I felt that my unusual background could bring a different perspective on the development of the sector. I started to work on a small-scale cage aquaculture project in Bangladesh, investigating gender roles and socio-economic issues associated with this type of development. Back in 1998, this was really pioneering work in aquaculture. It led to the project called "Women in Aquaculture" in 1999-2000, funded by the Asia-Pacific Economic Community, which I lead. I haven't been working solely on gender issues, but you could say that I'm a woman in aquaculture working for women in aquaculture. Last year I co-authored a brief on this subject. Nearly 20 years on, the situation has evolved, but we're still far from equality in the sector. This series on The Fish Site is a very encouraging sign that attention to this topic is increasing.
You've mentioned unconventional degrees and an unusual background. Were these ever a challenge as you made the transition to aquaculture?
Not really, because I have always emphasised my background in economics as an asset. Other scientists I have worked with have usually considered it a complementary skill to theirs, which adds value and relevance to projects because it enables everyone to better account for the interests and concerns of target groups.
What does your typical work day consist of?
On a typical day in the office, I will review academic literature and work on concepts of relevance to aquaculture development, design socio-economic surveys and analyse data for research projects, apply for funding or prepare consultancy reports. Although I spend less time in the field now that I have children, I still travel abroad regularly.
A day in the field will be very different. It will usually involve meeting researchers and farmers to oversee the implementation of projects and data collection, or discuss the elaboration of a policy or strategy for aquaculture with government officials. This is what I like most about my job: being able to bridge aquaculture science and aquaculture policy because I interact with the researchers, the decision-makers and the producers.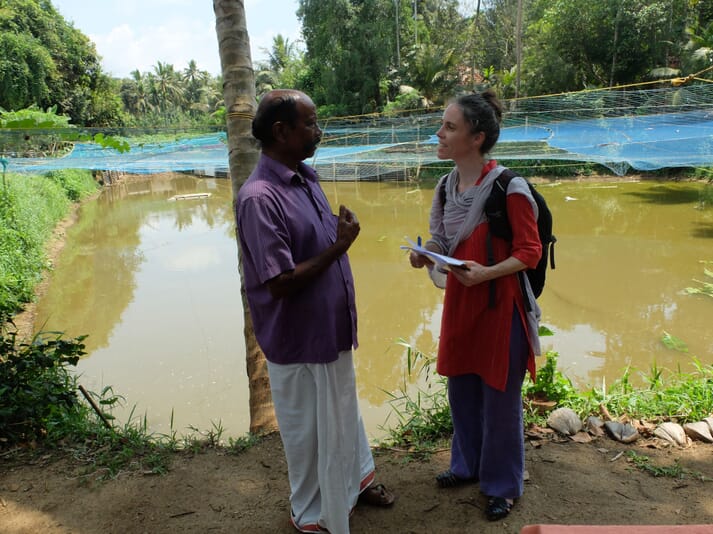 What's the most interesting experience you've had working in aquaculture to date, and are there any individuals or organisations in aquaculture who you've found particularly inspirational?
My prime source of inspiration are the men and women fish farmers I've had the chance to meet and interact with throughout my work. There is so much enthusiasm and dedication to what they do, even though their daily realities aren't always easy. Bringing their experiences to the fore, working in partnership with them and shaping aquaculture policies with their views really drives me. I've also been lucky to meet some fantastic individuals from different branches of the sector, whose unconventional and innovative ways of thinking have unlocked my imagination, and who have encouraged me into new paths at key junctures of my career. My time at FAO was very formative and gave me invaluable insights into the governance of the sector.
How important are sustainability concerns to you and how do you address them in your work?
Sustainability is really at the core of my work, and has always been since my degree in ecological economics brought my attention to it in the mid-1990s, when the concept took off. Balancing the three pillars of sustainability – social, economic and environmental – can be tricky, but I would not consider a development to be satisfactory if it generated income at the expense of irreversible environmental degradation. There is also sometimes a tension between more intensive, profit-driven aquaculture operations and those geared towards the provision of additional benefits – such as environmental protection, better nutrition, empowerment and resilience – but there are also endless possibilities and options for sustainability across the spectrum of aquaculture production systems.
What innovation do you think has the most potential to change aquaculture?
I think aquaculture development has yet to reap the full benefits of advances in digital technologies and remote sensing. They have so many applications that could benefit the sector – for example for aquatic disease surveillance; for monitoring changing environments remotely and adapting farm management in real time; or for helping producers with their farming decisions. But I also think that a technical or product innovation can only work and be widely adopted if it is "people-centred" – ie if it matches farmers' needs and aspirations. One of my current projects is "Sea PoWer", in Zanzibar. This is piloting the introduction of tubular nets for female producers to increase simultaneously both the productivity and quality of the seaweed they grow. This also empowers them by giving them control over their activity and income, increasing their bargaining power with seaweed buyers, and their decision-making and status in their communities.
Have you faced any particular challenges as a woman in aquaculture?
Yes. I often find myself in a minority in teams and meetings and can struggle to make myself heard and obtain credibility as a result. Getting some messages across can also be challenging – like gender equality, inter-sectoral collaboration, policy coherence – because people are reluctant to change their working habits and think and these topics are still considered of secondary relevance to aquaculture. I also face the same challenges as any working mother!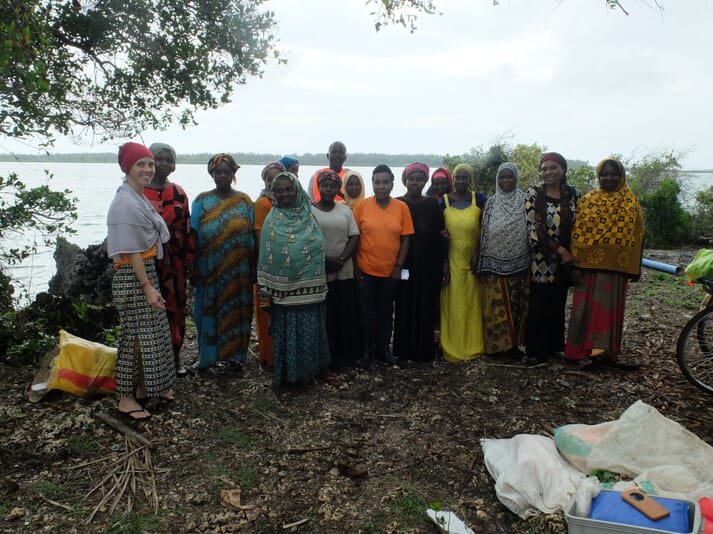 How are women addressing inequalities in aquaculture in your region and have you seen the opportunities improve in recent years?
Unless women working in aquaculture are organised and/or very vocal, it is difficult for them to address the inequalities they face and challenge the status quo. In Europe, some networks are becoming more and more vocal to increase the visibility of women working – formally and informally – in the sector, and to bring attention to the need for greater equality in status and opportunities between men and women. At the same time, we are witnessing a significant increase in the number of female students in aquaculture courses worldwide, and seeing more women in government positions, in ancillary activities and in aquaculture-related services. But more remains to be done for equal pay, equal professional progression and equal recognition. There are plenty of highly skilled and talented women in aquaculture out there, and yet still so few in positions of authority.
What advice would you give to women looking to start a career in the aquaculture sector?
I would tell them not to be afraid to disrupt social norms and assert themselves even if it ruffles a few feathers in the establishment (be it academia, private sector or government institutions). Go for what they believe in and are good at. I think the issue is not so much about women starting a career in the aquaculture sector, but to progress it to its full extent – beyond maternity and career-family juggles, and beyond the glass ceiling under which too many talented women are kept. Changes are necessary – not just within the aquaculture sector, but in society as a whole.
What would be your dream role in aquaculture and do you think it's realistic to achieve?
I really love the work I'm doing at the moment. It satisfies my curiosity and thirst to learn, and allows me to do my bit for the planet – ie to support the development of an activity so that it makes a useful contribution to the things I believe in, like improving food security, reducing poverty, creating more equality and generating a better environment. I'd sometimes like to see quicker results and less of the influence of politics, but that's more difficult to change.
What has been the aquaculture industry's greatest accomplishment in recent years?
From my perspective as an economist, some of the greatest accomplishments in the last 20 years have been improvements in the governance of the sector. For example, many countries have aquaculture-specific legislation and policies that have steered the development of the industry on a more sustainable path, resulting in fewer environmental impacts and a better image for the industry as a whole. Alongside better governance, the greater appreciation of the importance and influence of social and economic factors in the sustainable development of the sector has led to the improved design and implementation of aquaculture development initiatives, though we're still far from perfection.
What outstanding challenge would you most like to solve?
It is still a huge challenge to bring diverse stakeholders around the table, to get people from different backgrounds, ministries, departments, agencies to cooperate with one another to discuss and plan the development of aquaculture. Yet the pressure of getting aquaculture development right is on, as we are increasingly reliant on the sector for seafood supply. Policy coherence is still a major hurdle. There is also still some way to go in adequately recognising and valuing the non-monetary benefits of aquaculture to factors such as the maintenance of ecosystem services, human health, adaptation to climate change, equality, and in making sure that the continuous development of the industry delivers on this.
Dr Brugère may be contacted at cecilebrugere@gmail.com or followed on Twitter @SoulfishRnC