Briefly describe your aquaculture career.
My first job in aquaculture came when I Joined Gael Force Group, initially in the accounts department. After a short time, I was offered the role of customer service manager in the aquaculture moorings department and quickly realised that this was the sector that I would most like to work in. I was promoted to moorings service manager, designing and specifying moorings systems for fish farms, which include the pens, barges and any structure or vessel that needs to be moored on site.
What inspired you to start in aquaculture?
When I began my role as the customer service manager I dealt a lot with farm workers, site managers and their area managers. The thing that struck me most was their passion for their job and ambition for the industry as a whole. I have never worked in an industry where every person involved cares so much about the job they are doing and the welfare of their product. I share this passion and, as I was warned when I started the role, find the sector addictive. It's forever changing and continually improving, which makes it an exciting and rewarding industry to work in.
Describe a typical day in your current role with Gael Force.
My current role sees me involved in the moorings design as early as the planning-application stage, providing attestation and specifications for new sites as well as providing mooring systems for existing sites. The latter can sometimes be challenging, especially when trying to fit these moorings into consent areas that can be quite tight – this requires us to look at ways to provide solutions to accommodate the layout the customer requires. I am lucky enough that I occasionally get to escape from the office environment to attend site visits. I find this to be the most beneficial way for me to learn from the experts themselves. I have a very keen interest in the industry as a whole – from fish health to feeding systems, as well as moorings – and being able to visit these sites gives me the ability to understand how we can help grow the industry, as well as how to provide the very best service to our customers.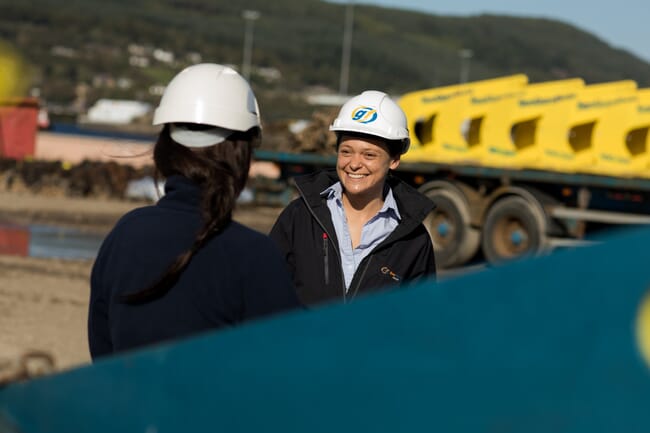 What's the most inspirational experience you've had working in aquaculture to date?
I am very fortunate where I work. At Gael Force, the passion for growing the industry and overcoming the challenges is infectious. In Scotland, aquaculture is one of the strongest contributors to the economy – estimated at £1.8 billion – but it's not just financial benefits that the industry brings. It's also the opportunities it gives to rural communities – allowing residents the chance to have not only a well-paid job but excellent career opportunities as well – not to mention the knock-on effects for small businesses that benefit from having workers from these farms living and investing in rural communities. This would not exist if it were not for fish farming. Jobs on fish farms have kept more than one remote school open.
What's the most unusual experience you've had in aquaculture?
There is a lot of media speculation surrounding Scottish aquaculture, which, in my opinion, is not well represented. There was a piece in a television programme that focused on the environmental impact of the industry. The piece was extremely negative and one-sided. The day after the programme aired, a gentleman came into one of our stores. I overheard him discussing how fish farming was a terrible industry and criticising all those involved. I had an interesting discussion with him – he admitted himself that he hadn't had an opinion on fish farming until he had seen the programme. I chatted to him, giving the alternative side to the view that was portrayed in the programme. I found it quite strange that he had based such a strong and vocal opinion on one TV programme – it does go to show how we need to be proud of the industry we work in and support all those involved.
How important are sustainability concerns to you and how do you address them in your work?
The Scottish Government has a vision of an aquaculture industry that is sustainable, diverse, competitive and economically viable, which contributes to food security whilst minimising environmental impact. An industry-led working group has been set up with the intention of growing the Scottish aquaculture industry from £1.8 billion, supporting 8,000 jobs, to £3.6 billion supporting 18,000 jobs, by 2030. Gael Force represents the equipment-supply sector on the panel so [sustainability] is always at the forefront of my mind. As a supplier, I'm always aiming to partner with producers to address and help overcome sustainability concerns.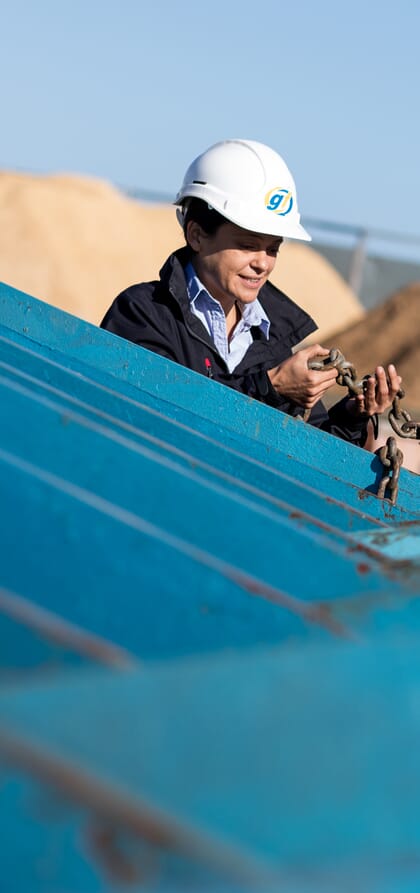 What new technical or product innovation do you think has the most potential to change aquaculture?
Personally, I'd have to say that the introduction of the Scottish Technical Standard has seen the biggest change to the industry here in Scotland. The standard will become law in 2020 and its purpose is to help prevent escapes of finfish as a result of a technical failure and related issues at Scottish finfish farms. The standard covers design, construction, materials, manufacture and installation. Companies are already working towards compliance with the standard and this is, in my opinion, a huge step toward the ambitious 2030 vision.
Are there any individuals or organisations in aquaculture who you've found particularly inspirational?
We are working with a company at the moment on a project that is quite revolutionary for Scotland and involves farming offshore at a very high-energy site. This has been driven by one individual with the backing from his company and colleagues. He is pushing the boundaries and trying new ideas – I find people who are brave enough to try new concepts very inspirational. It also creates exciting opportunities for suppliers like ourselves to design and supply kit suitable for such dynamic and revolutionary sites as well as the many benefits it provides for our Scottish rural communities – some of which would be struggling without these fish farms providing not only job opportunities but career opportunities as well. I don't know of another industry that provides so many benefits, as well as the beautiful end product itself.
Have you faced any particular challenges as a woman in aquaculture?
A few months after I started my role I was asked how I felt I was taken by the customers being a woman. It took me aback as I had never thought about it before. Perhaps I have been spoilt with the Scottish industry – but I have felt nothing but support across the board from colleagues to customers. Because my background was not in aquaculture I had a great deal to learn in a short period of time so relied heavily on our own engineering department and our customers for their knowledge. This was plentiful and I soon realised that you never learn everything in this ever-changing industry and we are all here to help each other.
How are women addressing inequalities and have you seen the opportunities improve in recent years?
We are seeing more and more women involved in the industry, in roles varying from farm workers to site managers, as well as roles within the planning and development areas of companies. It is still a predominantly male-dominated industry but, as awareness of Scottish aquaculture grows [with its promotion] by both the Scottish government and all stakeholders, this will encourage more women to join the Scottish aquaculture team.
What advice would you give to women looking to start a career in the aquaculture sector?
Go in as an equal and with an open mind. Try and gain as much knowledge as you can across the whole industry and learn from those who have the knowledge. The job roles are so vast and there is plenty of scope to find a role that you really enjoy. It really does make a difference when you enjoy your work – I've yet to meet someone that doesn't enjoy their role in Scottish aquaculture.
What would be your dream role in aquaculture and do you think it's realistic to achieve?
I very much enjoy my role in moorings at the moment. The challenges it brings certainly keep it interesting. But looking to the future, I would like to play a part – however small – in growing the industry as a whole and promoting the benefits that it brings to all stakeholders. I am also interested in the development of land-based RAS [recirculation] and closed-containment-pen concepts. I look forward to seeing how the industry develops, not only in Scotland but also in the rest of the world.
What has been the aquaculture industry's greatest accomplishment in recent years?
At the forefront of everyone's minds – but in particular the farmers themselves – is fish health and how best to combat the huge challenges in this area that the industry faces. There has been a collaborative effort across the supply chain and across the board. The introduction of cleanerfish has been one factor that has seen chemical treatments fall. The research and development continues with a sense of urgency to solve this extreme challenge but the huge steps that have already been taken deserve recognition.