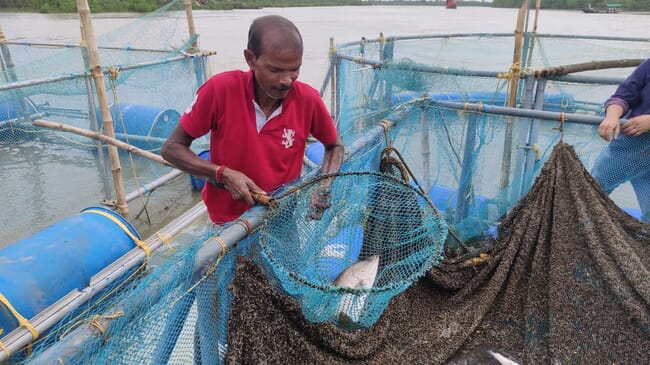 Raghusekhar Talasila has been into marine-fish cage culture for the past 10 years in Andhra Pradesh's Krishna district in south-eastern India. The 44-year-old hails from a family of farmers but he chose aquaculture over agriculture.
From farming fields to offshore cage culture
Talasila owns 13 cages in the backwaters of the River Krishna, which give him a handsome profit every year.
"My father is still involved in farming but I decided to start cage culture because of the huge profits involved. I raise mostly Indian pompano and harvest around 4 tonnes of fish every year, making a collective profit of ₹ 400,000 annually (around $5,500). It is almost impossible to make the same kind of profit in agriculture, which requires lot of hard work and depends mostly on a good monsoon," he says.
He thanks officials of the Indian Council of Agricultural Research's Central Marine Fisheries Research Institute (ICAR-CMFRI), a leading tropical marine fisheries research institute, who motivated him to start cage culture farming a decade ago.
"Over 100 farmers in my village are now involved in cage farming after getting inspired by me," he says with a note of pride.
Dwindling marine catch in India
India's total marine fish landings in 2018 were recorded at 3.49 million tonnes, which was 9 percent lower than the previous year, mainly due to reduced catches in the coastal states of West Bengal, Karnataka and Maharashtra. The situation, however, was marginally better last year, when annual production stood at 3.56 million tonnes of marine fish, up 2.1 percent year-on-year.
"The overall production had risen but there was a drop in catch in states like Maharashtra, Goa and Kerala, which were known for their good catch," says Supratim Chowdhury, associate professor at West Bengal University of Animal & Fishery Sciences.
He adds that depleting catches and massive destruction to aquatic life by vessels were among the major reasons for starting sea cage culture.
"The system is already popular in countries like Norway, Chile and China because of technological advancement and also because of their profusion of protected bays and lagoons. We are already doing well in the southern states of India while in the eastern part it is slowly kicking off too," he adds.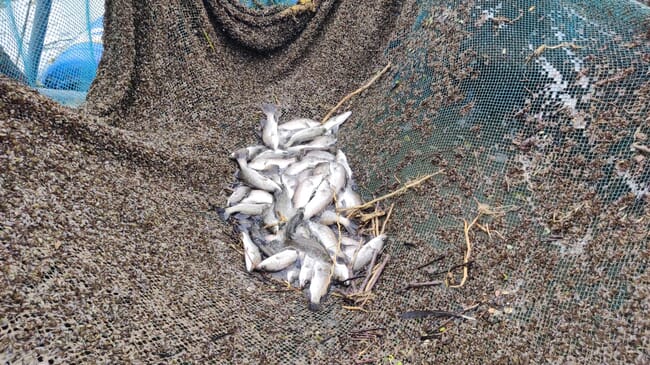 The origins of marine cage culture in India
Sea cage farming in India was initiated by the CMFRI with support from the Ministry of Agriculture and the National Fisheries Development Board (NFDB) at Visakhapatnam, in Andhra Pradesh, in 2005.
"We started with three cages and production in the first year stood at 3 tonnes. But there were huge challenges involved, as farmers didn't show much interest initially and it was tough to convince them because of huge operational costs and other expenses. The situation has changed now, with farmers switching from other professions to cage culture because of the profit involved," says Dr Shubhadeep Ghosh, principal scientist with the ICAR-CMFRI, who is based in Visakhapatnam.
According to Ghosh, the production per cubic metre in cage farms stands at 25-30 kg, compared to only 0.5-1 kg per cubic metre in ponds.
"There are also no requirements for maintaining water quality because it is a dynamic system at sea. The cage farming can be done by a landless farmer and it's less capital-intensive. Disease occurrence is also minimal and the monitoring of cages is easy. Each cage creates employment for three people," explains Ghosh.
Prerequisites of cage farming
"A cage comprises hard frames as support and nylon nets as cage body. It is desirable to have environment-friendly, HACCP [hazard analysis and critical control points] protocol compliant, rust-free materials for cage fabrication. The cages are generally enclosed on all sides, except for an opening at the top for feeding and handling the stock. They can be positioned at the bottom, middle or surface of the water column, but floating cages are very popular and easy to manage. The size of a cage varies and the shape can be round, square or rectangular, but there should be a minimum depth of 6m at the lowest low tide. A clearance of minimum 2m should be available between the cage net bottom and seabed," adds Ghosh.
According to Ghosh, the country currently has around 3,200 marine cages. The total production from these cages stands at around 4,500 tonnes annually, with the main species being Indian pompano (Trachinotus blochii), cobia (Rachycentron canadum) and Asian sea bass (Lates calcarifer).
The ICAR-CMFRI has further projected that even if only 1 percent of India's inshore waters were used for cage farming, this would allow for the deployment of 820,000 cages, with a production potential of 3.2 million tonnes.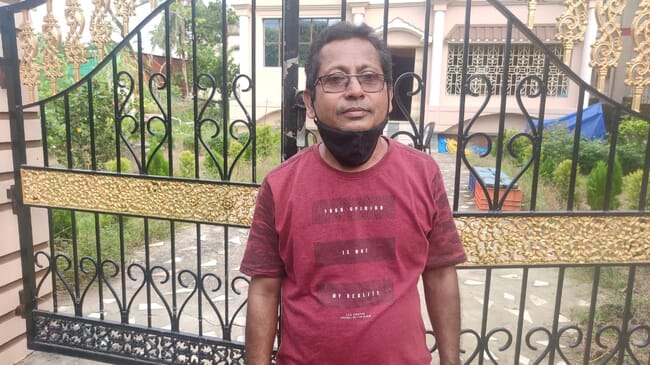 Cage farming boom
Young entrepreneurs in India are now looking at marine cage farming as a lucrative business opportunity.
Anil Kumar Karanam, 34, a software engineer based in Visakhapatnam, has decided to shift to marine cage farming. He wants to rear fish like Indian pompano, silver pompano and orange spotted grouper.
"The CMFRI has already trained me in cage farming by installing one cage last year. I have found that it is a highly profitable venture, provided there are at least 12 or 13 cages. I have sought permission to install 20 cages from the Vizag [ie Visakhapatnam] National Fisheries Development Board. I think cage farming is the best technique for both quality and quantity of harvest, and it takes around eight months for a cycle to complete."
Former fishermen in eastern states like West Bengal and Odisha are also now trying to start cage farming.
"The diesel prices have risen drastically in the last few years and it's becoming difficult to cope with the situation. Unlike cage farming, we do not get target species and often the catch is of no use, resulting in severe losses to us," points out Amit Das, 52, a trawler owner from Kakdwip in West Bengal.
"The risk to the lives of fishermen is another issue that the owners have to live with and pay compensation for if any mishap occurs. Cage culture is a much better alternative, as it produces species which can yield high profits, there are few expenses in fuel and less labour is required."
Some marine experts, however, believe that cage culture farming needs to be improved.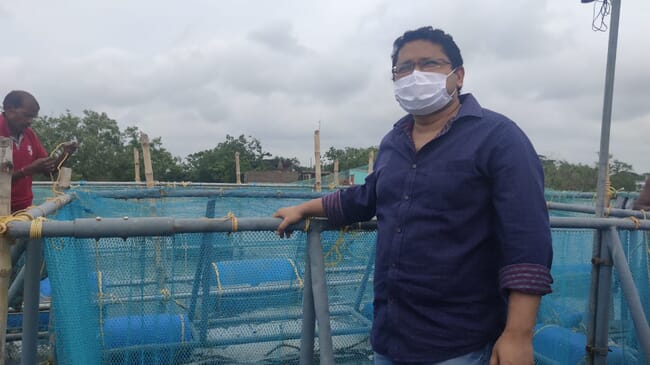 "We have installed seven pilot cages in a creek at Kakdwip, which is located around 10 kilometres from the Bay of Bengal," says Supratim Chowdhury. "We are facing nature's challenges, as tidal amplitudes are different here, with strong currents initially posing a big challenge for keeping the cage suspended in the water. We had to anchor the cages by using moorings, logs and ballast systems to suspend the net in the water and keep it straight. It is necessary otherwise currents can squeeze the nets, resulting in stress to the fish," adds Chowdhury.
He also reports that planning is afoot to install cages close to the Bay of Bengal to contend with the problems caused by nature.
Some marine experts comment that low dissolved oxygen syndrome (LODOS) is another issue, and may require systems that support mechanical aeration. Other issues involve fouling of the cage, the spread of diseases and vandalism or poaching.
But scientists in India said they constantly monitor the sector and are yet to encounter any issues that would pose a serious threat to the widespread adoption of cage systems.
"The Indian government is also promoting marine cage farming in a bigger way and has come out with subsidies for farmers who want to instal cages. The aim is not only to create livelihoods but also to reduce the over-dependence on the sea and to increase production," adds Chowdhury.