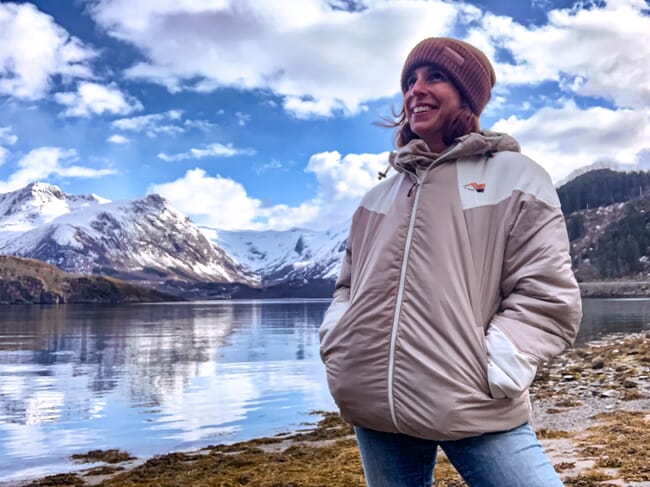 For three months this year I was fortunate enough to be able to immerse myself in Norway's aquaculture industry, after securing one of three places in Olaisen Blue's programme for startups on the remote island of Lovund.

As the co-founder of MariHealth Solutions – a biotech startup using proteomics for assessing fish health and welfare – I arrived with anticipation from South Africa, intrigued by life on the fringes of the Arctic Circle and by the prospects of immersive learning amidst an aquaculture sector that is both booming globally, and serving as the heartbeat of the coastal community.
The programme offered the selected startups the prospect of piloting their technology through collaboration with Nova Sea – the salmon farming operation set up by Steinar Olaisen – as well as the opportunity to interact with experts throughout the salmon industry supply chain, by way of introductions, engagements and field trips. So, this was undoubtedly an opportunity not worth missing.
Culture shock?
It is a big decision to pack your bags, leave your comfort zone, and venture into the proverbial unknown for three months, especially when you are an early-stage startup on the other side of the world, and you and your business partner are juggling several different roles. But an opportunity like this doesn't present itself very often and so we opted to seize the day.
Being a biotech company in the aquaculture healthcare and fish welfare sectors, it was clear to us that understanding the farmed salmon supply chain in Norway, particularly the pain points of key customer segments, was of utmost importance.
Our solution serves a niche in the market – we utilise a proteomics approach, coupled to in-depth bioinformatics analyses, to provide granular biological insights into the health status of fish, essentially complementing current testing done in the industry. As such, gaining industry insights and understanding the culture, as well as farming practices, were key to identifying avenues for our solution to serve its ultimate purpose.
Arriving in Norway was beyond remarkable for me – having never experienced snow before, my first night in Bodø was spent enjoying the snowfall. A five-hour speedboat ride the next day entailed stops at various coastal villages along the way. Weaving in and out of the specks of islands and fjords made for a spectacular afternoon, as white, jagged mountainsides buttressed a dark, and momentarily serene, ocean. With not a single wave.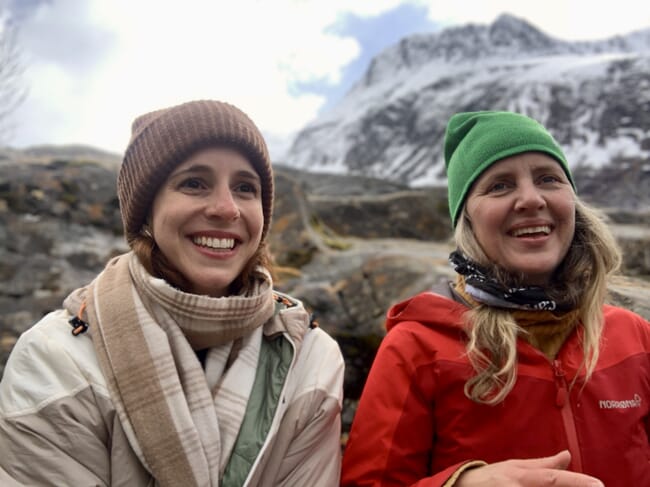 Olaisen Blue is headquartered on Lovund, a small island crowned by a wave-like mini peak. The island is home to about 500 people, many of whom depend on the salmon farming industry for their livelihood, working at Nova Sea's HQ, in the processing plant, or on one of the company's 26 sea farms.
Life in a bustling South African city, filled with endless opportunities for distraction, took a welcome hiatus. A truly remote place, Lovund provided me with the space for intense focus and a closeness to the industry that we wish to serve.
Since the island is built around salmon farming, pretty much everyone knows everyone. Walking to the only grocery store on the island, you are met with the regular sound of "Hei, hei!" between neighbours, although there is a strong sense of respect for one another's space and lives. While the islanders' attitudes might initially come across as cold, there is in fact a greater importance placed on connecting beyond the superficial, which requires time, effort and trust. Something I came to value and appreciate too.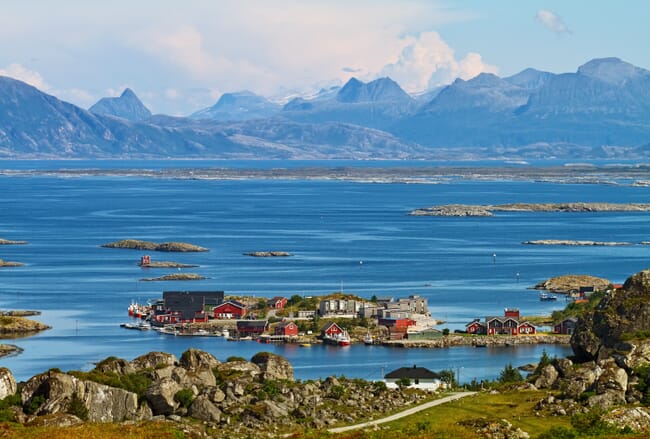 Strong support for the sector
Norway, unlike South Africa, is incredibly advanced in terms of technology and infrastructure, social welfare and support, as well as primary to tertiary education. And students interested in aquaculture are encouraged to gain practical experience or knowledge-transfer at a university level. Since salmon is Norway's second largest export, it stands to reason that the country enables competencies in aquaculture through government- and industry-funded programmes and internships.
I've mentioned in my blog posts from my time in Norway, how an immersion in the salmon industry provided me with a whole new worldview and enabled a complete shift in mindset.
Indeed, Norway benefits from excellent collaboration between government, industry and academia, with substantial financial backing to support the growing drive towards more sustainable fish farming practices. It is clear that industries and sectors don't work in isolation, and that the key driver of their success, apart from extensive financial backing from stakeholders, is in fact collaboration and a shared vision for the future. Additionally, there are enumerable industry-specific events throughout the year that bring the sectors together for discussing and debating ways to shift the current paradigm. Buttressing this is a strong social consciousness for sustainable seafood farming. Learning more about what companies like SalMar and FishGLOBE are doing to revolutionise fish farming through their innovative systems, and how producers like Nova Sea are shifting to more renewable energy sources has been inspiring.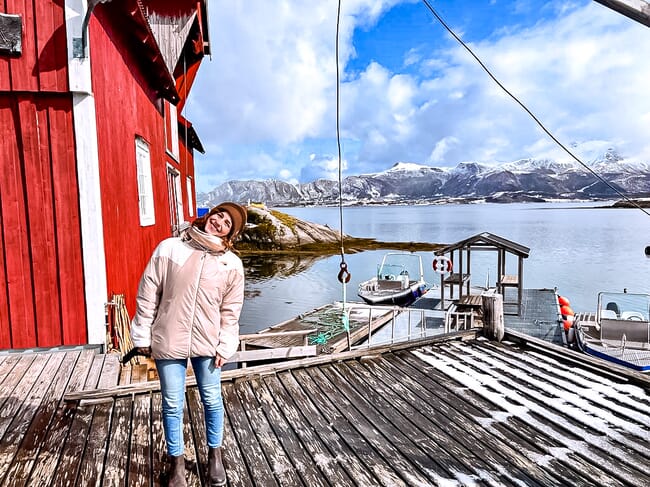 Lessons to be learned
It was amazing to see so many aquaculture-specific research facilities/groups/institutions collaborating with farms and industry, something South Africa unfortunately lacks. I think one of the drawbacks in South African aquaculture is the lack of collaboration or knowledge-sharing for future-proofing seafood production.
Indeed, South Africa's aquaculture sector faces several obstacles, notwithstanding unsupportive legislature, as well as limited access to finance and markets. Furthermore, we are not known for our fish-eating ways: South Africa is a country of meat-eaters, largely driven by culture and price, with chicken remaining the cheaper option for most people.
South Africa is fortunate to have a diverse climate, making it suitable for farming a range of species, but it will require effective marketing and tolerable price points to increase demand for these. I believe that the success of South Africa's aquaculture industry requires enhancing key stakeholder engagement and ensuring long-term investment, through incentivised local and international collaborations, as well as through creating a greater social awareness and buy-in from the public.
If we are to compete on the international seafood stage, we will need to look to countries like Norway as examples to follow. The future sustainability of South African aquaculture is contingent on several factors beyond the intermittent nature of our state-supplied energy.
For one, I believe gender roles in the sector, while changing slowly, need an overhaul. In Norway's aquaculture industry there are a lot more women driving change at the top in management/leadership roles. And in a country as diverse as South Africa, the inclusion of people from a range of cultures can also enable the growth of the industry.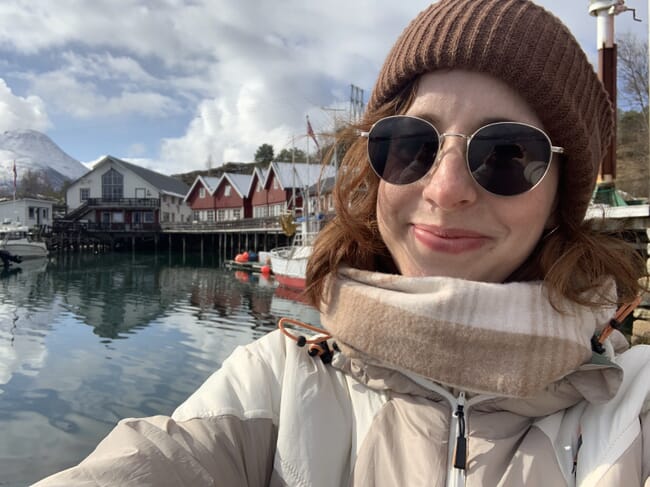 What next?
Starting a business wasn't something I ever wanted to do, especially given the statistics associated with the success rate of startups. However, enabling the commercialisation of research that has real-world applications is in itself an exciting prospect, while establishing MariHealth Solutions, and then spending three months in Norway, make me more inspired and determined to drive sustainability in a growing industry.
The time spent engaging with the Norwegian salmon industry – from people working on farms to those in management/leadership roles within aquaculture – was incredibly insightful. In no other circumstance would we have been afforded this opportunity for learning so much. Through this experience, we have identified how proteomics can not only provide biological insights and help our understanding of how farming practices impact fish welfare, but also help to navigate nutritional additives and refine the diets of salmon for optimal use and reduced costs.
My time in Norway not only provided the market and industry insight we needed, but also enabled the refinement of our own strategy, as well as offering us a credible platform for introducing our company to the industry. We even signed our first clients this year!
Looking ahead, towards the end of this year we aim to raise a new round of funding to allow us to move our headquarters to the EU so that we have better access to – and engagement with – our markets.
We have learnt so much in the past six months, and we couldn't be more grateful to the Olaisen family, Olaisen Blue and everyone who we have engaged with so far. People have been incredibly kind, welcoming and open to sharing knowledge, advice and guidance.
Norway hasn't seen the last of MariHealth Solutions, and I look forward to returning later this year, when I will undoubtedly continue to learn.
Author's note: The views expressed in this article are entirely mine, and are not a reflection of the views of MariHealth Solutions