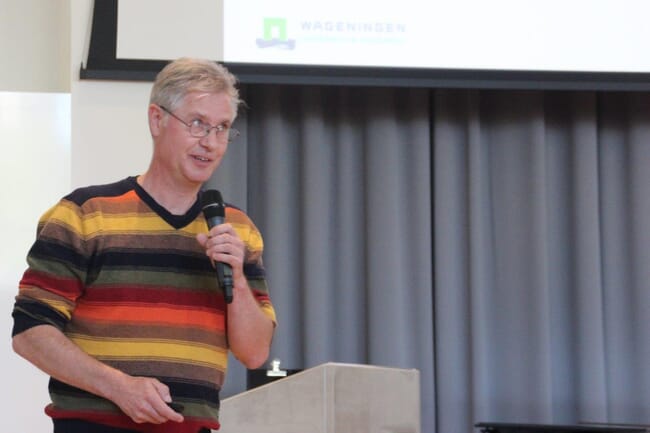 It was launched by Geert Wiegertjes, professor of aquaculture and fisheries, who took the initiative to W-ARE with the aim to further stimulate cooperation in the aquaculture domain.
W-ARE is a WUR-wide initiative and provides an easily accessible online portal for its research expertise, facilities and education on aquaculture. According to a press release from the university, it "stands for the shared ambition of Wageningen University and its Research Centres to work on several if not all aspects of sustainable aquaculture. W-ARE not only accommodates scientific specializations but also highlights both, internal and international collaboration emphasizing a collective effort at Wageningen to explore the potential of nature to improve the quality of life under water".
The opening included a short speech by Robbert Blonk, director of R&D aquaculture at Hendrix Genetics, which is based in Boxmeer, The Netherlands. He not only emphasised the unique aquatic research Facilities at WUR but, above all, the value of the collective expertise at Wageningen for the aquaculture industry.
The informal get-together also included short presentations by several scientists highlighting W-ARE's six expertise groups on: fish and shellfish health and welfare; aquaculture nutrition; breeding and genomics; recirculating aquaculture systems; low tropic aquaculture; and sustainable food systems.
Meanwhile, on the education side, Wageningen offers MSc students a specialised international masters in aquaculture and marine resource management, also offered as a double degree in health management in aquaculture, and offers post-graduate training during annual international workshops on fish immunology and fish nutrition. The live event was concluded with an informal toast to the future of aquaculture.
Sustainable aquaculture
Respecting earth's finite resources, WUR strives to fulfil the world's current and future needs for nutritious food by research on and development of circular, healthy, resource-efficient agri-food systems, both on land and in the marine environment. At W-ARE, over 100 researchers perform fundamental and applied research and educate students in all aspects of sustainable aquaculture.
Wageningen University & Research is a collaboration between Wageningen University and the Wageningen Research foundation. The mission of WUR is 'To explore the potential of nature to improve the quality of life'. Within its domain, healthy food and living conditions, WUR does not just develop top-quality expertise; but also helps translate knowledge into practice worldwide. The role of WUR is to contribute to global agendas such as the overarching Sustainable Development Goals (SDGs) of the United Nations. WUR is committed to contributing to the SDGs of zero hunger; good health and well-being; quality education; clean water and sanitation; sustainable cities and communities; responsible consumption and production; climate action; life on land and last-but-not-least: life under water.