Veramaris CEO Karim Kurmaly received the $200,000 prize today during a special award ceremony at the Global Aquaculture Alliance's GOAL conference in Chennai.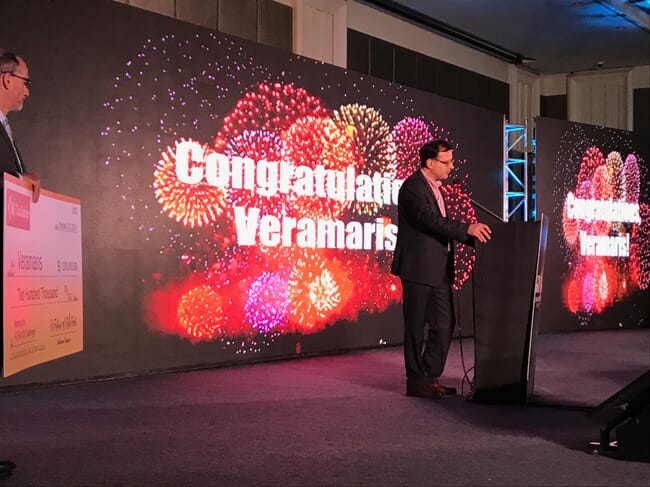 The F3 Fish Oil Challenge is an incentive prize designed to help accelerate commercial-scale ingredients for aquaculture feed that meet the nutritional requirements of fish to produce healthy seafood for consumers without utilizing wild-caught fish.
Contestants in the challenge sold a combined total of roughly 850,000 kilograms of "fish-free" oil during the contest, equivalent to saving over 2 billion forage fish from use in aquaculture feed – the largest number of fish ever conserved through a contest.
"We are pleased with the efforts made by all of the contestants to innovate and sell fish-oil alternatives for aquafeeds that don't rely on ocean resources," said Kevin Fitzsimmons, F3 Challenge chair and professor at the University of Arizona. "I know this is just the beginning for Veramaris and others to address a major bottleneck in supply chain for aquafeeds support healthy farm-raised fish and healthy oceans in the future."
Veramaris, a joint venture between DSM and Evonik, sold nearly 770,000 kg (roughly 90 percent of the total contest sales) of its algal oil, which is rich in EPA, DHA and arachidonic acid.
Now that its full-scale algal production facility in Nebraska is up and running, Veramaris is ready to support the seafood industry's increasing efforts for improved sustainability and healthy nutrition with its natural marine algae oil rich in the essential omega-3 EPA and DHA fatty acids.
"We share in the ambition to support continued sustainable growth of the aquaculture industry, as an efficient means to produce healthy food to nourish a growing population. Our breakthrough solution adds to the supply of healthy omega-3 nutrients and enables growth without increasing pressure on limited marine resources," said Kurmaly. "I have to thank those courageous leaders within the retail, processing, salmon farming and feed industry for their collaboration and for taking steps towards ensuring a more sustainable future for aquaculture."
Consumers require high levels of the essential fatty acids EPA and DHA omega-3 for brain and nerve development, and yet levels in farmed salmon have declined significantly over the past ten years. Veramaris' algal oil, which contains twice as much EPA and DHA as fish oil, can help reverse the decline and support the seafood's brand-promise for healthy nutrition.
Earlier this year, the world's largest Atlantic salmon producer, Norway-based Mowi, committed to test the winning formula from the F3 Fish Oil Challenge, along with China-based Yuehai Feed Group and AlphaFeed. The companies will provide the results of their trials through the F3 Feed Innovation Network (FIN).
Each year, an estimated 16 million tonnes of wild fish are caught exclusively for use in fish oil and fishmeal. Wild-caught fish are currently the major known source of omega-3 and contain DHA, EPA and ARA – essential fatty acids needed to produce healthy farmed-raised fish.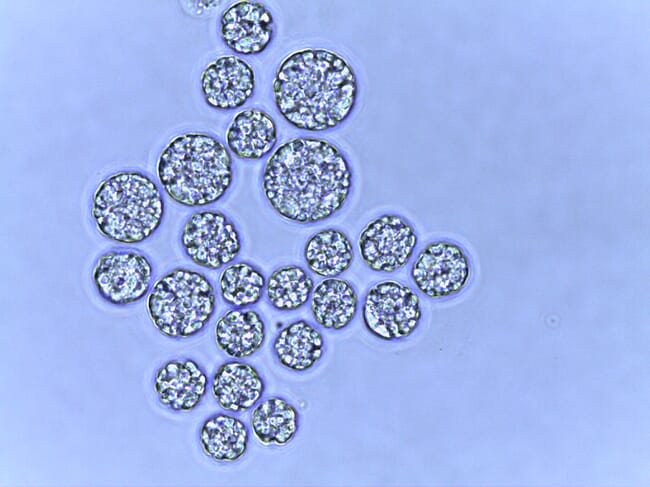 A recent study published in Nature Sustainability found that if 'business as usual' continues, forage fisheries will reach ecological limits by 2037—in 18 years. The associated ecological collapse will shrink seafood supply from both wild and farmed sources.
The University of Arizona, University of Massachusetts Boston, Cuna del Mar, Synbiobeta, Anthropocene Institute, Dawson Family Fund, Sustainable Ocean Alliance, The Nature Conservancy, The Campbell Foundation, Tides Foundation and The National Renderers Association sponsored the contest.
In September, the F3 Future of Fish Feed announced its third contest, the F3 Challenge – Carnivore Edition, is now open to companies or teams that produce and sell "fish-free" feed for farm-raised carnivorous species. A US$35,000 prize will be awarded in each of three categories - salmonid, shrimp, and other carnivorous species - to the contestant that produces and sells the most feed made without using wild-caught fish or any marine-animal ingredient. Contest registration is open until April 30, 2020.