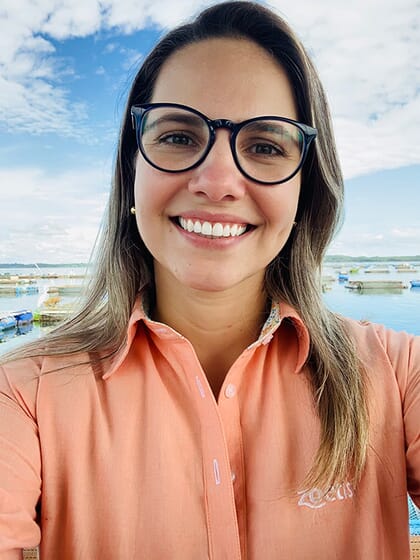 Brazilian aquaculture has experienced significant growth in recent decades, particularly in its tilapia industry, which has been built on both cage and pond farming systems. Danielle Zanerato Damasceno, technical and commercial manager for Pharmaq* in Brazil, discusses how the increased adoption of new health technologies and best practices is helping to bring new opportunities to the market.

How has the growth of efficient, high-volume tilapia production in Brazil in recent years affected how farmers approach fish health management?
When food animal production develops and intensifies, challenges arise and with this comes a greater occurrence of illnesses. Tilapia production in Brazil has been intensifying year after year, so more diseases have been affecting tilapia production — primarily diseases caused by bacteria such as Aeromonas sp., Streptocuccus agalactiae and Francisella sp. Attention to the health and wellbeing of fish has therefore been increasing accordingly. Several steps have been taken to improve fish health, welfare and productivity, including the adoption of vaccination and general health management and biosecurity programmes. Furthermore, large volume tanks, high-performance additives and rations, new production technology and data management systems are also increasingly being used and making a positive difference.
What role has vaccination had in Brazilian fish farming to date?
The use of vaccines in tilapia in Brazil is less than a decade old, but it has been gaining strength over those years. It's estimated that approximately 50 percent of all tilapia produced in Brazil are now vaccinated. This increase has been supported by the entry of more animal health companies in the field of aquaculture. In addition, there is a growing awareness of the importance and value of tilapia vaccination, since the industry sees its positive impact on wellbeing and performance — mainly lower mortality and better feed conversion. Another important impact is the reduced use of antibiotics, which limits the risk of developing antibiotic resistance.
Vaccination has clear benefits for producers, but are there also advantages for processors?
Vaccination has also been found to have benefits at the slaughterhouse processing stage. One of the main challenges at slaughter is the deterioration of fillets, due to bacteriosis. This is often the result of lesions or abscesses in the fillet, which have been caused by Francisella sp. or S. agalactiae, respectively. Generally, these losses can be avoided or minimised with the use of vaccines for prevention, or with efficient therapeutic treatments right at the beginning of the outbreak, if efficacious vaccines are not available.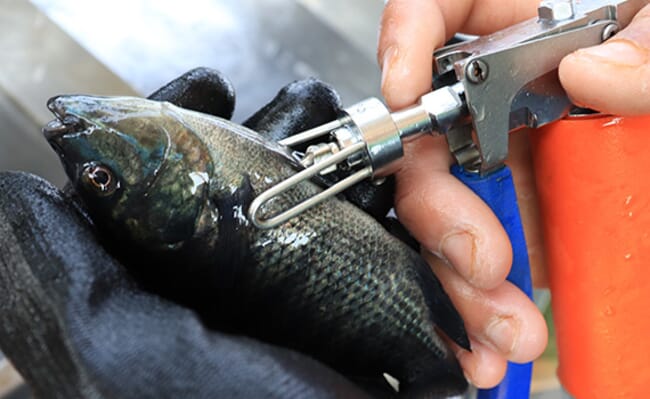 It sounds like fish health management in Brazil has improved dramatically in recent years. What are the main areas for improvement?
It's very important to recognise the evolution of the sector, including recent data showing that Brazil increased its harvest by 12.5 percent in 2020, reaching a tilapia production of 486,155 tonnes. These great results reflect the increased technification and the expansion of sanitary controls, among other things.Despite the significant progress, however, there is still much to be done. There are still producers who don't adopt vaccination programmes or improve sanitation. Another big challenge today is access to diagnostic services, because the logistics of sending samples is quite complex.
What is being done to address these challenges?
Fortunately, there are now many ways to acquire the technical knowledge and skills needed to improve farming activities, such as industry events, courses, professional services, and training offered by private and public companies. An important initiative was launched in 2020 by Peixe BR, with the formation of committees for several areas of aquaculture, including a health committee composed of multidisciplinary members who work throughout the supply chain — whether as suppliers, producers, laboratory service providers or key opinion leaders — and this will bring many benefits to fish health management in Brazil.
What fish health and welfare solutions has Pharmaq introduced to support the Brazilian market?
We recently launched Alpha Ject micro 1 TiLa in Brazil, a vaccine against S. agalactiae. The vaccine alone brings considerable advances: a minimum protection of 8 months, packaging with 10,000 doses for more efficient administration and disposable cannulas that increase biosecurity. But we aren't just offering the vaccine — we're also providing all the tools and support that are necessary for vaccination to be successful. This includes state-of-the-art, ergonomic injectors that offer precise dosing and have a built-in counter attached, which allows quantification of the vaccinated fish and better monitoring of the doses used and team performance.
We have also partnered with a regional company to manufacture vaccination tables that can count vaccinated fish and grade them by size. These tables are being made available to all our customers.
Finally, by mid-2021, we will have Pharmaq Fishteq automatic vaccination machines installed in the field. The machines provide a range of benefits in addition to vaccination. Fish are measured, counted, classified and undergo less manipulation, all with high accuracy. We look forward to introducing this new tool and are confident that it will be a great evolution for the fish production chain in Brazil.
What other opportunities has Phamaq identified to boost fish health and welfare in Brazilian aquaculture?
Solutions for vaccination optimisation, mainly related to automation, are our short-term focus. These will bring more comfort and security for companies that produce tilapia, as well as greater reliability, efficiency and accuracy to vaccination and grading. In addition, there are opportunities for the introduction of multivalent vaccines against the main bacterial pathogens, as well as vaccines against Francisella sp. Therapeutic drugs are also opportunities, as today there are only two molecules registered for aquaculture.
What other broader, best-practice measures will help improve fish health, welfare and productivity in Brazilian aquaculture?
Nothing is possible without a production history, so the first step is to guide and enable all fish producers to not only use data management tools but also to interpret the data, so they can make improvements based on the information collected. In addition, there is a need to invest in more in-depth protocols for microbiological analysis and, when possible, genetic sequencing. The union of this data with the production environment and diagnostics will enable producers to establish a history. This, in turn. will bring more reliability to decision-making regarding protocols, investments and management improvements.
*This article, which was originally published on Pharmaq's Fish Health Forum, includes information about authorised veterinary medicines and is intended for professional fish health personnel only.