Ideally, vaccines give long term protection against important diseases, can be simply administered, are safe to use both for the fish and the administrator and are profitable.

Why are vaccines of interest? Of course, prevention is better than cure. There is an increasing demand for fish protein, there is increasing concern about the use of antibiotics, increasing awareness about food safety and finally, vaccines are environmentally friendly. Historically, vaccination by immersion was used against vibriosis and ERM in salmonids in 1976. injection started in 1981. In 1998, oral vaccination was introduced in Japan for tilapia, with DNA vaccines being used in salmon in Canada in 2005.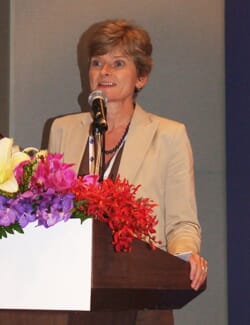 Director of PHARMAQ Asia, Kjersti Gravningen
Salmon production has soared in the last 37 years in Norway, since the mid 1970s, as did the use of antibiotics to control disease. In 1987, effective vaccines were introduced and after that date, the amount of antibiotics used declined dramatically, boosting the image of that industry. In Chile, vaccines were introduced in 1991-92 and this had a huge impact, reducing losses greatly and boosting yields.

There are inactivated, live, recombinant and DNA vaccines. Oral vaccines have a low efficacy and give short-term protection; immersion vaccines give more protection, whilst injectable ones give the best protection, and are most cost-effective. However, they are impractical to use with small fish, plus vaccination is labour-intensive and stressful. By 2010, vaccines were being used in more than 25 different countries, on more than 16 species of fish, effective against more than 18 bacteria and more than five viruses.

"Vaccines have to be developed specifically for individual species and specific regions," commented Gravningen. Also, the efficacy of the vaccination depends on the immune system and size of the fish, the administration method, the formulation/composition of the vaccine and finally the vaccination regime.

Various examples were quoted. With regard to Atlantic salmon (60g) i.p. injection (oil-based) against A. salmonicida gave much better protection than oral vaccination, with the oral-vaccinated fish requiring treatment with antibiotics on more than one occasion. Weight at the time of vaccination is also important. Cod vaccinated weighing 2.2g survived better than cod vaccinated at a weight of 1.8g, with both vaccinated treatments showing far lower mortality than cod in the control groups. Other studies showed that vaccination protected yellowtail and cobia against pasteurellosis, reducing mortality when compared to unvaccinated controls.

Looking to the future, the challenge in Asia is that there are vast numbers of species with vast numbers of management systems and there is a need for regulatory systems to be established.
Summary
Vaccines do work – they have reduced disease and have contributed to sustainable, profitable growth in salmonids, sea bass and other marine species. However, vaccines have to be correctly documented and registered. Furthermore, vaccines need to be correctly formulated to give the required level and duration of protection.

And finally, vaccines give specific protection, provided they are correctly administered.
May 2011