In the United States, the current approach to identifying seafood products provides less meaningful guidance to consumers and seafood companies than one might expect. Federal regulations generally require sellers of seafood to label the product using its common or usual name. The term "common name" is not defined (except for a few specific species ), and there is no explanation in the regulations where any given name must be commonly used.
The term "common or usual name" in theory can allow for many names for seafood products. Over 90% of all seafood consumed in the United States is imported. Seafood products around the world are identified with a myriad of different names, which vary by region, language, and usage.
In English alone, each type of seafood may have more than one commonly-used name, including names used in different regions to describe the same fish. Since any given species may be encountered in the marketplace by people from different places and cultures, speaking different languages, each product has multiple names that are used by somebody somewhere to describe it.Confusion over the names of seafood products can result in economic harm to consumers and seafood dealers resulting from the substitution of cheaper products for more expensive products, and can affect the competitiveness of domestic seafood producers with foreign imports.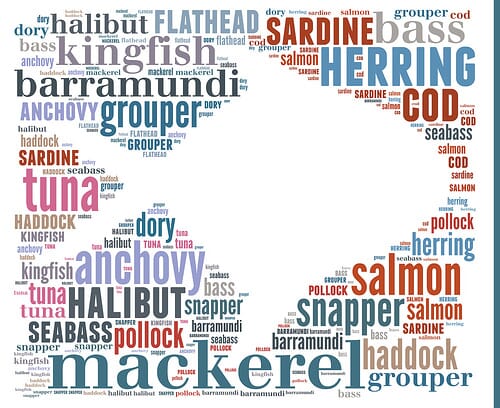 In an attempt to address this challenge, the US Food and Drug Administration (FDA) and National Oceanic and Atmospheric Administration (NOAA) have issued a guidance document called the "Seafood List." The Seafood List provides a searchable database for hundreds of species of seafood. The Seafood List does not expressly require the use of any specific name, but the agencies make clear that if a person uses an approved name from the List, then they will not accuse the person of mislabeling.
The Seafood List identifies four types of names for each species: the "scientific name" (which is the unique Latin name which identifies the taxonomic genus and species); the "scientific common name" (which is the unique English name for fish species used by the scientific community); "vernacular names" (which are names commonly used in local markets); and the "acceptable market name" (which can be a coined market name, or the name for a species set forth in a regulation).
The Seafood List encourages the use of either the "scientific common name" of a species or the "acceptable market name." Paradoxically, the agencies deem it unacceptable to use the scientific name, which is the most accurate and precise way to identify a species in an international seafood transaction, and the vernacular name, which is how actual consumers identify their seafood.
The "acceptable market names" in the Seafood List provide little precision in the labeling of seafood:
• Almost every type of fish can have more than one name. For example, Dissotichus eleginoides can be labeled as Chilean Sea Bass (a coined market name) or Patagonian toothfish (a scientific common name).
• Many names can be used for more than one type of fish. Most consumers know their seafood using common and readily-recognizable names, yet those names can used for many different types of fish. The Seafood List allows approximately 37 species of fish to be labeled as "perch" (either as an "approved market name" or "scientific common name'), 70 species can be labeled as "grouper," and 45 species can be labeled as "snapper."
• The fish allowed to use "acceptable market names" are not necessarily related to one another. For example, the 14 species of fish that can be called "sea bass" include fish from around the world which belong to at least five different taxonomic families.
• Some fish can be called more than one readily-recognizable name. For example, Diplectrum formosum can be called both a "perch" and "grouper," and Lateolabrax japonicas can be called both "sea bass" and "perch."
This naming system does not necessarily alert purchasers to the precise type of seafood being purchased. A person looking at properly-named "grouper" in the supermarket could be looking at any one of 70 different species of fish caught in different regions of the world. The same can be said of many other common types of seafood, including "snapper" (45 species), "sea bass" (14 species), and "perch" (37 species). Even a seafood expert, looking at such properly-labeled fish in the supermarket, would not know for sure the precise nature of that fish.
The Seafood List also does not address all health-related issues. FDA and NOAA repeatedly state that false naming of seafood creates health risks for consumers who need to avoid certain types of fish (e.g., histamine-producing fish, ciguatera, parasites). However, some of the same names can be used for different fish which do and do not have health risks. For example, the FDA's "Fish and Fishery Products, Hazards and Controls Guidance (2011), Ch. 3, Table 3-1, gives examples of "the effect of misbranding through species substitution on the identification of potential species-related hazards."
On that list, it indicates that if "grouper" is mislabeled as "cod," then it could lead to potential health hazards for some individuals. However, the Seafood List allows Epinephelus chlorostigma to be called both "grouper" (as the acceptable market name) and "Brownspotted Rockcod" (as the scientific common name), and Epinephalus taurina be called both "Grouper" (as the acceptable market name) and "Greasy Rockcod" (as the scientific common name). In other words, the Seafood List expressly allows certain fish to be named in ways that the FDA elsewhere says could lead to consumer health concerns.
The federal government has shown a growing interest in civil and criminal proceedings against seafood companies based on alleged mislabeling in commercial transactions, even where the parties to the transaction understood the nature of product being bought and sold. Although the Seafood List is not a regulation, agencies often treat it as if it were a rule and base their enforcement decisions based on whether a company used one of the names on the list.
In legal proceedings brought by the government, it matters whether the Seafood List is accurate, fair, and provides meaningful guidance to businesses and professionals in the seafood industry. For instance, in United States v. Berdeal, Case No. 07-cr-20898 (S.D. Fla. 2009), the government brought criminal mislabeling charges against a small seafood company and its husband and wife owners for importing Centropomus spp. from Nicaragua labeled as "golden sea bass." In Nicaragua, this fish is commonly called "robalo." The Seafood List indicates that the acceptable market name for this species is "snook," which is the name which the government claimed should be used.
Prosecutors dropped all felony charges, and all charges against the individual owners, when defense counsel produced more than 30 Spanish-English dictionaries translating "robalo" (in Spanish) as "sea bass" (in English). This was not a one-off case: the government has brought multiple other cases against companies and individuals in the seafood business for alleged mislabeling.
In the context of these failings of the Seafood List, there is a bit of irony to accusations of mislabeling by government agencies or advocacy groups testing seafood at retail. Most people believe that mislabeling is bad because people will be confused about the nature of a product, and assume that consumers would know what they are buying if the product were properly labeled.
However, with the Seafood List, consumers usually do not know what they are buying even when the product is properly named. In many cases, use of the "proper" name will be just as confusing to consumers as the "improper" name. Moreover, use of the Seafood List does not necessarily allow consumers to make informed decisions to avoid certain types of seafood with special health risks.
As a result, enforcing the use of the Seafood List often does not achieve the goal of a naming system, which is to inform purchasers of the identity of a product. Any effort to reform the way that seafood is named in the United States must take into account the weaknesses of the current system.
November 2013