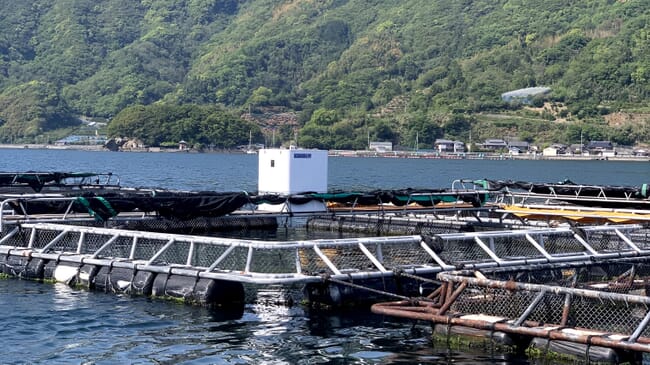 Umitron Cell is a smart feeder that utilises AI and IoT technologies. It is possible to remotely control feeding while watching real-time video of fish swimming in the farm from a smartphone or other device. In addition, AI can judge the appetite of the fish and optimise and control the amount and speed of feeding, thus contributing to the reduction of labour, optimisation of feeding, and the realisation of environmentally friendly aquaculture by preventing uneaten feed from flowing into the sea.
According to Umitron, a large-scale feed optimisation demonstration using its smart feeder and its fish appetite index (FAI), which allowed red sea bream producers to feed their cages remotely via smartphone, based on analysed fish appetites, achieved a 20 percent reduction in feed use. In addition to maintaining fish quality, the farmers also hit their targeted harvest size in ten months instead of 12.
The feeders have been introduced to farms in Japan and Peru, for fish species such as sea bream, striped horse mackerel and salmonids.
All of the fish farmed for Kura Sushi will be purchased under a medium- and long-term contract and sold at their restaurants. In addition, through a series of initiatives utilising technology, the company aims to promote employment by improving the working environment, revitalising local areas and stabilising farm management operations.
Umitron will contribute by developing technologies catered towards sustainable aquaculture practices and environmentally-conscious site management. Via various local and overseas sales channels, the company will also continue to promote efforts to provide consumers with sustainable seafood options with marine environmental protection and efficient workforce allocation as an underlying focus.
Umitron is currently looking for new partners to import and export fish using their technology, and to actively collaborate with overseas retailers and restaurant chains.