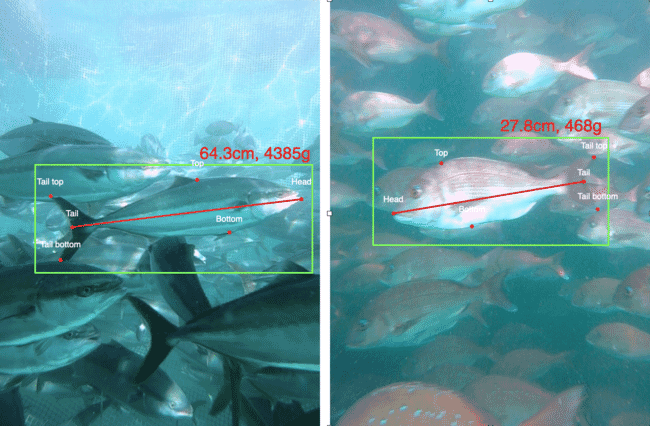 Being able to track fish during their growth cycles is an essential part of farm management. The current way of measuring fish growth involves sampling an adequate number of fish frequently – which is not only a labour-intensive operation for farmers, but can also cause stress to the fish.
Umitron Lens utilises small stereo cameras and artificial intelligence (AI) to automatically measure fish size in the cages and connects to the internet to store data in the cloud. In this way, according to the Japanese firm, the process of checking fish growth is made much easier for farmers, helping them to reduce their workload, manage their operations more efficiently, and in turn increase their profits.

Umitron has been developing this system in Japan since 2018, focusing on improving the user experience on actual farming sites, gathering useful data sets from measurement operations and increasing the accuracy of the size estimations. In using small stereo cameras to enhance usability, the company realised there was a problem of lower accuracy, but they developed a unique algorithm to overcome this and achieve a high fish body measurement accuracy level.
Umitron aims to create a sustainable aquaculture model in the future by integrating the data of from lens with its smart auto-feeder "Umitron cell", the fish appetite analysis system "Umitron FAI", its high-resolution ocean data service "Umitron pulse".
"We will gradually roll out Lens to aquaculture farmers from next year onwards and are seeking new project partners who are interested in Lens and a future aquaculture integration model. If you are a fish farmer, fishery cooperative, local and central government or an international organisation who is interested in our services and projects, please do not hesitate to contact us," said the company in a press release.