UK-grown vannamei near market launch
Pioneering aquaculture company Great British Prawns has announced plans to grow over a million vannamei shrimp per cycle in a dairy farm in Scotland.
The company uses recirculation aquaculture system (RAS) technology and sustainable energy to produce Pacific whiteleg shrimp (Litopenaeus vannamei), known as king prawns in the UK, in clear and clean water.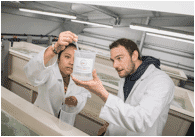 The 1500m² farm, near Balfron in Stirlingshire, is the first of its kind in the UK; and the company has ambitious plans to expand, providing fresh 25g prawns to restaurants across the country.
The majority of the UK's king prawns are currently sourced frozen from farms in the Far East and Central America, while Great British Prawns' land-based farms will deliver the prawns from tank to plate within 24 hours, with no need for freezing and with zero air miles.
The company's first farm uses sustainable energy from an anaerobic digester on a neighbouring dairy farm, high levels of insulation and ground-breaking bio-filters to clean and recycle its waste. It also won't require the antibiotics and other medication, chemicals and manual handling used widely in the existing prawn farming industry.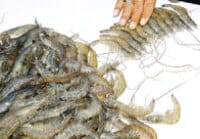 With harvesting starting this summer, the prawns will be available initially to chefs within a 2-hour radius of the farm (including Edinburgh and Glasgow) at a cost of £23/kg, a price similar to langoustines. Other Great British Prawns farms are scheduled to open across the UK shortly.
Chairman and commercial director, James McEuen said: "Most prawns have travelled 6,000 miles to reach a UK consumer with worldwide demand continuing to grow. But we know that consumers are increasingly concerned about the environmental impact of seafood production and to be sustainable, the future of aquaculture really has to be land-based.
"This farm has the potential to lead a transformation in the way seafood is produced. We aim to meet growing UK consumer demand for regional and local food production with the reassurance of outstanding husbandry, provenance and sustainability.
"This farm is a world-first in terms of technology and sustainability but it also produces some of the most outstanding and delicious prawns in the world."
Dr Andrew Whiston, technical director for the project, said: "I've worked in aquaculture engineering for more than 25 years and this project is truly setting a worldwide precedent that will change the way prawns are farmed in the future. Focusing on getting the recirculation aquaculture system (RAS) exactly right, along with mimicking the precise conditions required for optimal prawn development, has been a precision project that has required painstaking research and engineering. The outcome is an approach that impresses on its engineering, as well as its sustainability and humane methods."