Tuna Market Report - Japan - September 2009
Economic problems in Japan are affecting on the tuna market as people switch from extravagant meals in restaurnats to dinig at home, according to this report by Fatima Ferdouse of Infofish and published by FAO Globefish.
The Golden Week Festival
In Japan, the cherry blossom period coincides with the beginning of the holistic and fiscal year. Welcoming parties are often opened with hanami or flower viewing. Demand for sashimi tuna usually peaks throughout Japan during this time.

But this year's Golden Week celebration was less vibrant; demand and supply of fresh tuna slowed down in the market. The situation is a reflection of low consumer confidence, while the record low exports from Japan puts the country on the course of its worst economic slump since World War II.

To cope with the rising unemployment and falling disposable incomes, Japanese consumers are spending less on dining out.

However, imports of air-flown tuna increased by 7.5 per cent during the first quarter of the year supported by high imports of bigeye and bluefin tuna. Market analysts link this development to the strong yen and rising tuna trade outside the auction markets, particularly by supermarkets. Reportedly more meals are eaten at home, which is supporting the retail trade.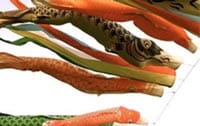 Market Trends
Fresh/chilled tuna
Even during the Golden Week celebration, consumer demand for cheaper tuna persisted in the retail and catering trade in favour of farmed Mexican-origin bluefin compared to the Mediterranean bluefin. Many kaiten-sushi (sushi-on conveyor belt) restaurants chosen the former. Outdoor eating during late April to early May increased throughout the country. But cost-conscious consumers opted more for red meat tunas (bigeye and yellowfin); demand for the bluefin varieties remained very limited during this period.
Frozen sashimi tuna
Sales of frozen sashimi tuna increased during April-May festival season. Following the trend observed in the fresh tuna market, more fish were traded outside the auction hall at the Tsukiji market. Auction prices of purse seine-caught yellowfin were sold at half the price of longliner and pole and line caught fish. Supermarkets were the main customers for these fish. The fish quality aspect was compromised, as consumers are more price sensitive than the quality issue.

Supplies of long line caught frozen tuna during January-April were dominated by medium sizes (40kg/pc) South Korean origin biegeye tuna. Trading outside the auction hall was equally brisk where supermarkets were the main buyers. Eliminating one step in the distribution chain makes the fish more affordable to many intermediary users; hence trading outside the traditional auction hall has increased.

With the half yearly bonus paid-out in Mid June, the sashimi tuna market became active momentarily. In response to improved demand, supplies have increased in the auction market and brisk sales are observed. Prices have improved for good quality bluefin (with high fat content) arriving from the Mediterranean sources. Supplies of 'quality' bigeye and yellowfin tuna (red meat) have improved significantly from southeast Asian sources – fetching much better prices compared to the products sold during the Golden Week holidays.
Imports
Total tuna imports into Japan (excluding canned/pouched tuna) were 69,096 tonnes, valued at ¥54.547 billion (US$ 566.32 million) during January-March 2009, against 66,904 tonnes and ¥77.975 billion ($737.73 million) in the same period last year.

Imports of frozen tuna also increased with higher supplies of skipjack (more for katsuobushi production) and albacore. Notably, demand for bushi or dried/shaved tuna products in Japan increased by 4.2 per cent as a result of consumer preference for the cheaper alternative. The usage of dried tuna shaves is extensive in Japanese cuisines.

In the recent past, the market for imported tuna loins and meat (generally frozen) fared better compared to the dressed fish. But the trend reversed during the first quarter of this year when loin imports totalled 9,664 tonnes – a 28 per cent reduction in supply compared to the same period last year. Import value fell by 38 per cent during this time at ¥23.824 billion (US$247.348 million).
Outlook
Consumer demand in general is currently affected by the H1N1 flu scare (known as 'Mexican flu' in Japan). People are avoiding crowded places such as subways, shopping malls, outdoor eating etc. Business at Kaiten-sushi shops is getting quiet. In contrast, household demand for prepared foods has increased including food for home delivery such as pizza etc.

The limited summer demand for tuna has also shifted to the local pole and line caught skipjack 'Hatsu-gatsuo' – a popular and cheaper summer delicacy in Japan.

The Bank of Japan said: "The pace of deterioration in the Japanese economy will likely moderate." However, in general, the sluggish market trend is likely to persist till the summer holiday season in July/August.

With the reduced number of fishing boats, supplies of high quality red meat tuna from the Atlantic and Pacific oceans will be lesser in future. In a conservative market affected by the economic recession, demand for sashimi tuna will also be slow in the coming months. Therefore, with some minor ups and downs in prices, the market is expected to maintain a balance during the rest of the year.

October 2009