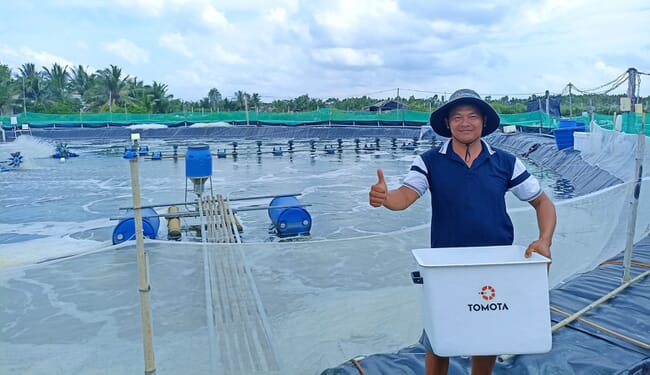 Running a successful aquaculture operation is a lot like conducting an orchestra. When your farm is in harmony, then your ponds and cages will keep producing high-quality fish, shrimp and shellfish – as well as hard-earned profits. Disharmony through just one or two 'off' factors – like water quality issues and disease – results in underperforming and potentially unprofitable operations: the biggest worry of any farming business.
Working with live animals in an aquatic environment means not everything can be easily seen and measured. Large-scale aquaculture operations have traditionally relied on an army of employees testing water parameters, making sure stock is properly fed, fixing broken aerators and tending to the endless minutiae of a fish or shrimp farm. A big part of decision-making on the farm is also based on the personal experience of the farm manager and often relies on guesswork.

Enter the Tomota System, which aims to make the lives of shrimp farm operators easier by ensuring that everything runs in harmony, based on accurate numbers.
"Tomota means friend in Japanese and is a centralised control system, designed to manage shrimp farms more efficiently. Operators can see everything going on in their farms within 10 minutes, compared with manual checks which take hours of tedious work," explains Dr Van Vu, co-founder and CEO of Otanics Technology, which co-developed, distributes and continuously refines Tomota's main control system and its other appliances.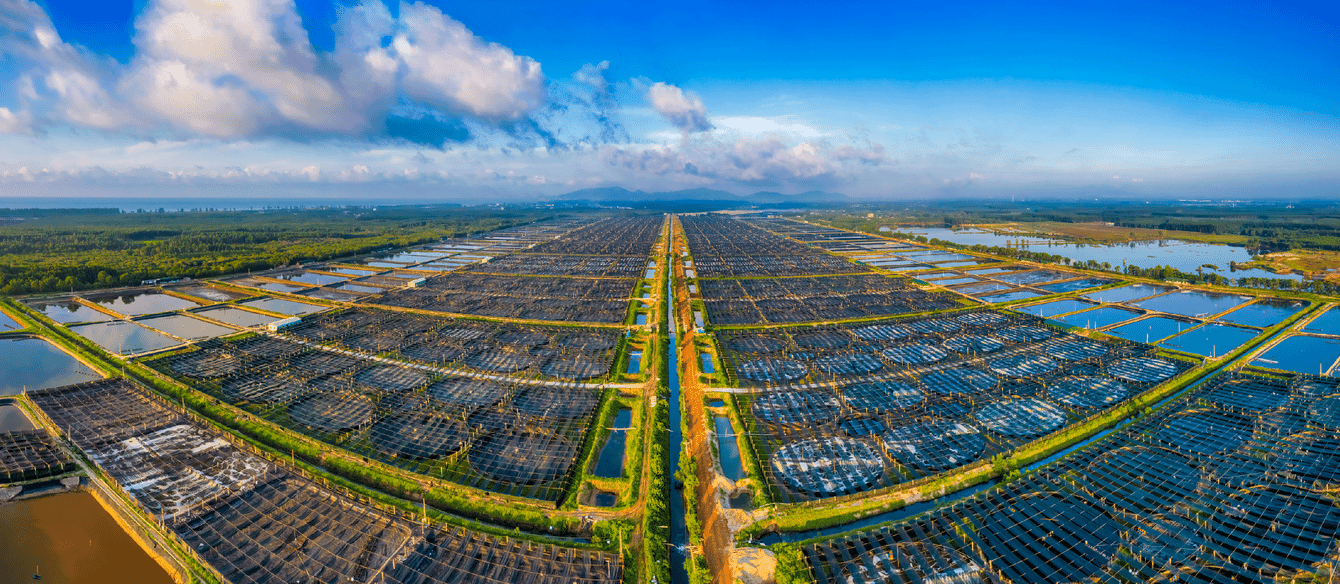 Returning to his native Vietnam in 2015 after completing his PhD in bioinorganic chemistry from the University of Minnesota, Dr Vu eventually entered the watery world of aquaculture after briefly experimenting with shrimp feeds.
Together with business partners Tuan Nguyen and Minh Phu Seafood Corporation CEO, Le Van Quang, they founded Otanics, which develops Tomota products and runs an experimental high-tech farm.
"I was interested enough to start a shrimp farm before Otanics was established. We tried many experiments at the farm, which is also where we pilot-test many of our first prototypes. We see these modern technologies as a way to make shrimp farming more integrated, centralised and sustainable," Dr Vu reflects.
The Tomota System is now reaping results in Vietnam and beyond. At the main Minh Phu Loc An shrimp farm in Vietnam, 840 ponds are sustained by 5,000 different devices – ranging from paddlewheels to feeders.

"Over a hundred people had to work the night shift to monitor all these devices, which were scattered across a 300-hectare property. After we installed Tomota Edge and upgraded the machines to smart devices, just two staff could monitor everything from a central control room," explains Dr Vu.
This move to data-driven farming has drastically saved labour costs, reduced farm risks and increased farm output significantly. Today, Vu's Tomota products are serving over 200 shrimp farms and 100 hatcheries in 11 countries.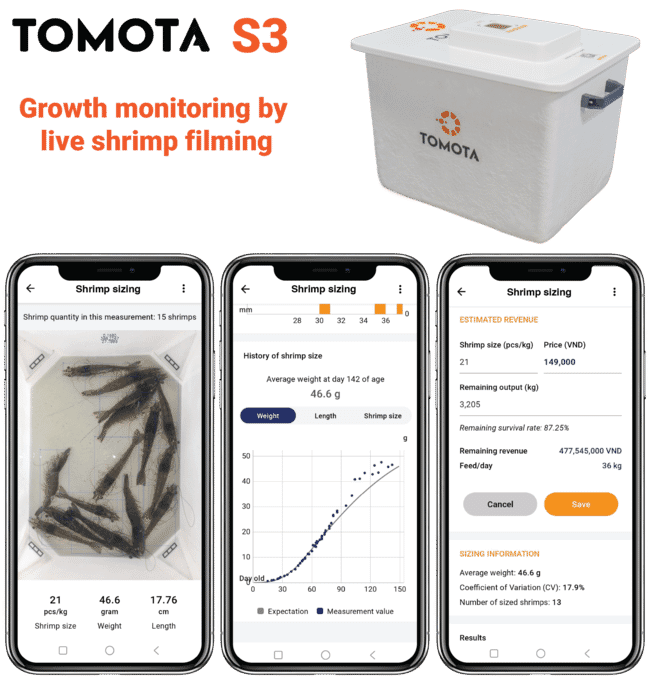 Optimising operations with different tools
Tomota's system consists of several key components designed to boost the efficiency of your shrimp farm. Let's get to know them better.

The Internet of Things (IoT) is a term for various sensors, software and technologies that gather, process and analyse data to optimise daily operations or production systems. Dr Vu's system uses the Cloud to access and operate Tomota IoT on any laptop or mobile phone – handy for operators who are always on-the-go.

"Tomota IoT is our platform for running your farm's hardware, like aerators and automatic feeders. Shrimp farmers can fine-tune their systems with just a few clicks. All you need is an internet connection. Even without signal though, it will keep your farm running via pre-programmed scripts and orders. Of course, these can always be overridden manually onsite," he explains.
Tomota IoT is particularly useful as a way to see if some of your farm's instruments aren't working properly. Using cameras and by continuously checking voltage, pressure sensors and instrument status, the system instantly notifies farm managers which machines need to be recalibrated, rebooted, repaired or replaced.
"We can monitor the runtime of every piece of hardware attached to Tomota IoT, making recommendations for preventive maintenance, which has been proven to be highly effective in reducing unexpected instrument failure and reducing the cost for fixing or replacing failed instruments," notes Dr Vu.
The Tomota S3 is a small white box that counts PLs and larger shrimp while measuring their length and weight, thereby forecasting everything from the amount of feed needed in each pond, to the possible growth rates and harvesting dates of the stock. An optional automatic feeder with a digital scale ensures that only the right amount of feed is disbursed at the right time, minimising feed waste, overhead costs and pollution.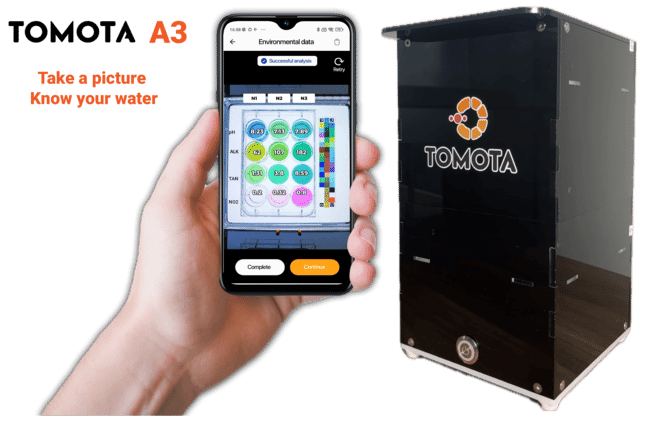 The Tomota A3 is a small black box that facilitates the measurement of pH, alkalinity, ammonium / nitrogen and nitrite levels of pond water, with research underway to test other parameters. The system makes recommendations to optimise water quality, which operators can act on.
"Using this can greatly reduce your water treatment costs by telling you for instance, how much water you'll need to treat over the next days to optimise your orders for water treatment supplies," says Dr Vu, adding that the system is robust and requires minimal calibration, typically just once yearly.

Forecast the value of your stock
Knowing the current value of the stock in your ponds is a key tool to maximise your earnings, particularly when market and supply prices fluctuate almost daily. Tomota S3 lets operators know how much their stock is worth.
"We have access to the most reliable daily shrimp price chart in Vietnam. This price chart is quite detailed and is split according to both shrimp size (pieces per kilogram) and quality. The price chart is integrated into the Tomota platform," Dr Vu explains.

Users can then gauge the value of the biomass in their ponds to have a well-informed estimate of the revenue they might get at a particular time. Analysing the trend of shrimp prices and the growth curve shown by Tomota S3 allows users to decide whether they can harvest or should for example harvest the shrimp at larger sizes.

S3 can also calculate the numbers, size, weight and estimated growth rates of the shrimp.
"We use computer vision and image processing to determine the length of the shrimp. We have an extensive amount of science-backed data to correlate length and weight. Measuring your shrimp twice weekly can generate a good growth curve, from which their average growth rate can be extrapolated," Dr Vu reflects.

Friend of the shrimp production industry
According to Dr Vu, the Tomota System is continuously evolving. Aside from working on algorithms for disease identification and prevention, his team is developing a weather forecasting model, plus a system to predict market trends for possible mid-to-long-term revenues from seafood, based on various factors, such as the price of feed and other supplies.
He adds that Tomota's unique selling proposition is the seamless integration of its various technologies, compared to other farm management systems that offer just two or three functions.
"Our platform spans across the key sectors of the shrimp value chain. We have various modules and serve all stakeholders, from big and small farms, to hatcheries, feed and supply providers, shrimp buyers, processing plants and so forth. Our system can also easily integrate third-party technologies," he explains.

Tomota's S3 and A3 systems can be used as standalone products. Operators can purchase them and pay a small fee for each analysis. The basic features of the management software are already available on purchase, with additional downloadable functionalities, depending on each farm's needs. Tomota's pricing system appears to be modest, compared to similar products dominating the market, and the prices on the Vietnamese market are currently as follows:
Tomota S3 White Box: $340 (300 free analyses).
Tomota A3 Black Box: $400 (300 analyses and indicators for 300 tests).
Tomota A3 Indicators: $0.20 - 0.40 (test for four parameters).
Tomota IoT: $2,000 – $3,000 per pond (depending on the layout and number of installed instruments).
Tomota FMS (farm management software package): Prices are customised for large corporate farms or farm groups.
According to Dr Vu, compared to other proven and well-known brands in the field Tomota's pricing is transparent and its products are very affordable. The company believes this allows farm operators not just easier access to its products but it also to procure more S3 and A3 boxes to upscale their farm operations.
He adds that his team also provides guidance, servicing and maintenance as needed. The S3, for example, can count 4,000 PLs at a time. As the software runs on any mobile phone instead of in the box, fewer costly mishaps are likely to occur as well.

An additional argument in favor of Tomota's products is that the Tomota S3 and Tomota A3 can be self-fixed, but the company also provides spare parts when needed. Most parts of the Tomota IoT hardware can also be self-fixed, though other parts will require a Tomota membership contract or contractors to fix.
"We always reiterate the fact that Tomota means friend. Not only do we want our products to be a shrimp farmer's best friend. We want to be a friend to all players within the global shrimp ecosystem," Dr Vu concludes.
Although we don't use AI to write our features at The Fish Site, we can always use a friend to help make our operations a little better. And if the performance and durability of the Tomota System matches their enthusiastic and ambitious sales pitch, then we'll bet this company has a bright future.