Writing in Proceedings of the National Academy of Sciences, Jessica Gephart et al point out that the 90 percent statistic is regularly rolled out by the press and politicians to justify changes in policy.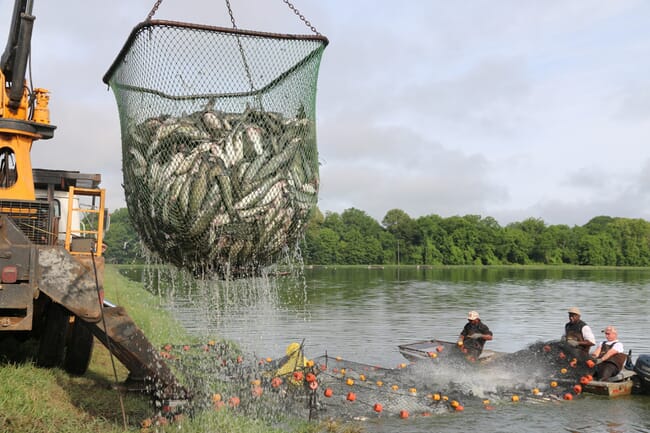 "In recent years, the former US Secretary of State, current US Secretary of Commerce, and members of Congress have all cited the number to call for new policy measures addressing seafood sustainability and dependence on foreign seafood," they note.
However, they argue that "far more than 10 percent, likely 35–38 percent, of seafood consumed in the United States is of domestic origin."
The main reason behind the statistical anomaly, they explain, is that not all seafood imports are of foreign origin.

"Although this may seem logical, it is not always the case; large quantities of seafood landed in the United States are exported for processing and shipped back into the United States… As a result, some US seafood imports appear to be foreign but are actually caught in the United States. For example, China imports around one third of all US seafood exports with around 57 percent coming from species for which some portion is processed and shipped back to the United States. In the extreme case that all such processed seafood is returned to the United States, as little as 61 percent of US consumption could actually be foreign imported seafood," they note.
Such a miscalculation is, the authors argue, central to US plans to kick start their domestic aquaculture sector, yet this might be based on flawed logic.
"Recently, NOAA unsuccessfully tried using existing fisheries regulations for the permitting of offshore finfish production in the Gulf of Mexico, resulting in the introduction of a new bill, Advancing the Quality and Understanding of American Aquaculture (AQUAA)… This bill, similar to its predecessor passed in 1980 (National Aquaculture Development Plan), cites the US seafood deficit and 90 percent import statistic as a primary justification for new policies to increase development and production of domestic farmed seafood," they explain.

"However, increasing aquaculture production will not necessarily reduce apparent US reliance on imports. Under the current trade statistics, the portion of farmed seafood exported for processing will appear destined for foreign consumption, whereas the imported processed form will still appear to be a foreign product," they note.
Nevertheless, what is clear is that US reliance on global aquaculture is still substantial.
"Today, three of the top four most consumed seafood products in the United States (shrimp, salmon, and tilapia) are among the most intensively farmed species... but the increasingly globalized seafood supply chains for both wild-capture and aquaculture products complicate efforts to track a single product and its sustainability," they note.
What is also clear is that, whatever the country's true seafood import statistics, there is not doubt that the US seafood trade deficit makes the country vulnerable to the impacts of political upheaval.
"The current trade war between the United States and China highlights these two issues. China is the United States' largest seafood trading partner because of its role as a prominent seafood processor and its growing market for US seafood. This makes the US seafood sector vulnerable to trade barriers. Since January 2018, back-and-forth escalation of tariffs has led to US tariffs on more than $200 billion of Chinese goods, including 10–25% on Chinese seafood imports and China has imposed retaliatory tariffs in kind. With the current uncertainty over the US–China trade war, it is important to take stock of its impact on US industries," they conclude.
As a result, whether the US imports 90 percent or 60 percent of its seafood, it is clear that they need to reconsider not just the way they calculate their seafood statistics, but also how they produce and consume seafood.