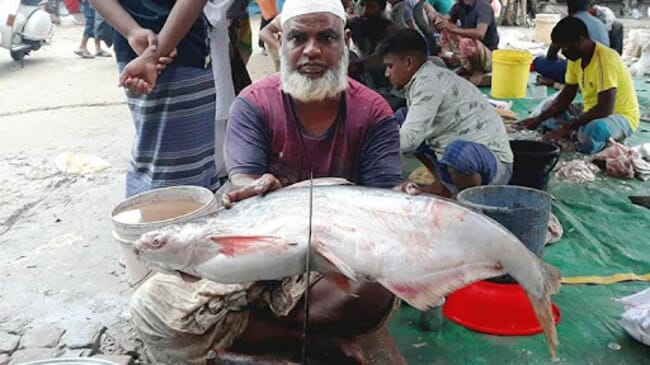 This expansion in fish farming has not only provided a major source of protein for low-income families but has also created numerous job and income opportunities in rural and suburban areas. Approximately 20 million individuals in the country are engaged in fish farming and its wider value chain.
The production of these three fish species has experienced remarkable growth. For instance, the annual production of cultured pangasius increased from 155,000 tonnes in 2010-11, to 395,000 tonnes in the 2021-22 fiscal year; while tilapia output surged from 98,000 tonnes to 329,000 tonnes; and koi production rose by 350 percent to reach 57,244 tonnes during the same period. Overall, cultured fish production in Bangladesh nearly doubled between FY11 and FY22, rising from 1.2 million tonnes to 2.17 million tonnes, according to the Department of Fisheries (DoF).

The increased cultivation of these species can be attributed to factors such as the availability of juveniles, the increased use of commercial formulated feed and market demand. The introduction of artificial breeding of pangasius in the 1990s by the Bangladesh Fisheries Research Institute (BFRI) played a pivotal role in their popularity among consumers in middle and lower-income groups, as well as urban poor across the country, making it a crucial source of animal protein. The high survival rate (close to 100 percent) of pangasius juveniles has further motivated farmers in various regions of the country to engage in fish farming. For example, there are 112,000 fish farmers in the Mymensingh division, mostly in Trishal, Gouripur, Phulpur, Tarakanda, Bhaluka and Muktagacha upazilas, according to Dilip Kumar Saha, district fisheries officer.

Koi is a native freshwater fish species and very popular with consumers, despite the fact that it had a very low output before the introduction of artificial breeding. However, the arrival of genetically improved broodstock from Thailand from 2003 has doubled the average size of the fish and boosted overall production. Koi farming can be profitable, as the species can be farmed in high density in small ponds, even without aerators. This species can sustain a long time without water and in adverse environments. A close-to 100 percent survival rate, low feed costs, the ability to produce several crops per year and high demand has made koi farming popular across the country.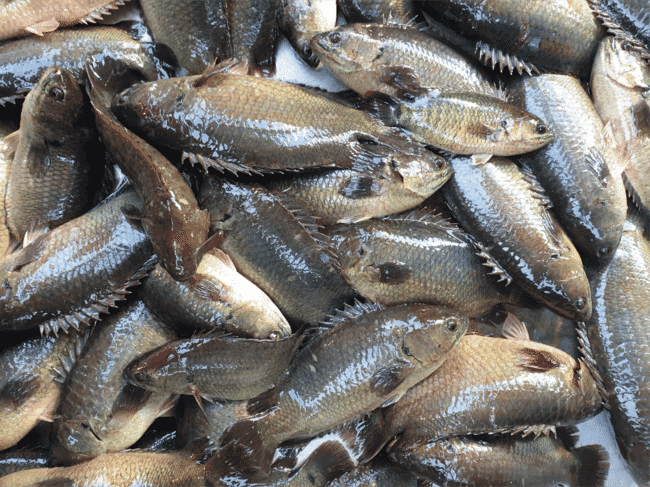 The aquaculture industry has emerged as a leading job creator in Bangladesh, as the sector requires significant manpower involvement throughout its value chain. The ease of producing these three fish varieties and the possibility of farming them in household ponds have also contributed to their widespread cultivation, resulting in affordable prices for end-consumers. Getting out of traditional practices and adopting improved farming methods have further boosted production.

According to a report by the International Food Policy Research Institute (IFPRI), 56 percent of Bangladesh's fish supply originates from ponds, and the practice of fish farming in these ponds has resulted in a nearly six-fold increase in production over the past 30 years. In 1990, the average annual per capita fish consumption was around 7.5 kg, but now it has surged to 30 kg.
The cultivation of pangasius, tilapia and koi has had a substantial impact on increasing the overall output of fish in Bangladesh, with the total fish production reaching 4.7 million tonnes in FY22, up about 55 percent from 3.62 million tonnes in FY11. Aquaculture now accounts for about 45 percent of the total output, according to DoF data.
Export potential?
According to Yahia Mahmud, the director general of the Bangladesh Fish Research Institute (BFRI): "Bangladesh has the potential to enter the market of value-added pangasius products for export. The introduction of white fleshed pangasius from Vietnam increases the possibility of exporting these to other countries".

Bangladesh has ranked third for inland fish capture production and fifth for "aquaculture production in FAO's State of World Fisheries and Aquaculture 2022, although the country is only 148,000 square kilometres – less than half the size of Vietnam.

However, when it comes to exports, shrimp accounts for about 71 percent of the total export value of $422 million, which was achieved by exporting only around 22,000 tonnes. Most of these are shrimp are extensively farmed black tiger prawns (P. monodon).

Bangladesh has 175,000 hectare of land area for shrimp farming (brackish water 155,000 ha, freshwater 10,000 ha) which is more than the land area that India allocated for its shrimp farming (160,000 ha). Yet, Bangladesh's shrimp production is falling by about 6-8 percent annually and the number of export-oriented seafood processors in the country has fallen from 140 to 30, due to the shortage of raw materials.
The Bangladesh government has recently approved the commercial cultivation of P. Vannamei to boost its shrimp exports, but vannamei cultivation will require a fair amount of time to flourish as its aquaculture value chain (ie hatchery, nursery, technicians) is yet to be developed.
In the meantime pangasius and tilapia present promising export options, as value-added products from pangasius and tilapia have high demand in the US, EU and Asian markets. Modern farming methods, more investment at farm level, processing plants, infrastructure developments and due-diligence from the government can help to add them into the foreign currency earnings stream and create more job opportunities in the country.
*A different version of this article was originally published by Seafood Network Bangladesh, Bangladesh's first dedicated web portal to promote and support the growth of country's seafood and aquaculture sector globally.