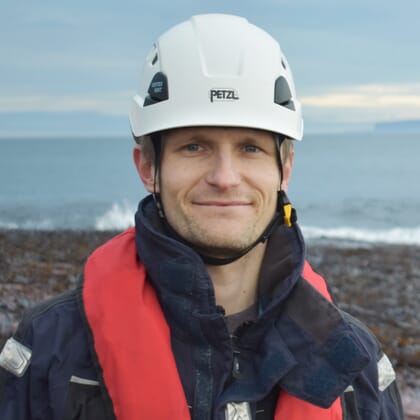 What inspired you to join the seaweed sector?
I'm a marine biologist by training. When I was studying for my PhD at Newcastle University, I became increasingly motivated by the global challenges of climate change and resource efficiency. After moving to northern Scotland, I worked in various community sustainability and carbon reduction projects. This developed into consultancy and the seaweed idea was born out of a process to evaluate innovative, transformational business concepts in 2012. Following several years of background research, I became a director when the company was established in 2015.
The potential for seaweed is extraordinary, as it's a crop that grows without fertiliser, fresh water or land. I'm delighted to be channelling my passion for sustainability and background in marine science into creating a successful seaweed business.
What species of seaweed do you use and for what purposes?
We are licenced to harvest 17 different species of seaweed from coastline in Caithness [northeast Scotland], with around 10 of these species forming our core production. What's most important to us is sustainability. Our seaweed is carefully hand-cut at peak growing seasons for the best quality and to ensure plants can regrow. Every year, we carry out impact monitoring surveys to make sure our harvesting techniques are sustainable. These surveys have been running since 2015, factoring in both seaweed and the diverse community of plants and animals in the habitat. Our wild harvesting is certified as organic by the Soil Association. All of our seaweed is carefully washed and dried. It is then milled and packed depending on customer needs. Dried seaweed has a long shelf life, allowing us to supply year-round to food manufacturers, ingredients suppliers and cosmetics producers.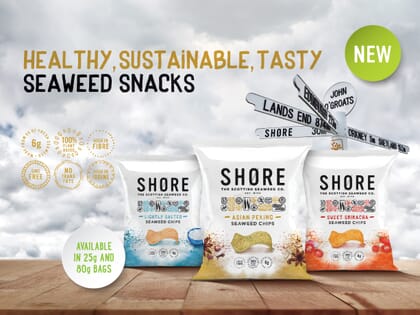 We recognised at the outset that there was a fantastic opportunity to launch retail products using quality Scottish seaweed as the star ingredient. Our Shore brand launched in 2018 and we brought three new ranges to the market earlier this year: Shore Pesto & Tapenade, Shore Chips and Shore Clusters.

Our operations in the early years prioritised production of seaweed for our Shore brand products. Now we also supply to a growing customer base drawn to the amazingly diverse benefits of seaweed.
We knew that cultivation of seaweed was important to future production. In 2018, we were the first seaweed company in Scotland to install a farm at sea. Our grid design can produce up to 10 tonnes of seaweed a year. It lies south of Kerrera, looking out to Mull and the open Atlantic beyond. We had an incredibly successful crop in the spring of 2020, producing good yields and excellent quality plants. We farm two species currently – Atlantic wakame (Alaria esculentata) and sugar kelp (Saccharina latissima) – and it will be important to expand our range over time. All seed is sourced from plant material collected locally.
What percentage is harvested from the wild and how much is cultivated?
At the moment, over 90 percent of our production is from wild harvest. We can harvest year-round because of the variety of species, carefully planning around tides and weather. It is feasible to produce significantly more from cultivation, but we have focused on piloting production to understand how to scale farms up to commercial operations. We expect cultivation to account for the majority of production in a few years' time.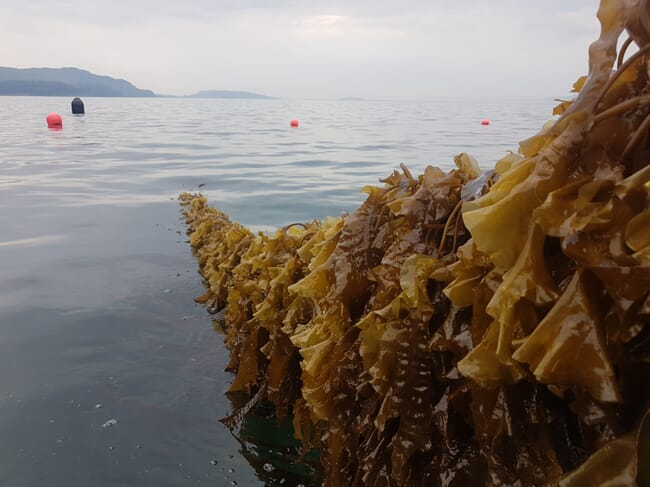 What are the biggest challenges for farming seaweed and why do you think it's been slow to take off in the West?

The key challenge is achieving scaled, efficient production. This requires technical innovation to speed up operations at sea. There is also very little seed selection currently; improving yields and developing strains for specific components is the basis of all agriculture. Farming a wider range of species will also be beneficial, especially if we can extend the harvest season.
Underpinning all of this is viable markets for farmed seaweed at scale. We are focused on producing high quality seaweed for food, but the applications for farmed seaweed include agriculture, chemical extraction, bioplastics and many more. It is important that clear specifications are developed for each of these markets.
Do you worry that the pioneering seaweed producers might be usurped by established farming companies from elsewhere in the aquaculture sector?
Seaweed farming is a very different method of aquaculture and pioneers will capture a considerable amount of practical know-how. Early stage farmers are going to need significant capital to scale-up operations, but there are many sources of capital from investors keen to engage in sustainable and innovative production of plants at sea.
What are the biggest challenges in terms of growing a market for seaweed – both domestically and further afield?
Seaweed is used in a variety of applications, but we decided to focus on food markets due to the amazing health properties of seaweed (including natural mineral content, high iodine and gut health). Seaweed has been largely forgotten in the Western diet and it is mostly consumed in the UK within Asian cuisine. Indeed, a lot of people don't realise that the crispy seaweed served in Chinese restaurants in the UK is usually fried cabbage! One of our primary motivations for launching products under the Shore brand was to make it easier for people to eat seaweed, combining it with other healthy ingredients in familiar formats. Our focus is on the UK market, but we have also begun export to Europe and further afield.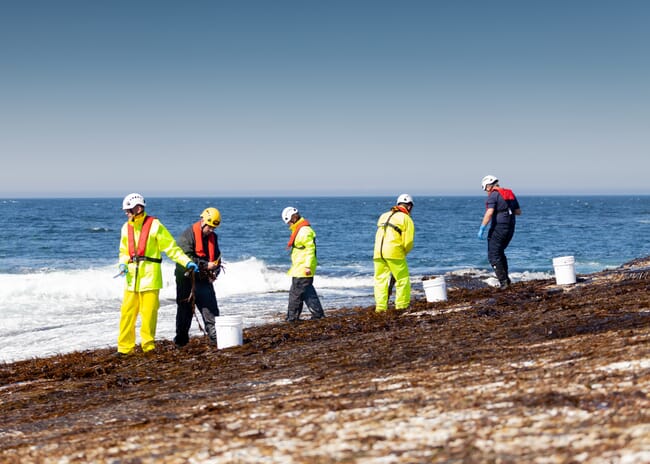 Where would you like Shore, and the seaweed sector in general, to be in 10 years' time?
We want Shore to be the leading seaweed company in Europe in 10 years' time. I want to see a thriving industry, based on sound sustainable sourcing methods that benefit local communities.
Do you think politicians and state agencies are doing enough to support the seaweed sector?
Our company is grateful for the considerable assistance provided by Highlands and Islands Enterprise since we started. We also recently secured funding through the Scottish Investment Bank to scale-up our operations and develop the brand. This support is because of the incredible potential for seaweed and the strong vision of the Shore team.
I welcome more research to support industry challenges, but it is particularly important to focus on constraints to commercial production. I would like to see effective and appropriate regulation to ensure the seaweed industry develops sustainably. I'm also a director of the Scottish Seaweed Industry Association, which aims to promote sustainable seaweed production in Scotland.