The Potential of Asian Carp as a Raw Material for Fish Meal Production
The native range of Silver Carp Hypophthalmichthys molitrix and Bighead Carp H. nobilis, collectively referred to as bigheaded carp or Asian carp, includes wide ranges of the Asian continent. However, following inadvertent introduction in the southeastern United States, they have also become widely distributed in the Mississippi River Basin in North America, write John C. Bowzer and Jesse T. Trushenski.
Populations of these invasive species have grown dramatically in recent years, and evidence suggests that the large numbers and biomass of Asian carp in the Mississippi River Basin, particularly the Illinois River, are negatively affecting the ecological integrity of these systems.
Additionally, economically and recreationally important activities (e.g., transportation, sport fishing, pleasure boating, and water sports) have been disrupted in waters where Asian carp have become abundant. There is great public concern over the threat Asian carp may pose to the economic and recreational value of US and Canadian waterways, including various major river systems and the Great Lakes. These concerns prompted the exploration of a variety of strategies aimed at controlling the spread of Asian carp and reducing their densities in the Mississippi River Basin.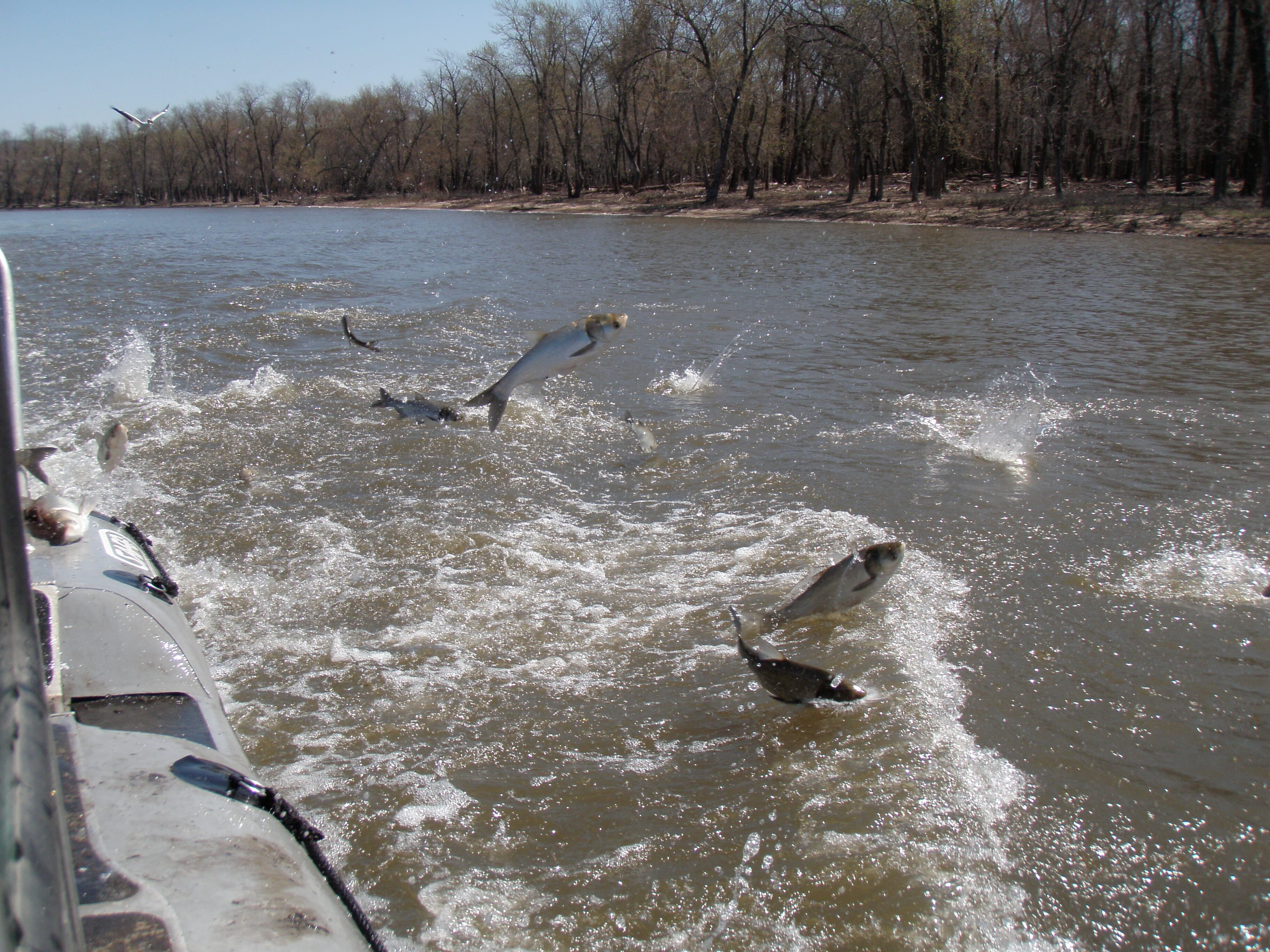 Efforts to control movement of Asian carp and limit their spread have included behavioural barriers (e.g., strobe lights, acoustic deterrents, air bubble curtains, electrical barriers), physical barriers (e.g., vertical drops, rotating drums, floating curtains), and chemical barriers (e.g., low oxygen, carbon dioxide).
These efforts are geographically focused on the upstream 'invasion front' and the Chicago Area Waterways System which connects the Mississippi River Basin and the Great Lakes. Efforts to reduce Asian carp densities have been primarily focused on the larger, downstream populations in order to reduce pressure on the invasion front. Early efforts to reduce Asian carp densities primarily focused on chemical eradication (e.g., use of rotenone), and research to refine chemical eradication-related approaches is ongoing. Harvest has also been considered as an approach to reducing Asian carp abundance (Tsehaye et al. 2013), but the impact of these efforts continues to be limited by American consumers' apathy towards carp as food fish and the logistical challenges of accessing other, more favorable export markets (i.e., China).
A more promising approach to harvest-based control of Asian carp is to create market demand by developing industrial applications for these fish, such as rendering to produce Asian carp meal for use in aquaculture and other livestock feeds.
To develop market demand for Asian carp meal, various attributes of the raw material and finished product had to be established including nutrient content, shelf stability, contaminant burden, digestibility and utilisation by aquatic livestock, and performance of Asian carp meal-based feeds in comparison with traditional fish meal-based formulations.
First, a survey was conducted to determine the seasonal and geographical variation in nutrient content of Asian carp as raw materials for rendering (Bowzer et al. 2013). Fish were collected from five reaches of the Illinois River during the fall, spring, and summer, pulverized and dried to a meal, and analysed to determine nutrient content and oxidation during refrigerated storage.
Results indicated only slight geographical and seasonal variation in composition and that, if the finished product were properly stabilised with antioxidants, Asian carp appeared to be a good raw material for rendering into fish meal. Work by other researchers also demonstrated that the levels of various environmental contaminants were relatively low in Asian carp and posed little risk in the context of fish meal production and livestock feeding (Rogowski et al. 2009).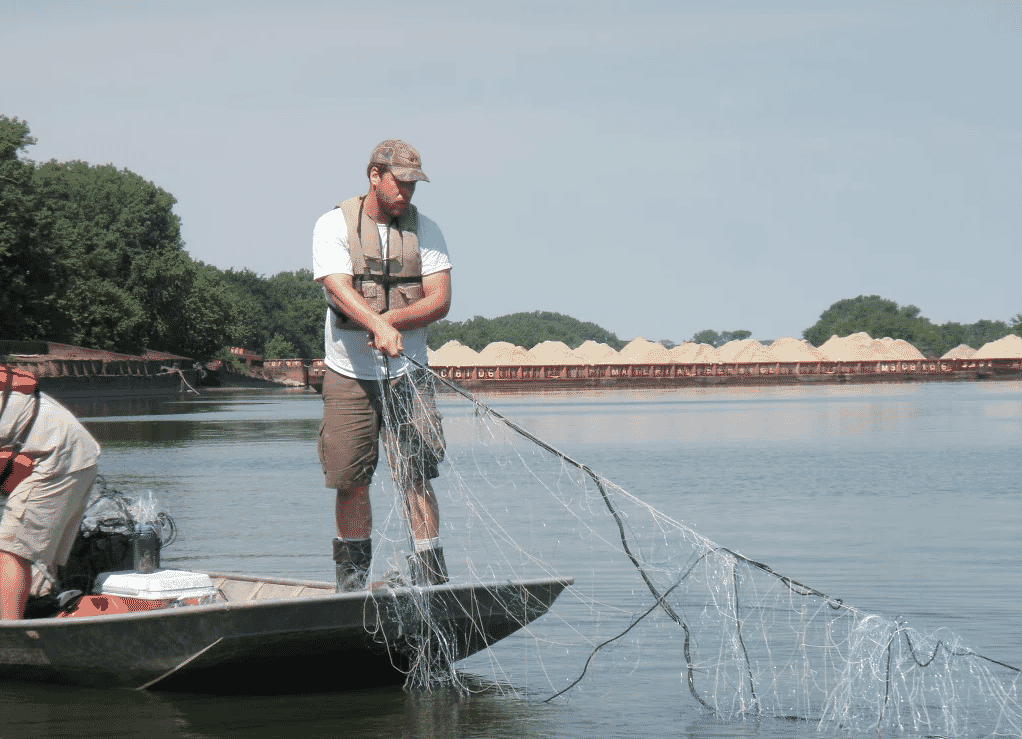 In cooperation with research-supported Asian Carp harvest, Asian carp meal was commercially rendered (Protein Products, Gainesville, Florida) for determinations of digestibility and lab- and farm-scale feeding trials.
Standard digestibility trials conducted with Rainbow Trout Oncorhynchus mykiss and Hybrid Striped Bass Morone chrysops x M. saxatilis indicated that Asian carp fish meal was slightly less digestible than menhaden fish meal, but generally well-digested by both fish (Bowzer et al. 2014a).
Using the apparent digestibility coefficients generated by this work, practical feed formulations were developed for lab-scale feeding trials with Hybrid Striped Bass, Rainbow Trout, Largemouth Bass Micropterus salmoides, and Cobia Rachycentron canadum. These trials demonstrated that each of these fish readily accepted Asian carp meal-based feeds and grew as well on these as on menhaden fish meal-based feeds, adding further credence to Asian carp meal as a high-value ingredient for aquaculture feeds (Bowzer et al. 2014b; Bowzer and Trushenski 2015).
To validate these results further, cooperative farm-scale trials were initiated with two Illinois Hybrid Striped Bass growers to compare Zeigler Bros. (Gardners, Pennsylvania) "Silver" fish feed (the company's standard product line for Hybrid Striped Bass) and an equivalent formulation manufactured by Zeigler Bros. containing Asian carp meal and soybean meal in lieu of marine-origin fish meal as the primary protein source (J. Trushenski, unpublished data).
Results from both farms indicated that the Asian carp meal-based feed yielded performance broadly consistent with the traditional fish meal-based formulation. Results from one farm suggested feed conversion ratios (FCRs) were higher among fish fed the carp/soy-based feed, indicating inferior growth efficiency. However, FCRs were quite high for both treatments suggesting that estimates of livestock biomass and/or feed management could be improved at this farm.
Dress-out (percentage of body weight represented by boneless, skinless fillets) was greater among fish fed the Asian carp meal-based feed, suggesting that these fish were leaner and yielded more edible product per unit body mass. Results from the other farm suggested growth rates were generally consistent among fish fed the Asian carp meal-based feed and the traditional fish meal-based feed. Although farm-scale trials are often complicated by a lesser degree of experimental control and the constraints of commercial fish production, these trials added further credibility to growing interest in the use of Asian carp meal in aquaculture feeds.
Collectively, our results suggest that, in general, Asian carp fish meal is a highly-digestible, nutrient-dense ingredient suitable for aquaculture feeds. Given that performance associated with Asian carp meal is generally consistent with that of more expensive traditional fish meals, Asian carp meal may provide some cost savings for aquaculture feed manufacturers and growers.
Moreover, demand for Asian carp meal will help to incentivize harvest as means of reducing Asian carp densities and contribute to effective management of these invasive fish. Despite these findings and considerable interest from private investors—as evidenced by the opening of a new processing facility in Grafton, Illinois and the city of Havana, Illinois authorising funding to determine the economic feasibility of various fish products—progress related to population control through Asian carp meal-driven approaches has been slow.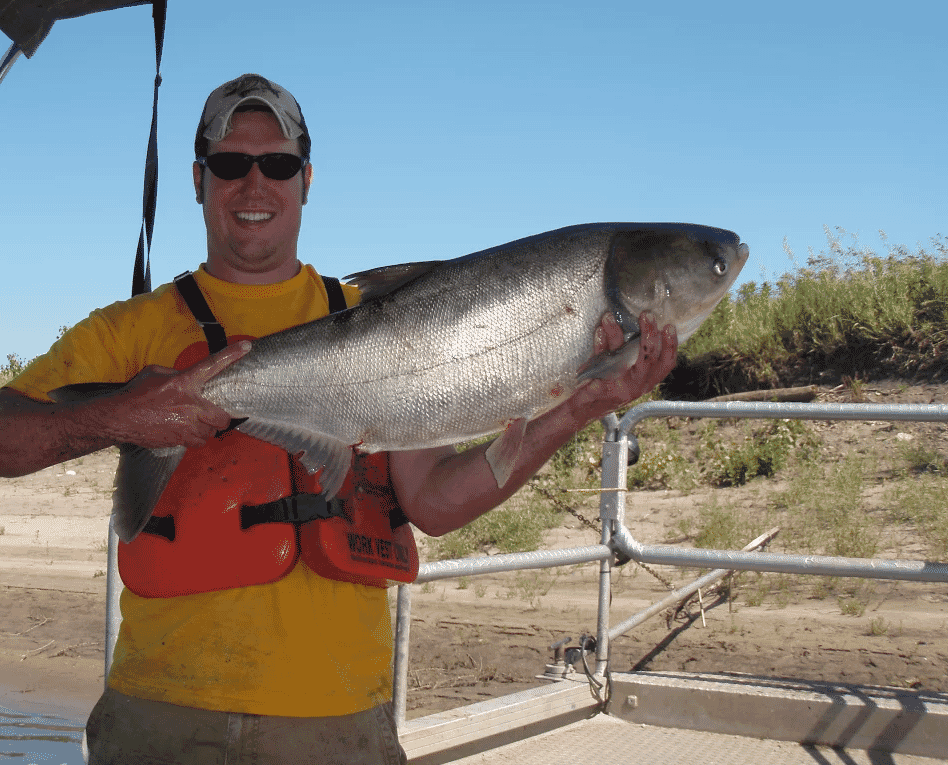 Start-up businesses tend to be high-risk endeavors and generally require large capital investments, particularly since needed infrastructure (e.g., processing and distribution facilities) is often inadequate or absent. Without a well-defined market or established product price, business planning becomes more nebulous and investment may be potentially riskier.
Knowledge gaps related to available biomass for harvest, population dynamics, and Asian carp meal quality and value as a feed ingredient have also tempered enthusiasm for investment.
Publically generated information can help to address these issues, as they have in the case of market-based approaches to Asian carp management. As additional information has become available, interested parties have gained greater predictive power regarding potential markets, prices, and return on investment.
Nonetheless, harvest-based control measures are constrained by the small size and relatively domestic nature of the current commercial fishing fleet targeting Asian carp in American waters. If the value of landed Asian carp increased substantially, either through greater demand or public incentives measures, the fishery would likely become larger, more industrialized, and more effective in reducing Asian carp abundance.
It is our hope that these issues can be overcome through public/private partnerships and that markets for Asian carp meal can be effectively harnessed to support management approaches to limit the effects of invasive populations of Asian carp and provide the aquaculture industry with a much- needed source of high quality protein for feeds.
Center for Fisheries, Aquaculture, and Aquatic Sciences, Southern Illinois University Carbondale, Carbondale, Illinois 62901, USA
Corresponding author, email: saluski@siu.edu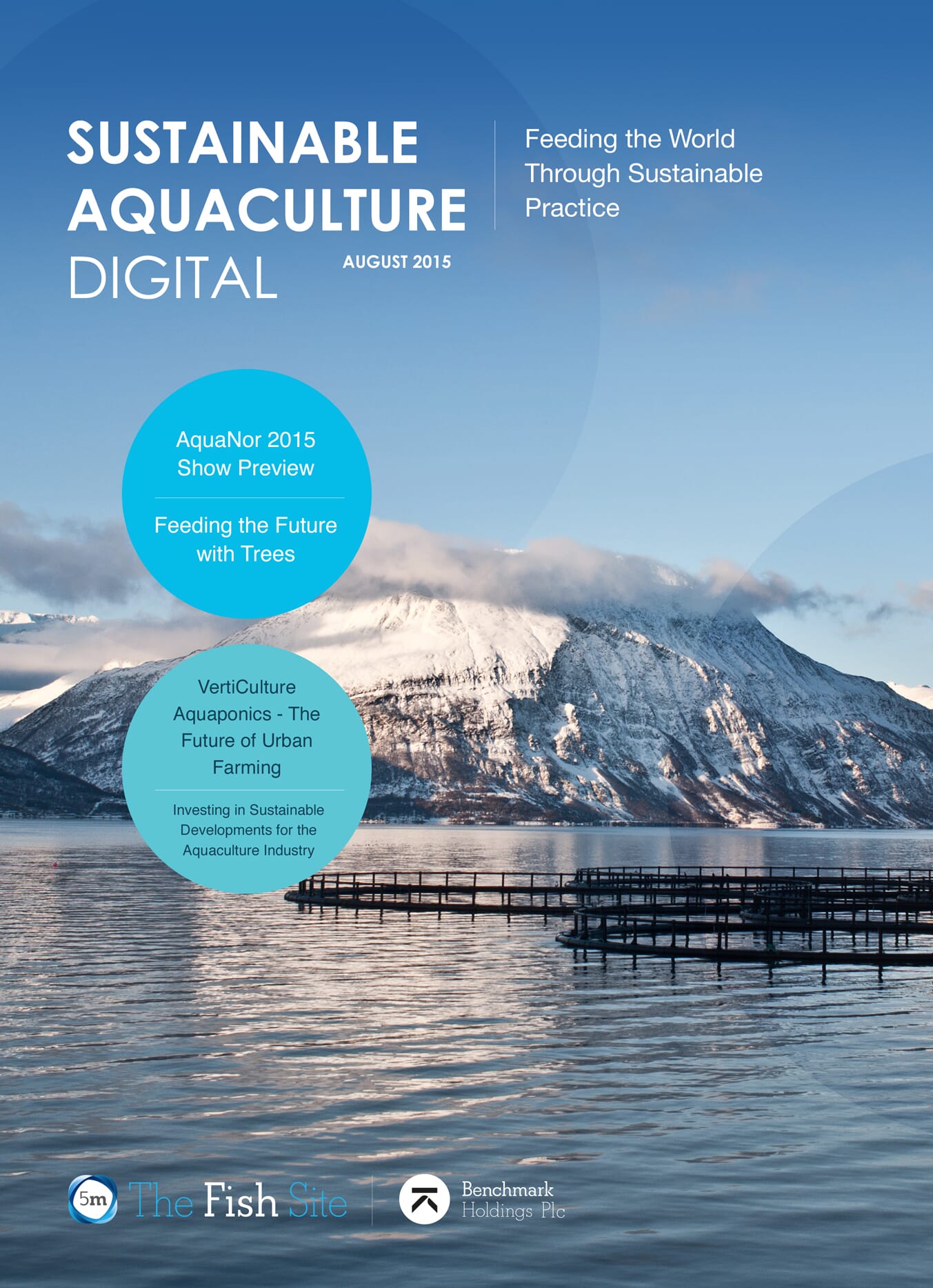 This article was taken from the February 2015 Sustainable Aquaculture Digital. To sign up for the August 2015 edition, please click here.