After a 30-year career which has involved pioneering and then producing more than 30 different species of fish in recirculating aquaculture systems (RAS), Josh Goldman has finally drawn a line under land-based production in favour of ocean farming.
Goldman, who is the founder and CEO of Australis, spent several decades looking for a fish that could be profitably produced and sold in US market to cover the costs of farming it in an RAS facility – no mean feat, particularly at a time when RAS technology was still in its infancy.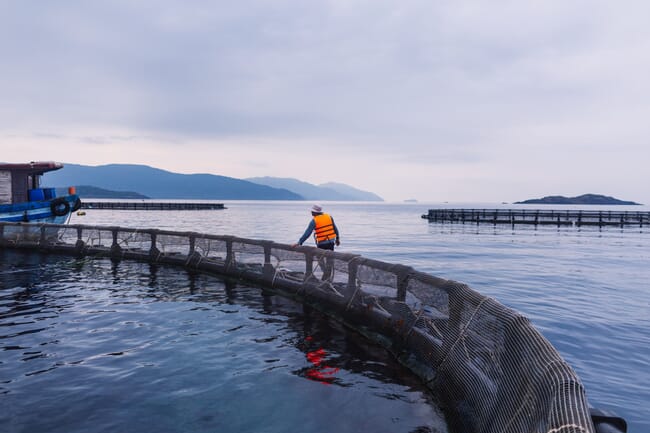 "By the '90s, we had made a lot of progress on the technology but lacked a species that made sense in terms of culinary and health attributes. That was until I visited Australia and tried barramundi for the first time – I had a 'wow moment'. I thought this is the fish I've been waiting for – it's firm, has a high oil content, yet is mild flavoured. It might even help consumers rethink their views on aquaculture," he explains.
Australis grew barramundi in its Massachusetts RAS facility for 13 years and, despite succeeding in his goal to tackle what he describes as the five key concerns for success RAS production – siting (with access to quality water); achieving production capacity; building and maintaining a skilled workforce; ensuring top quality produce, with no off-flavours; and developing profitable markets – he sold the operation in late 2018.
"We'd addressed the 'big five' challenges facing land-based producers and the facility should continue to be commercially viable due to the strength of the live market. And the new owners have plans to continue to invest in the facility and build a portfolio across several species in the region," Goldman says.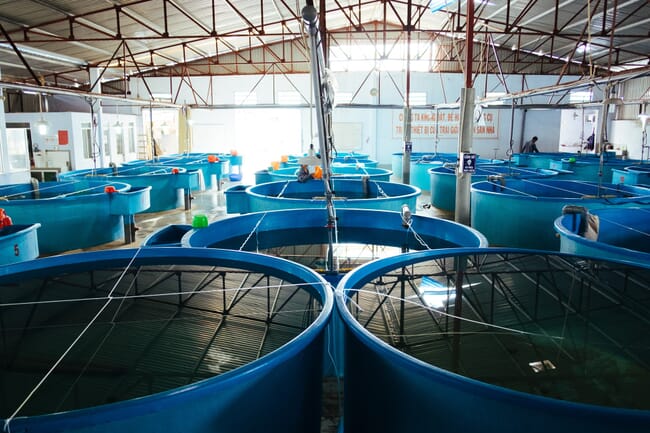 To increase its production, in 2006 Australis set up its marine farming operations within the species's natural range. Following visits to many countries to look for sites, Goldman settled on Vietnam, where Australis built the business "from scratch" after years of effort to secure governmental approvals.
"Vietnam stood out for a number of reasons: the people are extremely hard-working and well trained in enculture, and the scientific and technical infrastructure's in place. On the other hand, it can be quite bureaucratic – we can thank the French for that!" he jokes.
And, with his market now established in the US – for which the Massachusetts site was an excellent launch vehicle – he has elected to concentrate production in South East Asia.
"Each of our production centres were in a different business – almost all of the fish produced in our US facility was sold into speciality live markets, while in Vietnam we process our fish. It was a useful way to introduce the species to chefs and journalists, but we now know we can produce fish of the same quality in the sea," he explains.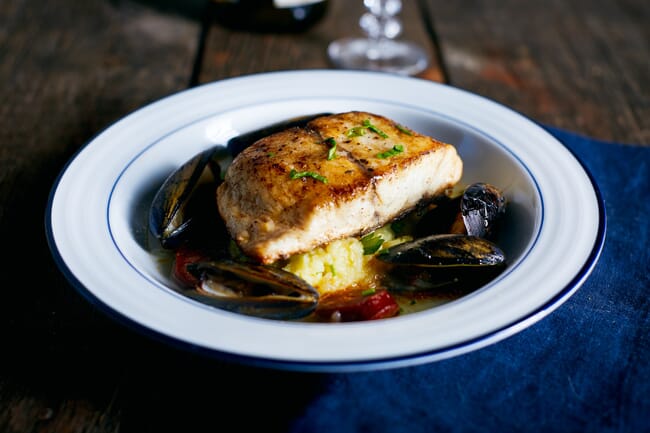 While he's reluctant to give precise figures, Goldman says the company – which currently operates five farms in Vân Phong Bay – is "out in front", growing a larger share of the current 120,000 tonnes of barramundi estimated to be produced globally each year than any of their competitors in Vietnam, Thailand, Malaysia, Indonesia and Australia.
Most of the barramundi are harvested at 1-2kg, with the smaller ones being filleted and the larger ones portioned. Australis employs about 260 people in production and 200 in processing in Vietnam. While they concentrate on their original market – the US – "We are active in Australia, Singapore, Vietnam and Japan," Goldman says.
Australis market their barramundi as "the better fish" – a billing, which, according to Goldman, they can stand up.
"We're fully certified and have built a model for sustainable tropical ocean farming in a part of the world that isn't necessarily known for its sustainable aquaculture practices," he explains.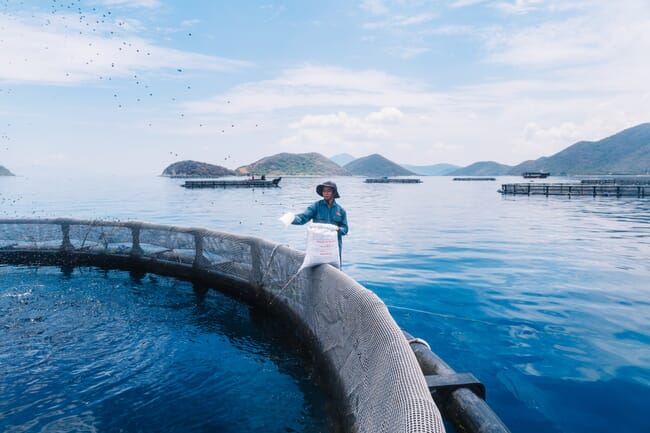 Planning ahead
Now that he's able to fully focus on the company's Vietnamese operations, Goldman is looking to expand.
"We acquired Marine Farms – who had been producing cobia and pompano – two years ago, which gives us additional sites and the capacity to reach 15,000 tonnes of barramundi a year here," he says.
Australis's presence has, according to Goldman, led to an upturn in the fortunes of the local village.
"It's a different place – the houses have been upgraded, we're building a playground at the school and engaging the community in cleaning the beaches to get the kids thinking about recycling and ocean plastics," he reflects.
However, on the farming side he admits there are always challenges to overcome. "In the hatchery, the main issues are – like with most juvenile marine fish – viruses and deformities. Barramundi are also very cannibalistic during the first 60 days, so active grading is critically important. In the sea there are no serious predator threats. There are health issues that must be managed: red seabream iridovirus (RSIV), Vibrios and Streptococcus is generally lurking," Goldman explains.
Australis has adopted practices commonplace in the salmon sector – including rotational fallowing and single-cohort stocking. He's also beginning to invest in equipment developed for the salmon sector.
"The salmon industry has long been driving investment in innovation and the equipment providers are looking to increase their activity in marine aquaculture. We now have a number of feed barges and are increasingly automated – it helps that Steinsvik has a manufacturing facility right here in Nha Trang," he says.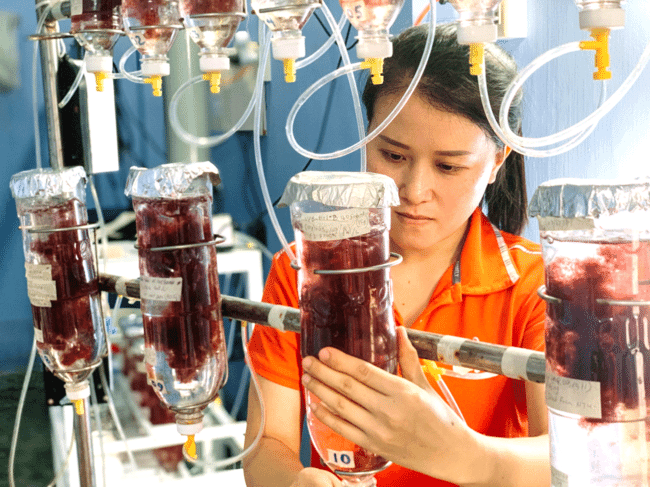 Environmental activities
Australis recently launched Greener Grazing – an initiative that aims to close the lifecycle and develop the knowledge needed to commercially farm Asparagopsis taxiformis, a type of red seaweed, alongside their barramundi pens. Not only will the seaweed absorb nutrients released from the fish farms, but it also provides a crop with unique benefits in its own right – Asparagopsis has been shown to drastically reduce methane production in ruminants, such as cattle, when added to their diets, and therefore could be a vital ingredient in combating climate change.
"We are making considerable progress, but there is still a way to go," Goldman reflects.
The project is taking place in both Portugal and Vietnam. We're focused on closing the lifecycle for the first time and producing spores which can then be grown in the ocean. We have a pilot farm using submerged using nets cultivating Kappaphycus [a genus of red algae], which serves as a model species for production with barramundi.
"We'd like to see if there are measurable benefits – such as habitat enrichment – around the seaweed lines," he explains.
Given Goldman's extensive experience with farming in recirculation systems, it's hard to resist asking him about how he views the prospects for the raft of land-based salmon farms that are currently springing up all over the world – not least in his native USA.
"If salmon prices remain high they have a chance. Salmon is a commodity, so prices fluctuate, which creates risks for higher-cost producers" he reflects.
And how does he see his own business evolving?
"It's about growing the market. We've now established the infrastructure and a knowledge base to allow us to produce the fish – now it's largely about adoption… not least gaining the trust and adoration of millennials," he concludes.