Myanmar is the second largest country in South East Asia, spanning 2,000 kilometres – from the Himalayas in the north all the way to the tropical archipelago around the city of Myeik in the south. The snow-fed rivers, combined with the country's tropical monsoon climate, have formed vast deltas and swampy areas that are perfect for the development of ponds and the farming of native fish. For over 2,000 years, carp have been extensively farmed in ponds in both Myanmar and in neighbouring China, prompting some scholars to believe that this is where aquaculture originated.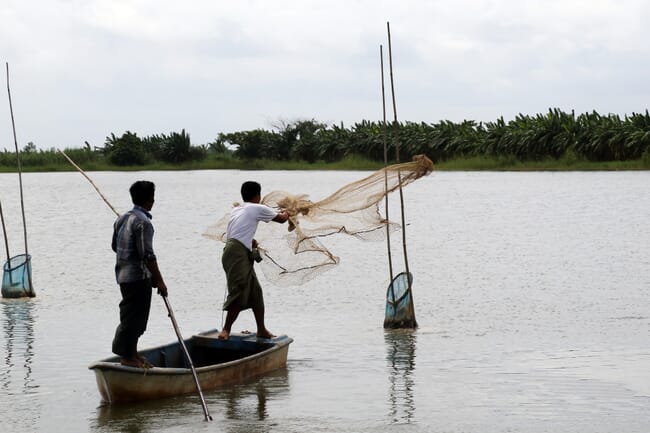 Myanmar's military rulers previously held a tight grip on the country. In the past 10 years, however, the country has embraced an open market economy, has started the process of moving to a democratic government and has slowly begun to attract foreign investments into some of its most promising sectors, including aquaculture.
Production figures
Most fish farming in Myanmar takes place in freshwater and brackish ponds. In 2017, the country produced a total of 1,048 million tonnes of seafood from 240,000 hectares of ponds, providing direct employment for about 215,000 part-time and full-time workers. In the northern part of the country and in the low-lying areas around the former capital of Yangon, a little over 120,000 hectares of freshwater ponds are in use. These are mainly stocked with native carp – with rohu topping the list, followed by common carp, catla and non-native tilapia. Other species which have been more recently-introduced include pacu and Pangasius. Along the coast lie a similar number of brackish water and saltwater ponds used to culture shrimp. These shrimp are mainly exported, with China, Thailand and Malaysia being the main buyers.
Although the aquaculture sector is dominated by 100 or so large Myanma aquaculture companies, there are also many small- and medium-scale farms. The larger companies typically operate anywhere from 500 to 10,000 hectares of ponds, while an average grow-out pond covers four to eight hectares.
Freshwater production systems
Seed stock of farmed species is sourced from local hatcheries or from the wild. The Myanma Department of Fisheries operates about two dozen hatcheries around the country and sells fry and fingerlings to farmers. A typical 2cm rohu fingering is priced at 3 kyat (US$0.002). There are also a number of private hatcheries which produce fingerlings, but these often prioritise supplying their own grow-out farms. As there is a regular shortage of hatchery-produced fry and fingerlings, wild seed stock is still commonly sourced. However, more and more fishermen and locals have started to object to this practice as it is believed that wild stocks of many native fish species are rapidly declining.
Fry are bought from hatcheries when they are about 30 days old and 2cm long, and are first stocked in nursery ponds of a few hundred square metres at a stocking density of 150 kilograms per hectare. Here they are fed with ground peanut meal, with some chicken or duck-egg yolk directly added as feed to the ponds. For many of the smaller farmers, only about 20-30 percent of the fry survive this first month in the fish ponds due to a variety of factors – ranging from weak fry to a lack of high-quality feeds. Mortality is exacerbated by farmers' limited ability to control plankton and predators in the ponds.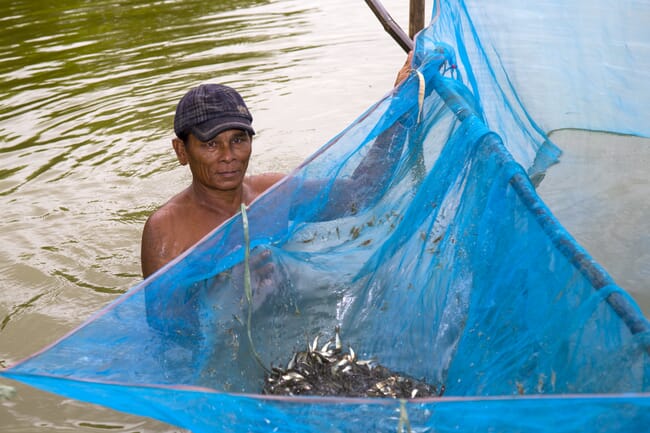 When they reach 10cm the rohu fingerlings are stocked in large grow-out ponds at a density of 5,000-6,000 fish per hectare. About 80 percent of the stocked fingerlings survive until harvest. In the grow-out ponds, the fingerlings and sub-adult fish are fed with peanut meal and less expensive rice bran and other meals, with few farms using artificial feeds. The fish take one or two years to reach 2-3kg (market size). The average farm gate price per kilogram for rohu is about 1,260 kyat ($0.85).
During harvest time, the fish are hauled in with nets and stored in ice in specially designed boats which travel through local canals that serve as highways in these swampy areas, delivering fish to regional markets in provinces or to Yangon. Since people living in the countryside depend on fish for 75 percent of their daily animal protein intake, there is more than sufficient local demand to sustain a thriving domestic market. And while the majority of carp is eaten locally, some of the produce is exported to countries like China, Saudi Arabia and the Emirates, and areas around the world where many overseas workers are looking to buy cheap fish.
Natural farming systems
Myanmar holds a unique position in South East Asia since almost all its farmers use extensive farming practices with low stocking densities. Pesticides and other chemicals which can be dangerous for both consumers and fish stocks, but are nevertheless commonly used across South East Asia, are unknown to most farmers and fortunately rarely used – owing largely to the industry's previously isolated status.
Most of the year the water in Myanmar's freshwater ponds originates solely from local rainfall, but in the dry season – between March and June – canal systems are used to pump in additional water from local rivers and lakes. As a result, the water quality in Myanmar's freshwater ponds is very reasonable. Natural zooplankton like rotifers and water fleas are abundant, and most ponds hold wild populations of freshwater clams and mussels as well.
The way forward
Now that the country is embracing a more open economy and society, the international community has shown great interest in helping its aquaculture sector move forward. The main goals focus on improving production numbers and survival rates. However, approaches on how to achieve this differ widely. The EU and USA recognise the huge potential of Myanmar as a supplier of sustainably cultured seafood. But, due to previous the lack of food-safety regulations and control systems, aquaculture products are still not allowed to be exported to the EU. In contrast, China sees Myanmar's large number of underdeveloped fish ponds as a means to cater for its ever-growing seafood demand. With land becoming scarcer in China, and wages and food prices rising, there is considerable potential for Myanmar to supply inexpensive fish from intensive aquaculture, and the Chinese government is actively encouraging its neighbour to export more seafood to China without imposing restrictions.
But local authorities and many experts agree that focusing solely on intensifying Myanmar's aquaculture sector is not the right direction to go, as clearly demonstrated by the serious aquaculture issues elsewhere in the region. Ongoing issues in Thailand and Vietnam – where one disease outbreak after another has stagnated aquaculture production – have prompted both countries to develop a new and more sustainable approach by using probiotics and disease-resistant strains of fish and shellfish, and by lowering stocking densities. Myanmar is currently at a crossroads and can avoid suffering a similar fate simply by continuing its extensive farming practices while implementing new technologies and better farm management.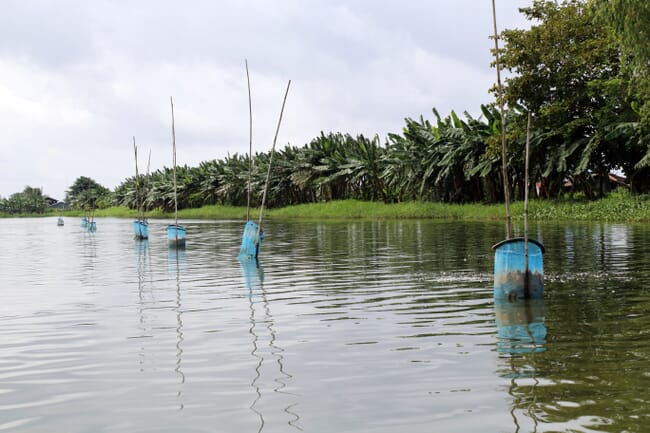 In light of this, three years ago the EU launched the Trade Developed Programme (TDP) in Myanmar, with the goal of enhancing inclusive economic growth by helping the country to take advantage of its reintegration into the world trading system. The food-safety component of this programme is led by Stephen Roberts and has been focusing on preparing the government and the country's top aquaculture producers to finally export aquaculture products to the EU.
To this end a new food-testing scheme has been introduced at government laboratories that monitors products for potentially harmful chemical residues. The programme will conclude by the end of the year, and one of its crowning achievements has been the implementation of this National Residue Monitoring Plan.
"As a final step," Roberts explains, "there is great optimism that the country will receive the long awaited green light to export its aquaculture products to the EU, before the end of the year."
Building on the work of the TDP, last year the EU also launched its €20 million Myanmar Sustainable Aquaculture Programme (MYSAP), aiming to further improve production and income through sustainable aquaculture. Besides assisting the country in the development of a basic legislative framework for its aquaculture and export sector, a great deal of effort is being put into the implementation and promotion of sustainable Good Aquaculture Practices (GAqP).
The next step would be more investment from investors who see Myanmar's aquaculture sector as a key producer of sustainable seafood in the future. There are plenty of opportunities – including in the fields of artificial feeds, feed additives, probiotics, equipment, hatcheries and processing – but the biggest need is better access to new farming technology. To help investors, the country has recently revised its foreign-investment laws, making foreign ownership easier, reducing bureaucratic hurdles and providing tax incentives in priority sectors, of which aquaculture is topping the list.
Hopefully these developments will help Myanmar to continue developing its sustainable aquaculture sector – and not be blinded by China's promise of big yuan.