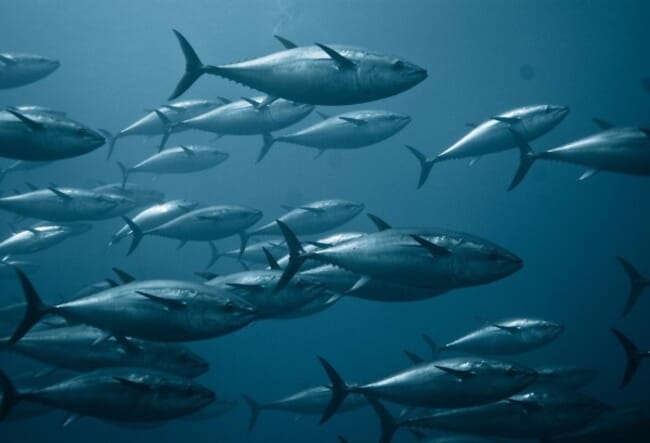 "And, as a result, it's been hard for closed cycle tuna farmers to achieve premium prices for their fish, despite the fact that it has been produced sustainably," he explains.
It is, van Beijnen argues, because farmed tuna has struggled to differentiate itself from either wild-caught or ranched tuna that the fledgling closed-cycle tuna farming sector in Europe has all but vanished in recent years.
"In 2015, at the peak of the sector, around 50,000 bluefin tuna fingerlings were produced in closed cycle operations. But this has now almost disappeared, other than the remaining research project run by Spanish Institute of Oceanography in Mazaron," he says.
Van Beijnen believes that, despite a lack of EU or national government support for building on the success of tuna aquaculture, the new tool could help to spark a renaissance in the sector.
"Researchers have already cleared the bottlenecks that held up closed-cycle production of tuna, but if this new tool offers reliable DNA traceability it could be used by farmers to differentiate their product as many people and retailers, in particular in western European countries like the Netherlands, are willing to pay a premium for fish that can be proved to have been produced sustainably," he argues.
"After all there are now half a million Pacific bluefin tuna fingerlings produced by fish farmers in Japan each year for on-growing, and developments like this new tool could kick-start the European tuna growing sector," he continues.
"It's a positive story and is further proof that Spain is taking its sustainability commitment towards tuna seriously: there have been lots of arrests in the country for illegal tuna fishing this year; a Spanish institute is the last one to be operating a closed-cycle tuna breeding programme and now a Spanish company has come up with this new idea for certification," van Beijnen concludes.
AZTI's Naiara Rodríguez Ezpeleta concurs: "Our research has provided an accurate, cost-effective and non-invasive tool for tracing the genetic origin of bluefin tuna specimens," she says.
According to AZTI the tool is based on the analysis of more than 600 tuna larvae, juveniles and spawning adults, which were collected in the main spawning areas of the species, a very high number given the difficulty of obtaining larvae and young bluefin tuna. More specifically, tens of thousands of markers distributed in the bluefin tuna genome have been discovered, of which around 100 were selected for the origin diagnosis. The tool has so far been applied to study the origin of 1,000 adult tuna caught throughout the Atlantic.