To judge by its skyrocketing house prices – if not Inverness Caledonian Thistle's standings in the Scottish football league – Inverness is something of a boom town these days. And perhaps no company exemplifies this explosion of industry more than AKVA Group Scotland, which is not only growing faster than a smolt in summer, but is also rapidly becoming much more than a vector of Norwegian-built hardware – with an increased focus on tailor-making equipment specifically suited to the Scottish scene.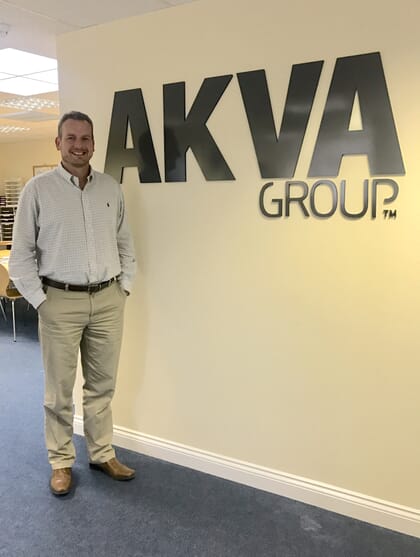 "Since 2014 our revenues and product range have grown significantly, while in the last year our team has also grown from 55 to 78 – that's over a 50 percent increase," points out Jason Cleaversmith, who has himself recently been recruited as general manager by the Inverness-headquartered firm.
Jason may be a relative newcomer to developing fish-farming gizmos but he brings plenty of creative thinking with him – having previously worked managing the development and supply of aquaculture vaccines for Novartis and, most recently, as the business development director at the Scottish Aquaculture Innovation Centre (SAIC). And he's able to cash in on this creativity in his new role – thanks to the level of freedom that he's been given by their Bryne-based parent firm.
"We're given a lot more autonomy than I expected when I first joined the company," reflects Jason. "And we know that Norwegian innovations are not necessarily suited to other geographies and can't necessarily be adopted wholesale in other countries. Each region has its own characteristics and its own requirements – in terms of environmental challenges, scale and budgets – and as a result we're increasingly working with producers to develop equipment that suits their situation, both physically and financially."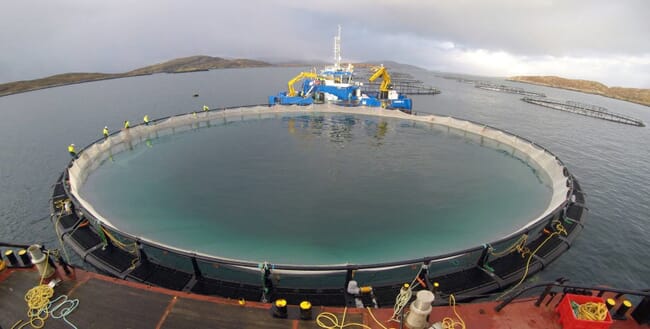 Accordingly, Jason is keen to promote increased levels of collaboration, in order to satisfy customer demand.

"We like to arrange technical summits with our customers. These are not about trying to sell them something – it's about pinpointing their needs. And, as a firm with global coverage, we can either adapt global technology to fit local needs or, increasingly, look to develop completely new solutions. There's a strong belief that innovation is core to our success," Jason observes.
As a result, AKVA's growing team of Scottish-based technicians are increasingly looking to create and innovate. And this latitude is beginning to pay off, with a trio of home-grown pieces of equipment – a new high-flow pump system that's used in conjunction with their FNC8 "ROVolution" net cleaner, an environmental sensor array and the new PLS 500 winch system – all on the cusp of commercial launch.
"We've been developing the PLS 500 winch system specifically for larger-dimension cages so we can support production in higher-energy environments," Jason explains, "and it's now being trialled commercially – at probably the most exposed site in Scotland."
The system – which relies on eight on-cage winch units to raise and lower sinker tubes and nets – allows farmers to use heftier sinker tubes on their nets. This not only increases net tension and therefore repels predators but also makes the pens more stable – perfectly suited for a time when companies are increasingly looking for opportunities to move to more high-energy locations. And having the winches as part of the cage makes operations such as harvesting and treatments considerably quicker and more hassle free, minimising the need for workboats.
The concept seems to have taken hold.
"We've got an order backlog for 208 Polar Lift units," says Jason, "so the idea is clearly catching on."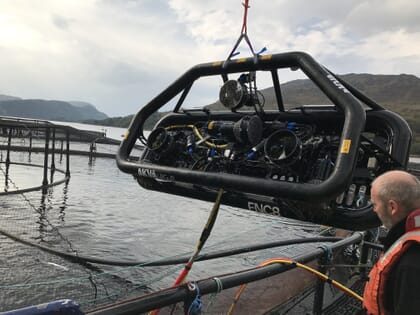 Other projects currently on the go include an investigation into the possible value of a water-borne, as opposed to air-based, feed delivery systems.
"It's still in its early days but we think the system has considerable potential – not only is there less wear on the feed pipes, and therefore a reduction in marine microplastics, but there's also a theory that wet feed is more easily digestible by the salmon," Jason explains.
As well as the current focus on best-in-class service and innovation, AKVA has a long history of production in Scotland with over 400 cages manufactured at its site in Kishorn since 2010. Equipment designed and produced by AKVA Scotland is also destined for all manner of markets – from Tromsø to Tasmania – and Jason is relishing the fact that their Inverness workshops are developing hardware that is being adopted all over the globe.
"Scotland may be our core market, but we're really looking towards any areas where the growth of aquaculture's going to take place," he reflects. "And although we'd be very happy to sell Inverness-produced items to the Norwegians, we have to look more closely at those parts of the world where additional growth is going to come from, and there's a big world with an awful lot of aquaculture activity outside Norway."
Jason may have arrived armed with a global outlook, but he is keen to point out that AKVA's Scottish coverage is also becoming increasingly comprehensive, with technicians now on hand to cover all key fish-farming regions.
"Rather than having everyone based in Inverness, we now have technicians stationed full time in Lochgilphead, the Western Isles and, hopefully, soon on Shetland too," he reveals.
And this support for customers runs far deeper than merely servicing existing pieces of machinery.
"We're a Scottish company and, as our growing Scottish product portfolio shows, we're investing hundreds of thousands in supporting local aquaculture by developing and delivering new products for the domestic market," Jason concludes.
A shorter version of this article was originally published in the Aquaculture UK 2018 showguide.