A model of the radical new Havfarm design, which is being engineered to cope with waves of up to 12m, is currently being tested at SINTEF's Ocean Basin Laboratory, in Trondheim.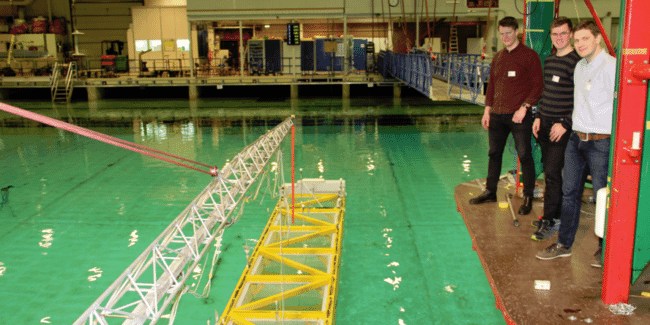 "Our aim is to advance the aquaculture sector in a sustainable manner," Bjarne Johansen, project manager at the salmon producer Nordlaks, the company behind the project told SINTEF representatives. "We believe that the key to achieving this is to exploit new and more exposed areas of the ocean."
The main construction, which has been authorised by the Directorate of Fisheries' development licences scheme, will be made of steel and will contain six large nets, designed to house 10,000 tonnes of farmed salmon, amounting to up to 2 million individual fish.
"Norway is a global leader in the development of large-scale salmon production facilities in exposed localities," says Ivar Nygaard, senior project manager at SINTEF Ocean. "The Nordlaks project is the biggest aquaculture venture we have undertaken to date."
"The public authorities have declared their wish for growth in the aquaculture sector, and to achieve this we have to exploit more exposed marine localities. This requires entirely different materials and construction techniques than those we use for fjord-based facilities]," Johansen says.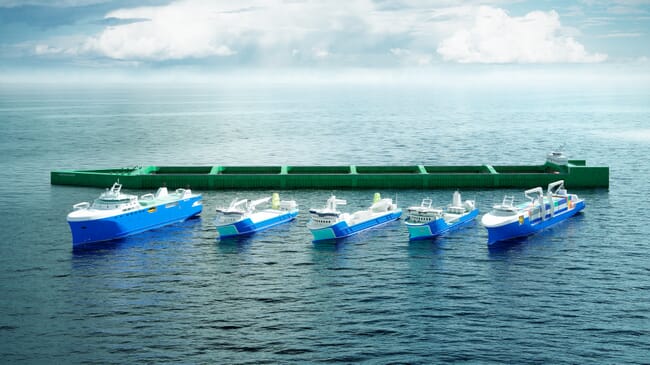 The rectangular steel construction will be built in China before being put to sea about five kilometres south-west of Hadseløya in the Vesterålen islands. Computer simulations have already been carried out, but Nordlaks wants to perform model tests on the construction in order to verify its in-house calculations.
"Performing calculations of the interaction between the fixed steel construction and its nets is very challenging," says Håkon Ådnanes, project manager at NSK Ship Design, which has designed the facility. "Because this is an entirely new concept, we have no previous practical know-how or experience, but we now intend to build up our knowledge base together with SINTEF."
A representative from the Norwegian Directorate of Fisheries, Pål Alexander Fossan, was present to view the pilot project tests.
"This facility exhibits a high level of innovation and has thus been judged as meeting our licence award criteria. I think it's very interesting to be present during the tests," he said.
The Havfarm will include two service vehicles that travel along rails on the sides of the installation. These will be operated by personnel who live on the facility, in much the same way as workers on today's oil installations.
"Our main aim is to achieve secure and efficient salmon production," says Johansen. "We plan to deliver the fish to the facility when they weigh about 1 kilo, and expect them to be ready for slaughter within a year."
This article was adapted from a version by Ingvil Snøfugl, which was originally published in SINTEF and NTNU's newsletter