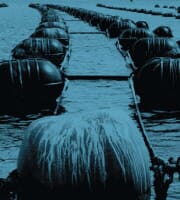 In conjunction with the Scottish Government, Marine Scotland released its Scottish Shellfish Farm Production Survey 2008 Report. The survey was conducted through questionnaires to 168 companies. Of these companies, the survey revealed that 112 had recorded no sales for the year. There are 332 active sites involved in shellfish farm production.

In 2008, the shellfish species that were cultivated in Scottish waters were mussels, pacific oysters, native oysters, queen scallop and scallop. The production was dominated by mussels and pacific oysters. Throughout Scotland, 5,869 tonnes of mussels were produced by aquaculture. Of that figure, 3,506 tonnes were produced in the Shetlands alone.

Pacific oyster production increased by 45 per cent from 2007 to 3,785 tonnes - the vast majority of which were produced in Strathclyde. At 250 tonnes, Scotland's entire native oyster industry also took place here.

The majority of queen scallop - 600 tonnes out of 687 tonnes - were also produced in Strathclyde. Over the course of 2008, the production of queen actually saw the largest annual production increase of 79 per cent. 815 tonnes of scallop were produced in the Highlands, signifying no change on production levels. Poor results from spat recruitment have reportedly led to this low production in recent years.
FIGURE 1 : Table production by species 1999-2008.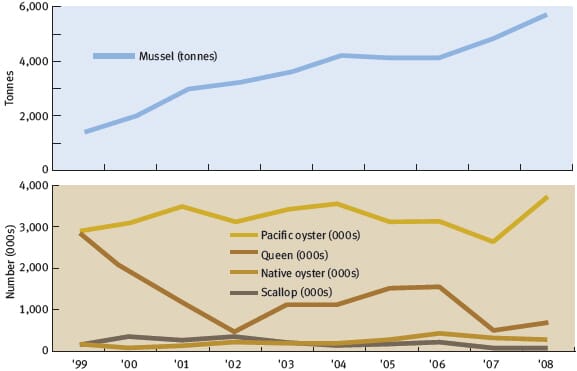 Nine year trends show how the mussel industry has boomed year on year to reach its current stage. In 1999 Scotland produced only 1,400 tonnes of mussels - three and a half times less than it does today. Whilst pacific oysters have had a very good year, the general trend shows a fluctuation around this level. Queen scallop, which has shown very good figures this year, has had a difficult nine years, falling from a high of just under 2,842 tonnes in 1999.

According to the report, "prices of farmed shellfish fluctuated throughout the year." The price of Pacific oyster was around £0.40 per shell; native oyster, £0.38 per shell; scallop, £0.60 per shell; queen scallop sold for approximately £0.08 per shell; and mussel £1,000 per tonne.

Based on these figures, the approximate value of the mussel industry was £5.9 million; Pacific oyster: £1.5 million; Native oyster; £0.09 million; Queen scallop: £0.05 million; Scallop: £0.01 million. The total value at first sale for all species was estimated to be in the region of £7.55 million.

At 497, the year 2008 saw the highest number of companies registered for Scottish Shellfish cultivation. However, only 168 companies were active, down from 170 the year before, and 183 in 2005. Of the 332 active sites only 152 were producing. The most - 58 - of these sites were based in the Shetlands, 38 were in Strathclyde and 36 were in the Highlands.

Throughout the industry 149 people were employed full-time, and another 199 were employed as part-time or casual workers. Employment levels were down 14 per cent on the previous year.

A factor that may have influenced the results in 2008 was the continued movement restrictions in place because of the confirmation of the presence of Bonamia ostrea in Loch Sunart and in West Loch Tarbet. According to the survey, movement restrictions in place covering both sea lochs prevent the relaying of native oyster from these sea lochs. Approved Zone status continued to protect the health of both wild and farmed native oyster stocks for the remainder of Scotland's waters.

A third of all shellfish sites were visited annually by Fisheries Research Services (FRS) Fish Health Inspectorate. On these visits, facilities, stock health, movement records and registration details were checked.

Reported mortalities were generally low and attributed to predation by eider ducks, crabs, starfish and oyster catchers. Losses were also reported due to storm damage and fouling, reveals the survey.

A new directive was implemented in March 20009. The aim of this new Directive is to meet the needs of an ever evolving aquaculture industry, and raise standards of aquaculture health throughout the EU. The Directive introduces a risk based surveillance scheme of site inspections.

Once again, Scottish shellfish farm production was dominated by small producers, although there was a continued and marked trend toward large companies contributing to the annual production of all species.

July 2009