Lunacy. Sheer Lunacy. In an era when most salmon farmers are investing in techniques to shorten the marine phase of the grow-out cycle, deciding to spend millions to develop a slow-growing strain might seem like a deranged idea. But there's a fine line between genius and madness and it seems that The Scottish Salmon Company's plan to develop a unique slow-growing salmon may just pay off – both on the farms and on the market.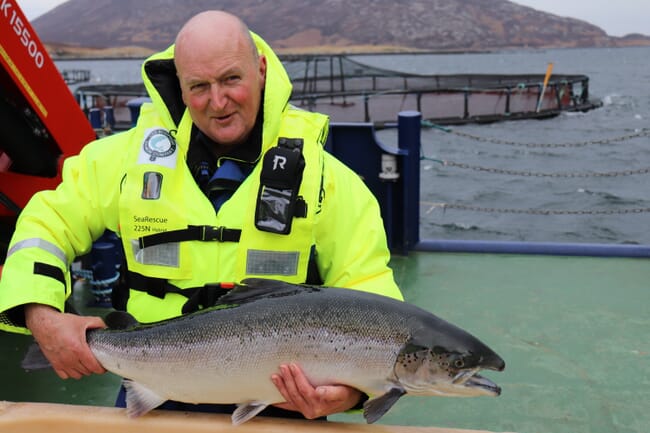 The strain of salmon, christened Native Hebridean, has been under development for over a decade and, with a new genetics partnership freshly signed and the renovation of the company's broodstock facility now nearly complete, the project is poised to move to the next level – one that can satisfy growing demand for this premium product, and make it available to the market year-round.
Developing a unique strain is no mean feat – Scottish aquaculture has been dominated by two or three Scandinavian egg producers for several decades, and the Native Hebridean fish – the ova and milt of which were originally obtained from wild fish trapped in the headwaters of the Skealter loch systems on North Uist – mark a welcome addition to the fold after decades of consolidation. Not just in terms of adding variety, but also in terms of safeguarding the company's supply lines.
"Although we're only planning for about 15 percent of our fish to be Native Hebridean – equating to about 4,000 tonnes harvested each year – to be able to grow the new strain inside our new hatchery means that we believe we are the only salmon producer in Scotland with an in-house family breeding unit," says Henry Dalgety, head of broodstock for SSC.
Promising performance
The company is currently working towards developing consistent year-round supply of the Native Hebridean strain.
"We've not yet produced enough Native Hebrideans to stock entire sites yet, but this has allowed us to benchmark their performance against the others," says Davy Taylor, head of the company's production in northern Scotland and the Western Isles, who has been involved in the marine phase of the project since the start.
And so far, he says, the natives have been performing well at sea.
"We're focused on robustness," says Davy. "There's less emphasis on growth and we're happy for them to average from 14 to 16 months to reach market size after transfer to the marine sites, rather than the 10 to 12 months that is becoming the industry standard."
"We want them to be able to handle anything that's thrown at them in their natural environmental challenges, for up to 22 months if needs be," Davy adds. "And they seem to have a natural robustness and are showing a pattern of resistance to challenges."
On-farm support
Although the longer growing cycle might prolong the natives' exposure to marine challenges, the project is generating interest and enthusiasm in the Western Isles.
"The fish have been performing well and there's a freshness about the project which the boys like," says Davy. "It's something different and they're committed, having been in it from the start."
Given that many of SSC's farmers in the Western Isles are also native to the Hebrides – many being Gaelic speakers – they even share a provenance with the fish.
"They're a local fish produced by local people and they're proud of that – all the more so as Native Hebridean fish are a premium product," Davy reflects.
Breeding programme
The Scottish Salmon Company has invested £3 million in developing the breeding programme, a significant proportion of which has gone towards the radical renovation of the company's flow-through hatchery at Langass, which is due to be fully operational this summer.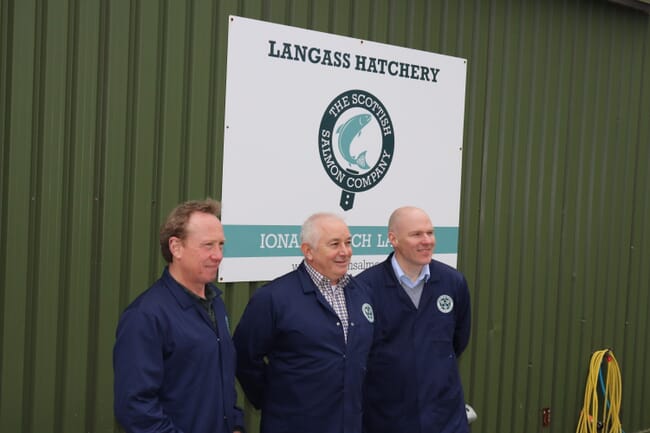 "The Native Hebridean project began with a mass-selection breeding programme in 2006, based on the selection of the largest fish in the hope that these would produce the fastest-growing offspring," Henry explains.
"However, mass selection is both a slow way to develop a stock and prone to a number of problems [such as inbreeding and genetic drift]. As a result, we've since introduced a family breeding programme. We currently have 88 families, which has allowed us to develop key characteristics more effectively – and the upgrades to Langass will give us the capacity to increase this to as many as 150 to 200 families in the next two years.
"Family breeding allows improvements to the strain to take place four times as quickly," adds Henry, "as it allows us to predict the best crosses to make in order to ensure the improvements of particular traits.
"A thousand eggs are randomly selected from each family for use in the breeding programme (the remaining 6,000 or so go to production) and once these hatch 100 individuals are then randomly selected and PIT tagged [essentially given tiny barcodes that are inserted into the cavity of each fish], allowing us to trace every individual involved in the programme," he continues.
Production of the Native Hebridean stock has been somewhat sporadic to date, but the renovations to Langass mean that it is now going to be more consistent.
"As they've only recently been domesticated they tend to be late spawners, and we've only been able to produce S1s [which are hatched in May and stocked in sea sites in the following May. But the upgraded hatchery allows us to adjust the photoperiod and water temperature, meaning we can produce S0s [ready for transfer in October and November] too," Henry explains.
The new facility also enables sufficient environmental control to ensure homogenous conditions in each of the tanks in which the different families are housed.
"It's the Holy Grail for any family breeding programme, as it allows you to compare the performance of the families and individuals once they've been PIT tagged," Henry reflects. "After all, it's all about measuring genetic performance, not environmental performance, so you need to ensure the consistency of care."
Fine-tuning
So far, all the breeding work has been undertaken in-house by SSC, but in late 2017 they signed a long-term agreement with Dutch-based multi-species breeding company Hendrix Genetics, in order to help fine-tune the broodstock programme.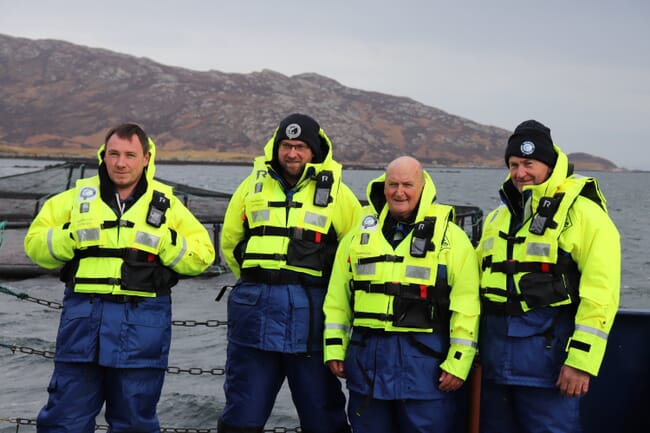 "It's still at an early stage of domestication, and from a breeding point of view we can use the latest genomic techniques and technologies – such as SNP chips – to develop the strain, which is quite exciting," reflects Dave Danson, general manager for Hendrix Genetics in Scotland. "These genomic tools allow us to refine the selections we make to further improve the traits which are so important to Native Hebridean quality.
"But, like any breeding programme, it's a long-term commitment, so we are very proud to partner The Scottish Salmon Company in developing this premium Scottish brand," he adds.
Building a brand
SSC are content for their new strain to take their time to reach market size, knowing that the ends – fewer treatments and the achievement of a premium price – justify the means. Indeed, the firm focuses a large part of its business on exports and is very much aware of the marketing potential of this unique strain of salmon, particularly in the US. As a result they are currently seeking to attain protected geographical indication (PGI) status for the fish – an achievement that would really help to raise its profile with foodies internationally.
"We're committed to Scottish provenance and have taken this commitment one step further by guaranteeing Hebridean provenance and are planning to apply for PGI. It is our flagship product and heritage brand," explains Henry.
Although they currently sell the fish either as HOG or in fillet form, Davy mentions the possibility of a greater range of products in the pipeline.
"Native Hebridean fish have a firmer texture and a greater tensile strength in the fillets, making them ideal for sushi," Davy explains.
And this belief is gaining credibility, for Native Hebridean salmon have won a number of blind taste tests and have been nominated for a raft of prizes since they were launched on the export market – not least securing nominations for Seafood Product of the Year at Seafood Expo Global (SEG) in Brussels in 2016 and at this year's Scottish Marine Aquaculture Awards and, most recently scooping a prize in the Scottish Food & Drink Excellence Awards.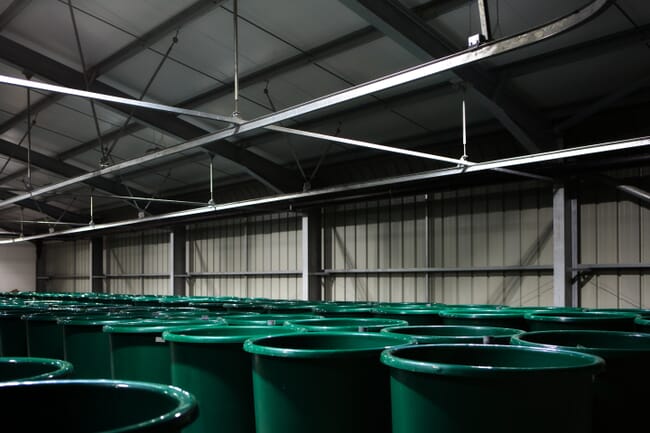 Whether the project inspires other producers to look into developing their own boutique strains of salmon remains to be seen, but in the meantime it's heartening to see a producer invest so much time and money in a project that not only adds to the variety of the Scottish salmon industry but also – potentially – adds to the sustainability of its production.
If the project leads to salmon that require fewer treatments against health challenges such as sea lice and AGD then it might inspire other producers to look beyond growth rates when it comes to their own breeding programmes.
While some producers might scoff at the thought of investing in a slow-growing strain, a trip to North Uist confirms that there is method in SSCs madness, while it could benefit the whole industry if the project's early promise is fulfilled.