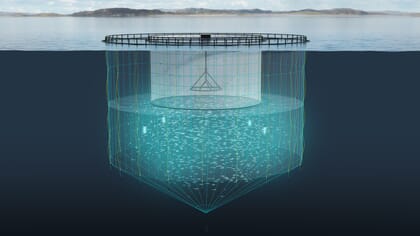 The study suggested that the laser's impact in snorkel cages was neglible, but John Arne Breivik, general manager of Stingray believes the results were "misleading".

"Ever since the first patenting of lice laser almost 10 years ago, we at Stingray have built a world-leading technology based on research, extreme knowledge and scientific approach. Then we must also react when misleading info is presented," he explained.
A summary of the study was published on The Fish Site earlier this week and Breivik has since been in touch to qualify the relevance of the results.
His primary issue is that the study took place inside cages equipped with a special Tubenets – which are designed to keep the salmon beneath the level of sea lice in the water column.
These nets, he says, are used in less than 1 percent of commercial salmon sites in Norway, while the Stingray laser has been deployed in hundreds of traditional open net pens "with increasingly indisputable and positive results".
He says that the design of the Tubenets makes it hard to position the lasers. Moreover, he adds that salmon in the Tubenets have a different swimming pattern – one that Stingray's software has not yet been trained to adapt to – thereby reducing the efficiency of the device.
He also points to the fish in the study being only 250-400 g – a size when they don't have natural shoaling behaviour, making it more difficult for the laser to adapt.
Positive for fish welfare
On a positive note Breivik adds that he is pleased that the study "determined that the laser does not reduce fish welfare compared to the control cages, which is in line with our and our customers' experiences throughout these years".