Gael Force is a specialist in the design and manufacture of highly engineered fish feed barges and feeding systems. Requiring an industrial air supplier that could provide low pressure, high volume blowers and compressed air technology for a range of applications, the organisation has agreed to an exclusive three-year agreement with Gardner Denver.
Gael Force has already built more than 80 feed barges to date, with the largest offering a capacity of up to 450 tonnes. Each barge typically features between four to six feed lines, however Gael Force is also constructing barges that are capable of running eight feed lines in total.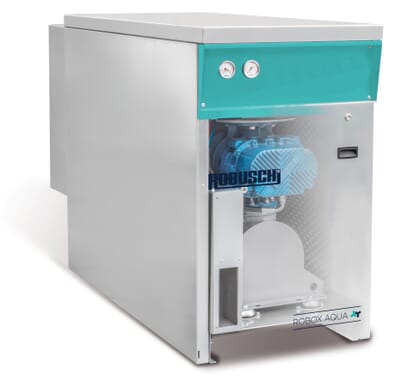 Delivered by a pneumatic conveying system, these feed lines require low pressure, high volume technology to ensure the air flow rate remains at a suitable level when supplying the feed to the pens holding the fish. Pellets are susceptible to damage and can be lost when being conveyed from the feed barges to the pens. As a result, the pressure of the air being delivered is absolutely critical.
As part of the agreement, Gardner Denver is supplying a range of rotary lobe blowers and side channel blowers for this application. The units' compact design, small footprint, low noise emissions and performance levels make these ideally suited for fish feed conveyance. These machines are also offered with motor and frequency convertors, so operators of these barges can ensure efficiency levels remain optimised at all times.
One of the new blower technologies Gael Force will be considering for ongoing and new projects is the Robox Aqua from Gardner Denver. Designed to fulfil the specific requirements of the aquaculture industry, the new rotary lobe blower offers an innovative, space-saving design, with three side-by-side units taking up the same space as two conventional blowers. Direct coupling prevents transmission efficiency losses, while also reducing the costs associated with servicing. In addition, the blower is available with an improved noise enclosure, plus its modular and stackable design enables the units to be installed on scaffold structures. This is ideal for barges with only very limited space available.
Gardner Denver is also supplying a number of compressors to Gael Force, which will provide high quality compressed air for a range of services. This includes conditioning, which ensures the cleanliness of compressed air to help extend the service life of pneumatic components, allow aeration during farm treatments and assist in controlling operational processes.
Neil MacDonald, Project and Design Engineer at Gael Force Group, explains: "There is a bigger drive than ever before to accommodate more and more equipment on feed barges, which help manage the health and handling of the livestock, as well as deliver the on-board operations. At the same time, as the level of requirement has increased on feed barges, so too has the demand for compressed air.
"As a result, space is really at a premium, and we need efficient blower and compressor technology that we can depend on. We were impressed with Gardner Denver's range of rotary lobe blowers, which already have an excellent reputation in the aquaculture sector, as well as the company's side channel blowers and compressed air systems."
Aquaculture UK 2018
The announcement comes in the build up to Aquaculture UK 2018, where Gardner Denver's innovative, space-saving Robuschi Robox Aqua technology will be showcased in Britain for the very first time.
The Robox Aqua rotary lobe blower can allow for pressure up to 1000 mbar (g), volume flow up to 700m3/h and motor power up to 30 kW. Furthermore, its innovative design utilises direct coupling to avoid transmission losses and reduce servicing costs. The unit also consists of fewer components for ease of installation and increased reliability, and its improved sound enclosure can reduce noise levels to lower than 80db(A).
Representatives from Gardner Denver will also be on-hand to discuss the company's Elmo Rietschle range on stand 273 during Aquaculture UK 2018, which takes place 23-24 May at Macdonald Aviemore Resort, Aviemore.