"Sometimes something is very close to us without knowing how to make money with it," explains Shemsa, a sea sponge farmer in Zanzibar. She began culturing sea sponges as part of a sustainable development initiative with marinecultures.org, an ocean conservation NGO based in Zurich, Switzerland. "We've always lived in the lagoon with sponges – but only now have we learned how they help us to improve our lives and those of our children."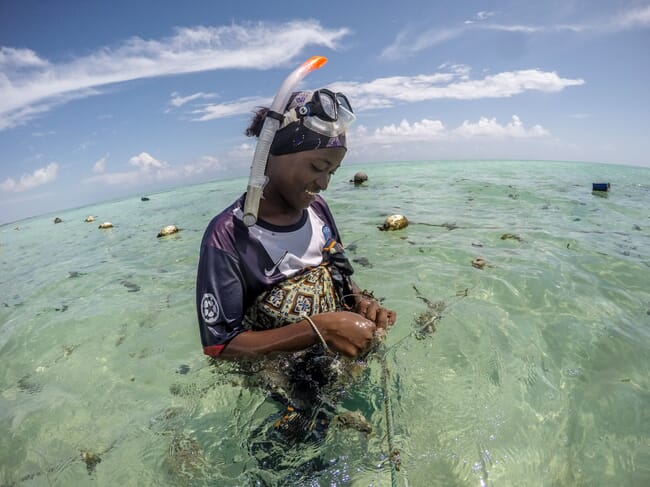 Since 2010, marinecultures.org has been building sustainable sponge farms on the east coast of Zanzibar. By creating the farms, the organisation hopes to give locals an alternative to fishing while reducing pressure on Zanzibar's coastal waters. The project forms part of a sustainable development strategy that provides farmers – usually single women – with a reliable source of income. As the farms progress, farmers report reduced poverty and improved quality of life.
According to Christian Vaterlaus, one of the project leaders, women undergo one year of training in the maintenance, care, quality management and marketing of sponges before taking over their own small farm. The sponges are sold as Fairtrade products – ensuring that farmers receive the best price for their goods. Vaterlaus estimates that each farm generates enough income to feed between 20 and 30 people each year.
Speaking about her participation in the marinecultures.org training, Shemsa said, "[because of] my training as a sponge farmer, I can feed my family, build my own house and have electricity."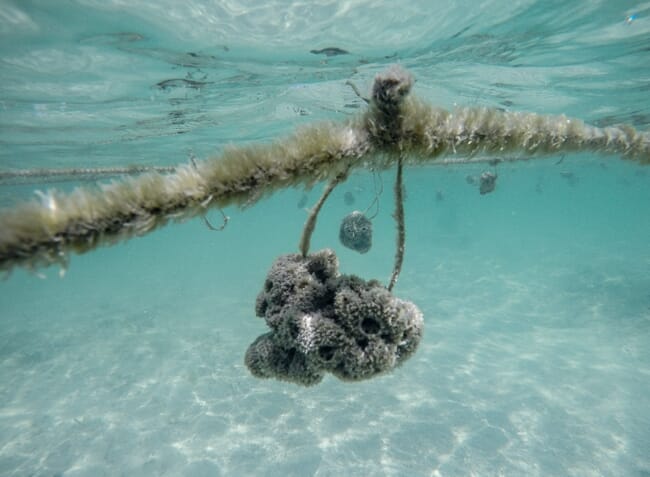 Why sea sponges?
Ocean sponges have been collected and cultivated for centuries. They are mainstays in the cosmetic industry, where they're sold as hypoallergenic shower luffas and makeup sponges. Sponges are also attracting attention in the pharmaceutical sector – emerging research from the Medical University of South Carolina suggests that molecules derived from sea sponges can stop the growth of cervical cancer cells.
As issues of sustainability and climate change gain more traction among western consumers, the ocean sponge industry has moved away from collecting wild sponges and transitioned to growing them sustainably.
Sponges are a prime candidate for sustainable aquaculture practices. From an environmental perspective, ocean sponges can act as biofilters and bioremediators. Marinecultures.org reports that the creation of sponge farms hasn't negatively affected the natural coral or sponge populations in Zanzibar and in some cases, has enhanced natural stocks. As a development strategy, sponge farms are ideal because start-up costs and inputs are low. This makes the enterprises more accessible to disadvantaged populations. Sponges can be grown from fragments of existing individuals and since they are filter feeders, farmers don't have to pay for any feed inputs.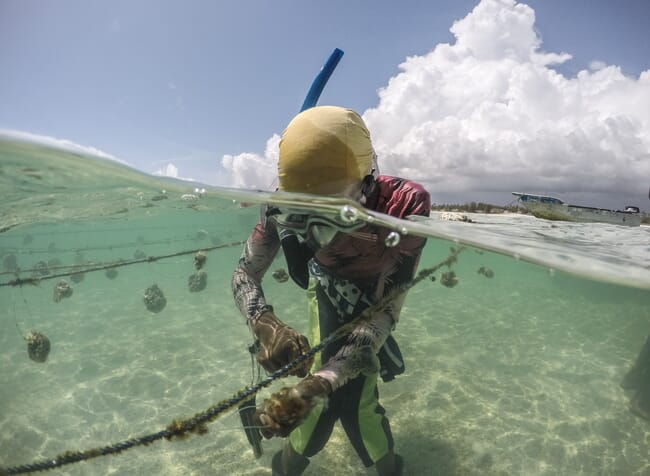 Marinecultures.org's latest update
As of publishing, the twelfth sponge farming business is expected to become independent by the end of the year. In the organisation's most recent round of statements, they report that sustainable sponge farming is being explored in other western Indian Ocean countries, mainly Seychelles, Madagascar and Mozambique.
Back in Zanzibar, Vaterlaus hopes to create a new farm for seedling production that gains full financial independence. The team also wants to build a local organisation that will train new sponge farmers without oversight from marinecultures.org. By the end of 2022, they want to completely transfer the sponge farms to the local community.
Though many of the project's goals are on track, the farms face increasing uncertainty due to the COVID-19 pandemic. Since bulk of the market for finished sponges comes from tourists and hotels, the shuttering of those sectors in March 2020 has hit the farmers hard. Marinecultures.org has temporarily taken over the sales to keep them afloat and says that they are exploring international sales points to preserve the farmers' incomes.
Despite these potential setbacks, Zanzibar's tourism sector began reopening in June. Vaterlaus and the sponge farmers hope this will build their resilience and add to the project's future success.