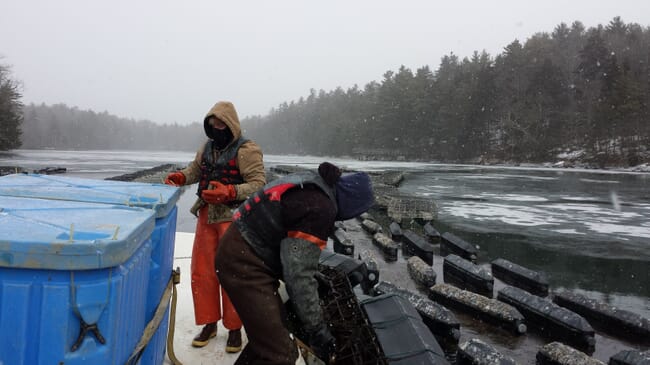 In December 2019, NOAA's Small Business Innovation Research Program issued a call for applications for Phase I funding in these areas. The following aquaculture companies made up six of the 21 successful applications:
AAPlasma, Philadelphia: $149,949, for a non-equilibrium short-pulsed discharge for removal of antibiotics and pathogens from water used in aquaculture facilities.
CD3, Minnesota: $150,000, for continuous electronic DNA monitoring for early detection of aquaculture diseases.
Ward Aquafarms: Massachusetts, $149,600, for a shellfish grading system and integrated data management platform.
Pacific Hybreed Washington: $149,862, for identifying genetic markers of resistance in oysters for Pacific oyster mortality syndrome.
Lynntech, Texas: $149,991, for a rapid, simple diagnostic tool for pathogens in marine aquaculture.
Shellfish Solutions, Maine: $150,000, for a tide-to-table traceability and marketing system for shellfish aquaculture.
The funding aims to establish the merit, feasibility and commercial potential of the proposed research and development over a six-month period. After completing their Phase I projects, awardees may compete for Phase II funding of up to $500,000 for two years to continue developing the technology. In Phase III, awardees may seek additional funds from outside the NOAA SBIR Program to help turn the new technology into a commercial product.
"We are excited about this year's awardees, many who are harnessing the power of unmanned systems, artificial intelligence, genomics, machine-learning and public engagement to develop products and services that support NOAA's mission and may also have great potential as commercial products," said Kelly Wright, director of the NOAA Technology Partnerships Office.