The legislation will be introduced in 2020 after a full public consultation.
Holyrood also announced plans to tighten the "trigger levels" which dictate when salmon producing companies have to alert the authorities about the presence of heavy lice burdens and when they must take action to deal with the parasites.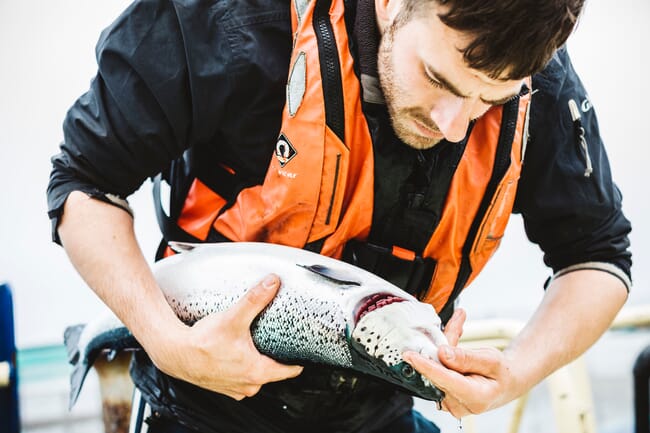 The current levels are: three lice per fish for reporting and eight for enforcement action to be taken. These will be tightened to two for reporting and six for action, in the short term, with a possible move to two and four a year later. This is in line with the SSPO's earlier calls to the Scottish government to tighten the levels.
Julie Hesketh-Laird, Chief Executive of the SSPO, said: "The Scottish salmon sector has for some time led on ensuring greater transparency and the speedier publication of data.
"The SSPO has been voluntarily publishing lice data since 2013 and since 2018 reporting has been on a farm by farm basis. We are pleased the Scottish government's announcements build on this. We welcome the Minister's commitment to public consultation and look forward to engaging fully in it to help ensure that the data collected is used effectively and so the new system can work as well as possible.
"We would expect everyone with an interest in wild as well as farmed salmon and sea lice to work to the same high levels of transparency and ensure data is accurately collected and quickly reported and published. Building trust in the regulatory system is important."
Regarding the change in trigger levels, she added: "The Scottish salmon sector welcomes this move to tighter regulation. This follows the recent advances the sector has made in controlling lice with non-medicinal means, measures which have brought lice levels down to their lowest level for six years."
Heather Jones, CEO of the Scottish Aquaculture Innovation Centre (SAIC), said: "The management, control and prevention of sea lice is critical to the future of fish health and welfare in Scotland's aquaculture industry and we welcome today's progress on this important issue. The use of innovative and integrated methods will be critical to our success in the future and SAIC is prepared to continue its support of the industry's efforts.
"We have seen a range of successes in tackling sea lice over the last few years, which have led to real progress and a noteworthy reduction in their numbers. However, there's always room for improvement and we're keen to hear from as many voices as possible – we all know there is still much more to do.
"Given the value of salmon to Scotland's economy, it's incumbent on all of us to work together and look for solutions. We will continue to encourage organisations involved in Scottish salmon production to share valuable insights and collaborate for the continued improvement in fish wellbeing, while also supporting the Scottish environment and wider economy."