The barges are of the Sea Farm Feeder type with a storage capacity of 500 tonnes of feed. The barges will be delivered in 2020 and be distributed between Northern, Central, and Southern Norway.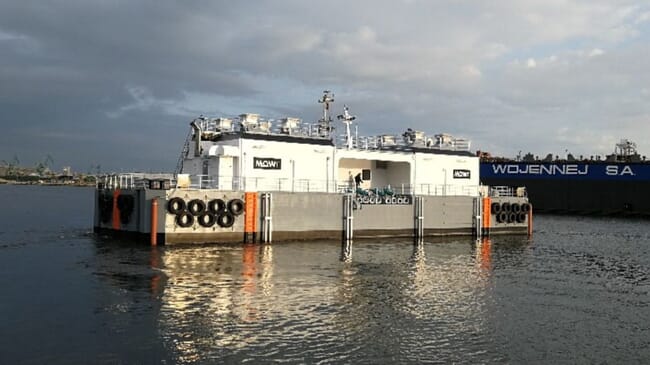 "Technology was crucial to the choice of supplier"
Erik Mjøs, the purchasing manager at Mowi ASA stated that; "The combination of good technical solutions and compliance with our needs meant that the choice fell on ScaleAQ".
Barges are an important focal point for ScaleAQ's and the company uses its extensive experience and knowledge from within the industry to create a premier product.
"We are delighted that Mowi has chosen us", says Tor Henrik Haavik Sales Director at ScaleAQ.


According to Haavik, ScaleAQ has always focused on achieving the customer's wishes and therefore the development and project department at ScaleAQ puts a great deal of effort into the design and build quality of the barges.
Haavik went on to say, "The fact that Mowi chooses us shows that we are able to fulfill the customer's requirements regardless of the type, technical solution, HS requirements and the desired load capacity"
Correct equipment level
All barges will come equipped with FeedStation 2.0. This is a new approach to feeding systems being developed in line with ScaleAQ's philosophy of openness and data sharing. Built on the HTML5 platform with integrated functionality for remote feeding without the use of additional software.

"Our well-developed APIs ensure that communication with third-party programmes and management systems are both secure and stable," says Haavik.

The barges also come equipped with the "Barge Control System". This allows for the monitoring and control of many other systems on board the barge from land.
Many choices for the customer

Mowi has selected a bespoke silage system of which scale was able to facilitate. This comprises of GRP tanks, ScaleAQ's internally developed "grinder" and a storage capacity of 86m3.

Built for HS4, all barges have recessed selector valves on deck which are shielded from direct weather, functional veterinary rooms, large personal lockers, a workshop, and office facilities.

The Seafarm Feeder 500 that Mowi has selected comes in at a size of 37 meters by 11.2 meters and is built to minimise its maintenance requirements.

"Mowi thus receives a spacious workplace that can be used for many years", concludes Haavik.