The Global Salmon Initiative (GSI) has published its annual sustainability report today, providing seven years of data across 15 key indicators – 10 environmental and five social – for over half of the world's farmed salmon.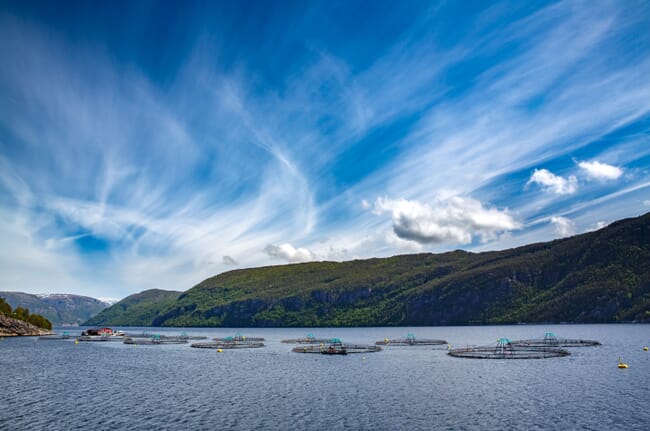 "Minimising the use of antibiotics is one of the key priorities of the GSI biosecurity taskforce, and this 50 percent reduction in overall use of antibiotics is a true testament to the commitment of the GSI members in improving antibiotic stewardship, disease control and best-practice sharing. Although situations vary regionally, we know there is benefit for everyone in coordinating efforts to find alternative methods to maintain fish health and welfare, and we will continue to focus on improving the environmental performance of the global industry," commented Catarina Martins, chief sustainability officer and chief technical officer at Mowi.

GSI currently has 14 members - with operations in Australia, Canada, Chile, Faroe Islands, Ireland, New Zealand, Norway, and the United Kingdom - and was formed in 2013 in a bid to improve the transparency and sustainability of global salmon production.
Gerardo Balbontín, CEO of Blumar, who is also GSI co-chair, said: "Each year we deliver the GSI sustainability report, and it is always interesting to see what industry trends will be highlighted. But the trend we are most pleased to see is progress – which is not always a given. It is rewarding and motivating to see that the GSI model is supporting accelerated progress in sustainability performance across the industry, and that we are not only achieving rigorous sustainability standards, but also are making good headway towards longer-term goals and catalyzing innovations that are transforming the industry."
Other key trends from the organisation's annual report include:

Over 710,000 tonnes of GSI members' farmed salmon was sold as Aquaculture Stewardship Council (ASC) certified, representing almost 65 percent of GSI members' total production, in 2019. While 74 more farms are currently under assessment as the GSI member companies bid to fulfill their pledge to achieve 100 percent certification.
A 50 percent decrease in the use of sea lice medicines, and a 130 percent increase in non-medicinal approaches, since 2013.
Continuing efforts to accelerate availability and uptake of alternative responsible feed ingredients, such as novel oils (algae and canola crops) and fish by-products, are supporting a growing industry to reduce its dependence on marine ingredients.
When compared with other animal proteins, farmed salmon represents an environmentally conscious choice, with a lower carbon footprint, requiring less land, and more efficient use of feed resources.
The 2019 report includes a new Nutrient Profile section which showcases the nutritional value of farmed salmon – including information on macro- and micro-nutrients, as well as omega-3s.

"We felt it was important we provide the full picture on farm-raised salmon and salmon farming in this report from both and environmental and nutritional perspective to deliver a complete and transparent overview for stakeholders," commented GSI CEO, Sophie Ryan. "It is now our role, in GSI, to continue to drive the changes in sustainability performance needed to support salmon farming's ongoing contributions to healthy, sustainable diets and food systems."
"It's reassuring to see the positive trends shown in the GSI report, as they tell us that our efforts within GSI – sharing best-practices, testing innovative farming approaches, and investing in new technologies – are making a difference in our operations. However, biosecurity challenges have been, and continue to be, one of the biggest challenges for the sector, and the numbers in the report are still not where we want or need them to be," said Dr Gordon Ritchie, group manager fish health & welfare Mowi ASA, and chair of the GSI's Biosecurity Taskforce.
"I believe that one important way to deliver further progress is to continue to work together within the GSI on such issues; by comparing industry-wide practices and driving a global dialogue for change."
The full report can be accessed here.