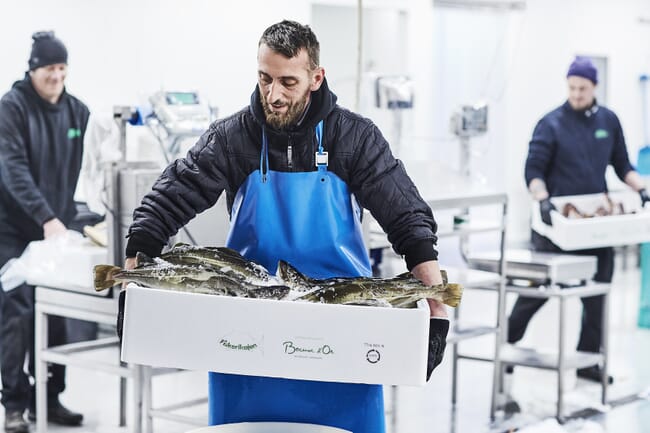 Norway Royal Salmon chairman Helge Gåsø, who has been following Norcod closely since becoming an investor in January 2020, acquired an additional 250,000 shares on 31 December to put him at the top table of shareholders as the company gears up for its first sales of farmed cod this summer.

The investment bank ABG Sundial Collier stated that Norcod's operations can revitalise the cod farming industry like "a phoenix rising from the ashes" amid increased demand for seafood globally. This demand will primarily be met by increased supply from aquaculture as wild catch is naturally constrained with many of the world's fish stocks threatened by overfishing and pollution, the bank says.
Norcod is targeting commercial operations on an unprecedented scale, based on quantum leap improvements in biomass breeding programmes. The company says that factors which affected the profitability of cod farming a decade ago have been eliminated.
"Significant improvements have been made, and the biological conditions for cod farming look better than ever," ABG says.
The company began trading on Oslo Stock Exchange's Merkur Market in October and its share price has quickly soared by more than 60 percent, with a positive appraisal for more upside.
Norcod CEO Christian Riber says the move by Gåsø clearly shows that key investors are confident in the company's business case and that responsibly farmed cod can become an important new source of healthy protein with excellent market potential.
"Our strong focus on sustainability, quality biomass, production expertise and optimum welfare of the fish backed by a sophisticated sales and marketing platform is a great recipe for success. Norcod is a solid operation with a bright future. We have a highly skilled team in place and look forward to our first sales of top-quality fresh cod from our first full production cycle this summer. We have buyers lined up who are eagerly awaiting our product," he says.
Hungry markets
Norcod has around 1.8 million cod currently approaching maturity – 200,000 in the pilot batch are in the sea at Finnangerøya in Namsos municipality, which is operated with partner Namdal Settefisk, and the rest at Norcod's facility at Jamnungen in Frøya municipality.
"The pilot batch has been in sea for around 12 months and the main batch for around six months, and both are performing well," ABG notes.
Norcod is set to produce 6,700 metric tonnes of cod in its first harvest in June, and the target is to increase production to 25,000 metric tonnes by 2025 through the addition of further facilities. The major European markets for its farmed cod are projected to be the UK and France.
Catch of the day
ABG handed Norcod a 'Buy' rating for its shares in a report published in late December and said it sees strong growth prospects and attractive margin potential in the long term. "We could arguably expect even greater upside in the longer term, as the assumptions underpinning our estimates are more conservative than what the company targets for both volumes and margins," ABG says.
Good-quality biomass has been the critical factor and Norcod has been developing its stem fish process with great success, maximising both growth and yield. Its sixth generation of cod are much more domesticated and data shows there is now a dramatic 40% increase in the survival rate for fry. Norcod's farmed fish are a much more stable product and can now grow up to 40% faster than wild cod. Successful breeding methods mean it can net much higher harvest yields than previously possible.
"Norcod looks set to mitigate the seasonality in wild-caught cod and deliver a more stable supply of fresh, high-quality fish, which has been a successful formula in salmon farming," ABG writes.
ABG sees significant growth opportunities for cod farming through biological control and the potential for sustainable price premiums, based on a high-quality product and stable supply, which has been a very successful formula in salmon farming. "This should support a price premium, which, combined with a competitive cost level, should result in healthy margins," said ABG in its report.
ABG says costs for cod farming are expected to be similar to or lower than the salmon farming industry. Both sectors share many of the same cost components but ABG points out an important distinction in that cod farming is expected to incur fewer biological costs related to sea lice, which are an ongoing challenge for salmon.
Gap in the market

There are limitations to the wild cod catch through quota management, while continued pressure on stocks and seasonality will mean there is a significant and growing gap in the market to be filled year-on-year. "[They] can together support a higher price level for farmed cod, in our view," ABG says.
Norcod is ideally positioned to seize this opportunity given "the higher yield, better quality and more flexible timing of delivery to customers" of farmed cod versus wild cod, ABG writes. Norcod raised NOK 250m ($26.3m) through its three times oversubscribed private placement in October and will use the equity raised to develop its hatchery capacity as well as build up its biomass and expand its operational infrastructure.