The Protein Index looks at how the world's largest producers of meat, dairy and seafood perform on various risk factors relating to sustainability. The world's largest salmon producer, Mowi, tops this year's index, closely followed by Lerøy in second, Bakkafrost in 3rd, Grieg Seafood in 5th, Tasmanian salmon farmer Tassal Group in sixth, and Salmar in 7th.
"The results leave little doubt that Norwegian aquaculture is among the most sustainable food production there is. Eating more seafood is a good way to reduce our climate emissions, and Norwegian salmon companies are leading the way in sustainable protein production," said Renate Larsen, managing director of the Norwegian Seafood Council.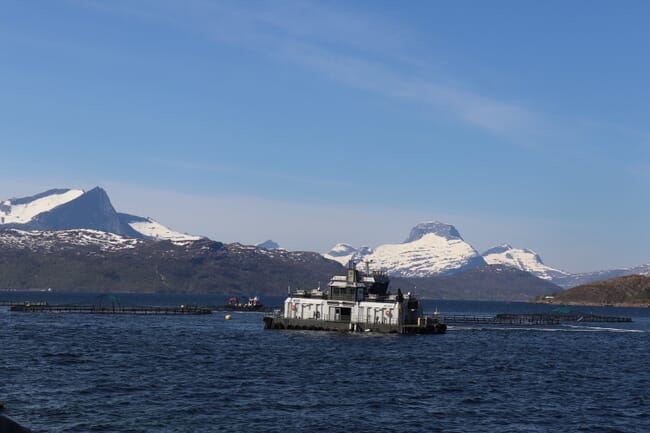 "We know consumers increasingly want to know where their food comes from, and this report clearly show that Norwegian salmon is a good choice for conscious consumers," she added.
The index ranks companies based on their disclosure and management of material, environmental and social risks and is the world's only benchmark dedicated to profiling animal protein producers and showcasing critical gaps and areas of best practice. The main purpose of the report is to enable and support well-informed investment decisions in the protein sector.
In the report salmon aquaculture companies perform well against most risk factors, which include food safety, waste and pollution, working conditions, fresh water use, antibiotics, animal welfare, greenhouse gas emission and deforestation and biodiversity loss.
"Norwegian aquaculture is particularly highlighted as best practice when it comes to antibiotics use and fish welfare. This index highlights how important it is for large food producers to show transparency and continuous efforts to improve and document their sustainability credentials," said Larsen.
Meanwhile Chilean salmon farmers Salmones Camanchaca and AquaChile are 11th and 16th respectively, while CP Foods and Thai Union, which both have shrimp farming interests, were ranked 14th and 15th.
The top three companies are classified as being "low risk", those between four and 17 are classified as "medium risk", with the remaining 43 classed as "high risk".
Although the 15 aquaculture-related firms in the index perform relatively well, the report does contain some criticism of the sector – not least the role of feed production for its greenhouse gas (GHG) emissions.
"On average, fish feed accounts for around 87 percent of GHG emissions in Atlantic salmon production. However, none of the companies has a Scope 3 emissions-reduction target," stated the report's authors. The Corporate Value Chain (Scope 3) Accounting and Reporting Standard allows companies to assess their entire value chain emissions impact and identify where to focus reduction activities.
The report also argues that aquaculture isn't always the most sustainable form of protein production.
"Farmed fish products are often perceived as relatively sustainable compared to other animal proteins. However, new research suggests that farmed salmon has a higher climate impact than poultry – and farmed shrimp is higher than beef from dairy herds (though significantly lower than beef from beef herds)," said FAIRR.
"It is therefore concerning that many companies are not taking action on their Scope 3 GHG emissions, and four report increasing absolute emissions.