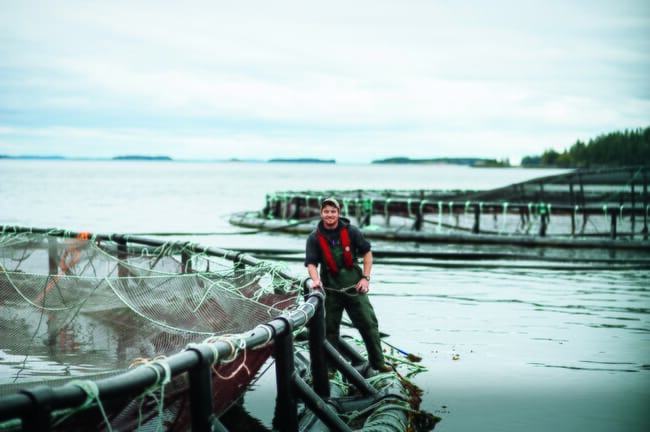 ASF's comments came after 53 farmed salmon, thought to have originated from a Cooke Aquaculture site - where an escape of 1,000 fish occurred after a pipe broke as fish were being transferred to a wellboat for a sea lice treatment - were found in the Magaguadavic River in New Brunswick.

"While we appreciate a prompt response from Cooke to our inquiries and the fact the company consented to the release of some information by provincial officials, this news was not shared widely with the public," said Neville Crabbe, executive director of communications for the ASF in a statement. "In general, silence and secrecy about escape events puts endangered Bay of Fundy wild Atlantic salmon at risk."

In response to ASF's claims Farquharson wrote: "Salmon farmers do not want to lose a single fish. Their fish are their livelihood. When escapes do happen, they are largely a result of extreme weather events. Occasionally escapes are due to equipment malfunction or human error when fish are being handled (ie harvesting, fish health inspections). Salmon farmers are already transparent about escapes. When escapes happen, New Brunswick salmon farming companies voluntarily report it to the provincial regulator, who in turn notifies numerous groups, including the ASF, that are members of the NB Aquaculture Containment Liaison Committee. Other members include the Department of Fisheries and Oceans, the NB Department of Agriculture, Aquaculture and Fisheries, salmon producers, the NB Conservation Council and the NB Salmon Council. The NB Aquaculture Containment Liaison Committee communicates regularly. This week, the group discussed adding other groups on a case-by-case basis that may wish to be informed of an escape for a specific reason.
"ASF spokesperson Neville Crabbe stated in the media this week that: 'When you have spawning that's occurring between aquaculture escapees and wild fish, you are wiping away potentially 10,000 years of evolution in a single spawning event.'"
"We reject that hyperbole. ASF knows full well that farmed salmon are very poorly suited to survival in the wild or reproductive success. Fearmongering about potential evolutionary disaster after a small escape does a disservice to the collaborative efforts between salmon farmers and the members of the NB Aquaculture Containment Liaison Committee. Mr Crabbe's comments also conveniently ignore any potential impacts of over 100 years of Atlantic salmon enhancement efforts, including ASF's own sea ranching project in the 1970s and 80s that saw large releases of a variety of salmon strains into rivers and estuaries.
"Salmon farming began – with ASF as a partner – as a way to address the decline of the commercial and recreational fishery for Atlantic salmon. Salmon farming is a responsible, sustainable and innovative means to provide adequate food supply to meet the world's population growth while helping to reduce the pressure on wild fish stocks. Our farming practices and technology continue to evolve. Fish containment will always be a top priority as will our wild salmon conservation and enhancement efforts. Farmers work with a wide variety of partners, including First Nations, as part of the innovative Fundy Salmon Recovery project that is now seeing inner Bay of Fundy salmon return to one river in Fundy National Park in unprecedented numbers.