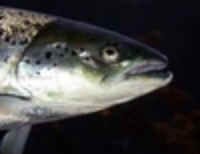 Exports of fresh salmon leapt to 65,480 tonnes from 52,671 tonnes the previous year. Scottish salmon now reaches 55 countries worldwide. Europe remains the industry's biggest export market, with France, Belgium, Luxembourg, Netherlands, Germany, Italy, Spain and Irish Republic as notable importers. The USA, Canada and the Far East are the biggest destinations in the rest of the world.

With continuing high overseas demand, an increasing appetite for health enhancing foods and a forecast that the global market for salmon will have an undersupply of 190,000 tonnes in 2010 – which is the equivalent of one and half times the size of the Scottish salmon industry – the sector is optimistic about future market demand.

Salmon exports (£220m) account for over 55 per cent of Scotland's total food exports (£400m). The strong export trade has been built solidly on Scottish provenance, the product's PGI status awarded by the European Commission and premium taste, quality and character.

Scott Landsburgh, Chief Executive of SSPO, said: "Salmon is the largest food export from Scotland. It has established a substantial overseas market, worth over £220m per annum. It currently accounts for 55 per cent of the total value of food exports from Scotland, underpinning its increasing importance to the domestic economy.

"Salmon is a high growth sector in the food industry. With demand for Scottish salmon continuing to be extremely high overseas, export markets offer further opportunity for market expansion," added Mr Landsburgh.

As part of its policy to increase sustainable economic growth, the Scottish Government has identified the food and drink sectors as key economic areas for development. The target is to increase the value of the food and drink sectors from £7.5bn to £12.5bn by 2017.