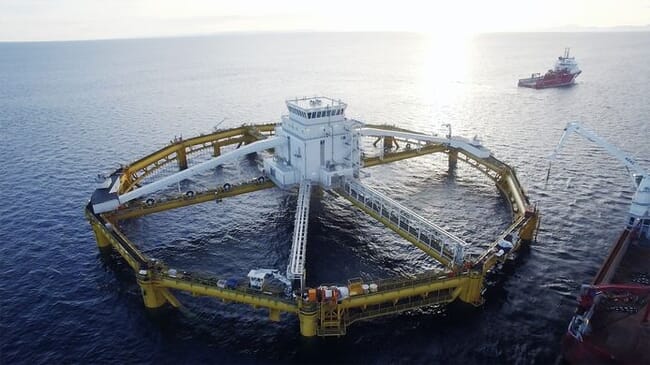 "In its decision, the Directorate of Fisheries points out that Ocean Farming has provided comprehensive and thorough documentation showing that the performance criteria and thus the conditions for conversion have been fulfilled. The experience gained through the project has been described and reported to the Directorate of Fisheries, most recently in the form of a final report and a separate report on the development of the project in the first half of 2020. These reports are publicly available. In this way, the knowledge deriving from the project will benefit the entire aquaculture sector, as required by the regulations underpinning the development licence scheme," Gustav Witzøe, CEO of Salmar, stated today.

However, before the permits can be converted into biomass in conventional net pen farms, the company must apply to the Directorate of Fisheries for placement in one or more production areas, as well as clearance from the local authorities.
Salmar has invested 1 billion kroner (£84 million) in the semi-submersible steel pen design, which was developed following the licensing scheme introduced by the Norwegian government in 2015. This aimed to inspire novel aquaculture methods, following a freeze on the expansion of conventional net pens. However, the initiative stated that if a development concept was deemed successful the company would then be able to apply to have the licences made permanent at a lower cost than buying new biomass at the government's annual auction.
"SalMar is proud that we have completed a project that we believe to be a groundbreaking step towards the development of an even more sustainable aquaculture sector. The project was founded on a unique, interdisciplinary partnership between Norwegian and international organizations at the forefront of aquaculture production, offshore technology, and relevant scientific research. By completing this project, SalMar has contributed to the realization of the public authorities' objectives for the development license scheme, namely, to resolve important environmental and spatial challenges affecting the industry," Witzøe continued.
Ocean Farm 1 is approaching the end of its second production cycle and Witzøe has pledged that – despite today's decision – it will "become an important production unit in SalMar's overall fish farming operations".
Witzøe added that the company has already launched a project to investigate the financial and technical conditions necessary to build additional units with a similar design to Ocean Farm 1 for deployment in more exposed locations.