The new briefing paper by Planet Tracker highlights financial risk exposure related to ecological limits and environmental legislation in the US $45 billion shrimp farming industry due to deforestation of mangroves, which the paper describes as "Southeast Asia's forgotten forests".
According to the paper, mangroves are being proportionately destroyed at five times the rate of rainforests. Thirty percent of mangrove deforestation and coastal land-use change across Southeast Asia is attributed to shrimp farming and incorporating land use change into shrimp life cycle assessments places shrimp ahead of beef for greenhouse gas (GhG) emissions on a per kilogram of production basis, the authors claim.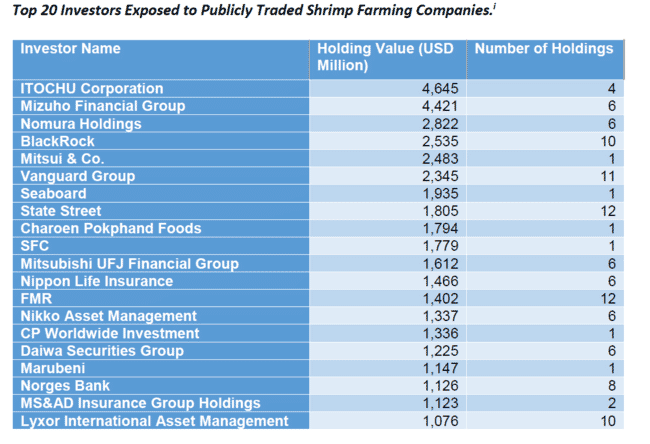 Critically, despite this risk, Planet Tracker found no evidence of reporting of either the mangrove deforestation or farmed shrimp emissions by shrimp companies or the top 20 institutional investors exposed to these companies.
A summary of the report notes that: "This means that gross and net profit margins are unable to be accurately assessed due to low disclosure on shrimp-related revenues and costs.
"There is, therefore, value-at-risk to investors due to known regulatory changes, market shifts and biological constraints that will continue to increase by 2025, though the extent of the risk is as yet unknown."
Planet Tracker identified 27 publicly listed companies involved in producing and processing farmed shrimp with a combined market capitalisation of US $102 billion, of which US $63 billion is held by institutional investors.
The majority of equity (61 percent) is held by the top 20 investors, including leading Japanese and US institutional investors such as ITOCHU Corporation, Mizuho Financial Group, BlackRock and State Street.
According to the paper, only four of the top 27 publicly listed shrimp farming companies disclose shrimp-specific revenue and operating margins in income statements.
"This disclosure gap could compound environment-related top-line revenue and gross profit margin risks," explains Matthew McLuckie, director of research at Planet Tracker. "Unless capital markets embrace greater transparency and disclosure, they risk higher exposure to production and price shocks due to nature-related supply- and demand-side constraints, exacerbating investors' inability to calculate company valuations accurately."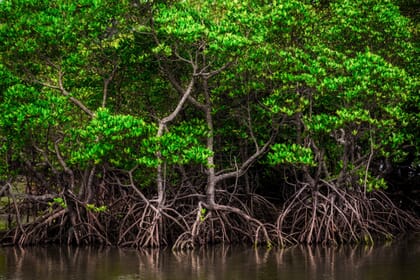 The report observes that the farmed shrimp industry faces further regulatory risk in relation to its largest market, the European Union, with the incoming EU Action Plan on Deforestation looking to ban all deforestation-linked soft commodities, both historic and future.
The Planet Tracker briefing paper calls on investors to press the shrimp farming industry to move to:
Full transparency by publishing species specific revenue and operating costs in income statements.
Full traceability by providing independent accountability to clarify company exposure to mangrove deforestation.
Full accountability by openly discussing the risks that companies face, from regulations to addressing deforestation-linked commodities.
Read the briefing paper, "Shell Shock: Mangrove Deforestation Threat to Farmed Shrimp Investments" here.