Red Mark Syndrome/Cold Water Strawberry Disease
By Michelle Pond, Cefas, presented at the Disease Workshop in Bristol and published in Finfish News publication, Winter/Spring edition, number 3. Cefas. A range of researchers and other stakeholders gathered to discuss what is known about the skin condition of farmed rainbow trout termed Red Mark Syndrome or Cold Water Strawberry Disease.
This disease is having a significant economic impact on affected farms (due to downgrading of product) and it appears to be spreading across the UK.

The Chairman, Edward Branson MRCVS, welcomed attendees and opened the workshop with a brief overview of the disease. Red Mark Syndrome (RMS) was first reported in late 2003/early 2004. Edward stressed the need for a case definition and the importance of appropriate terminology to differentiate RMS from Strawberry Disease (SD), proposing:

Five presentations then followed covering the epidemiology of the disease and current research in the UK and USA.

Epidemiology of RMS/CWSD in England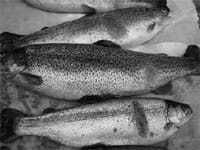 RMS affected fish
Dr Birgit Oidtmann, an epidemiologist at Cefas Weymouth, began by stating that five farms were known to be affected in England and Wales, two being affected in 2004 and a further three farms affected in 2005. The involvement of an infectious agent was suspected, as the disease appeared to be transmissible. The experience of farmers suggested a bacterial agent, because RMS responds to antibiotic treatment. However, RMS is thought to be a multifactorial condition, and a causal web hypothesis illustrated that the environment, host and pathogen are interlinked with certain farming conditions / practices increasing the risk of RMS. Dr Oidtmann emphasised the need to develop case definitions for RMS/CWSD and WWSD, which would be a prerequisite for any epidemiological study to investigate the risk factors for RMS. She proposed both a retrospective and prospective study, which would include the use of questionnaires. Once risk factors and beneficial changes are identified, suggestions could be made which might allow farmers to manage the disease. Dr Oidtmann concluded by emphasising the need to combine data from different groups so that the industry was not burdened with multiple questionnaires.

RMS/CWSD
Professor Hugh Ferguson, Professor of Diagnostic Pathology & Microbiology presented the work carried out at the Institute of Aquaculture, Stirling describing the pathology of CWSD/RMS in rainbow trout in Scotland and its association with Flavobacterium psychrophilum(1). A technique for amplifying DNA (Polymerase Chain Reaction - PCR), from archived paraffin wax sections, was used to test for the presence of this bacterium (Fp). Skin lesion samples from Scotland were positive for Fp (controls were negative) and fish from Idaho with Strawberry Disease (SD) tested negative. It was concluded that although RMS has the same pathology as SD described in Idaho, it may have a different cause. The Scottish RMS affected fish showed a chronic dermatitis, a response suggesting an immunological hypersensitivity. The CWSD/RMS pathology was therefore different to the vitamin C responsive condition WWSD.

RMS/CWSD in England and Wales
Dr David Verner-Jeffery, a microbiologist at Cefas Weymouth, described a series of laboratory studies demonstrating the horizontal transfer of RMS. The main study involved the introduction of RMS affected fish from two different farms to tanks containing naïve fish. Following a very long incubation period (600 degree days) some naïve fish showed symptoms of RMS (>60% in some tanks). At the end of the trial (960 degree days) a range of samples were taken for analysis. Histopathology samples confirmed that previously naïve fish with lesions were affected by RMS/CWSD. No predominant organism was isolated from bacterial culture, and samples for virology and parasitology were also negative. An in-house PCR protocol was optimised for detection of Fp using the published primer sequences(1), but all lesion (and internal control) samples were negative. As an alternative method, a 16S rRNA clone library was prepared, but again Fp was not detected, nor was any other predominant organism identified.

Strawberry Disease in the USA
Dr Sophie St-Hilaire, Assistant Research Professor at Idaho State University, USA, presented her work on SD in rainbow trout in Idaho. Pathological findings suggested a similarity to UK SD (which appears in the summer); however, SD in Idaho occurs all year round due to stable water temperatures (14°C). The disease can be treated with oxytetracycline, is nonlethal and appears more prevalent in market size fish. It was suggested that Aeromonas hydrophila (found in water of poor quality) might be the cause as it produces haemolyticenzymes, is found worldwide and is not highly pathogenic. This hypothesis was tested in three in vivo studies, but with little success. Further planned studies include an evaluation of water quality and a comparison of the microflora of affected and non-affected fish using a variety of techniques.

RMS/CWSD in Scotland
Mr Daniel Pendrey, a Fish Health Inspector at FRS Marine Laboratory, Aberdeen, opened by thanking the fish farmers for all the information they had provided. He suggested (based on anecdotal observations) that 20 of the 45 rainbow trout farms in Scotland were affected with RMS/CWSD, as well as a small number of fisheries. Affected fish showed superficial lesions with scale displacement. Although numerous tests had been carried out, no dominant organism had been found. A bacteriological aetiology was again suggested by the epidemiology seen in Scotland and the apparent response to antibiotic treatment. Further observations from site managers indicated that the disease had only shown up in the last 2-3 years, could be treated with antibiotics, limited with vitamin C, and cleared up when water temperatures increased to 15°C. Affected fish were usually around 500 g and spinal deformities were sometimes observed.

General Discussion
General discussions included farm experiences of RMS and notably the effectiveness of control measures that included:
antibiotics, e.g. Aquatet (oxytetracycline), Branzil (oxolinic acid), Florocol (florphenicol)
other chemicals, e.g. Chloramine T, salt (3%)
special diets, e.g. Skretting 'Response'
mild stress, e.g. grading, warm water.
It was proposed that information on control could be gathered using the questionnaire for the epidemiological studies. Further work was recommended to discover the causal agent, assess its potential risk to wild salmonid populations and to develop control strategies. A steering group was formed to help co-ordinate this research effort, consisting of researchers and other stakeholders from across the UK. Anyone requiring more information about the disease is welcome to contact the Cefas Fish Health Inspectorate.

References
Ferguson, H. W., Girons, A., Rizgalla, G., Lapatra, S., Branson, E.J., Mackenzie, K., Davies, M., Collins, R.O., Diab, A., and crumlish, M. (2006). Strawberry disease in rainbow trout in Scotland: pathology and association with Flavobacterium psychrophilum. Vet Rec. 158: 630 - 631.
September 2007