Chandra Mondal, 45, resides in Howrah district of West Bengal in eastern India. As a homemaker, she has the responsibility of not only raising her children but also of keeping the economic wheels of the family moving. The income of her husband is barely enough to meet their daily expenses.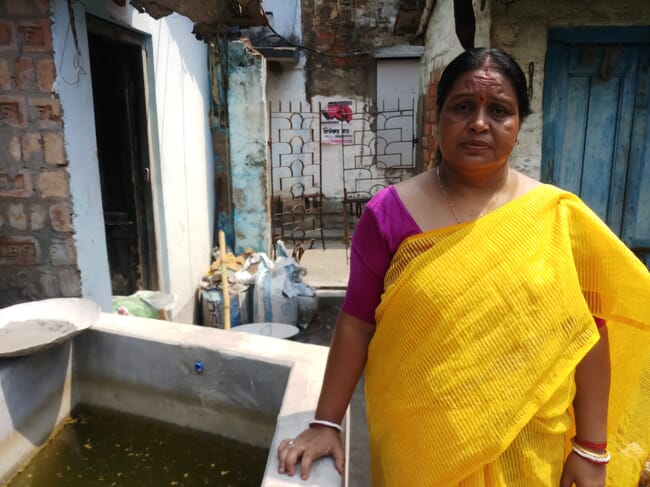 Chandra thanks ornamental fish farming for coming to her rescue and helping her to assist her husband.
"Our society is still very conservative in its mindset and doesn't allow women to step outside of the houses. Despite being educated, I couldn't search for a job because of the social restrictions but it was necessary to find a way to earn because of the limited income of my husband. I decided to try ornamental farming which can be done from the house," she says, adding that she took to ornamental fish production in 2000.
In 2002, along with 16 other women from her village, Chamrail, she formed Ratnadeep Rangeen Matsyochas Mahila Samanway Samity, a self-help group (SHG) made up of women involved in ornamental fishing.
Cut to the present, and the group has 90 women members who have become the main bread-winners of their families.
"We manage to earn around Rs 10,000-12,000 (£136) every month by doing ornamental fish farming. The cemented tanks have been built in the backyard of our houses where fishes are being reared after being purchased from breeders. The biggest advantage is that we do not have go anywhere as buyers come to our houses directly to buy fish," says Sefali Manna, one of the oldest members of the group, who mostly rears goldfish (molly and rosy barb).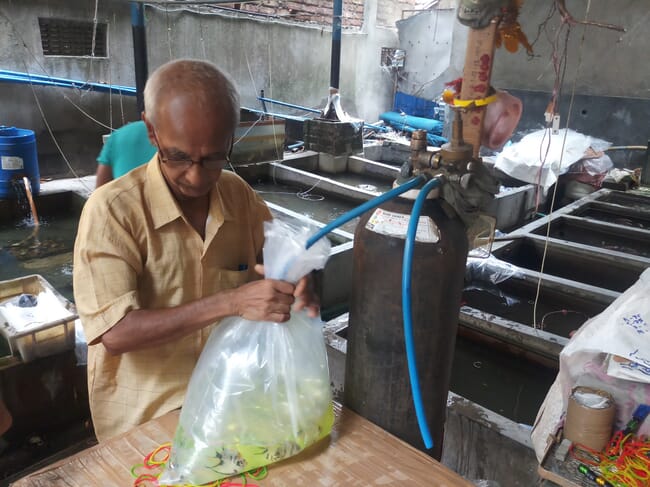 But the duo are not alone. Those connected with the trade estimate that around 20,000 women in Bengal are involved in ornamental fish production, which has not only helped them to fight poverty but also to give better lives to their children.
An estimated 5,000 women SHGs and 150 women fisher co-operative societies are in Bengal. The activities are mostly concentrated in the states of West Bengal, Maharashtra, Tamil Nadu and Kerala.
"The state boasts of substantial involvement of women in the ornamental fisheries activity because the trade is structured around SHGs and cooperatives in which the presence of women is predominant. The SHGs are engaged in both breeding and rearing of the ornamental fishes," says Dr Supratim Chowdhury, associate professor at the West Bengal University of Animal and Fishery Sciences (WBAFS) in Kolkata.
"Live bearers – such as guppy, platy, molly and swordtail – are bred and subsequently reared, while the egg layers – such as angel, barbs, goldfish, tetra and catfishes – are reared after procurement of their seed."
The state produces a major share of the ornamental fish for exports from India. Most of these exports include indigenous varieties of fishes caught in the wild which come to Kolkata from north-eastern states and sub-Himalayan West Bengal. Domestic trade involves mostly exotic species which are bred and reared in the state by SHGs.
The total export of ornamental fish from India stood at around 42 tonnes, valued at around 8.4 crore (US $1.2 million) in 2017-18.
Apart from aquarium fish farming using low-cost technology in cement tanks, the ornamental fish sector also generates huge potential for female employment in the ancillary industry of aquarium decoration, and providing other accessories, as well as medicine. In Bengal it has become a household trade for many.
"We receive raw material from the shopkeepers and then assemble moulded fibre-glass aquaria, accessories like filters, thermostats, ornamental plants, stones, light fittings, toys, models for aquaria and feed. We take a keen interest in the work as it does not require any formal education and can be done from the precincts of the houses," says Rama Karmakar, who has been working in the ancillary unit for the past 10 years at Dasnagar in Howrah district.
She added that even schoolgirls earn their pocket money by making artificial plants.
Traders say that an increasing demand for ornamental fish, coupled with the flexibility it offers, has also been a major factor in pulling the women towards it.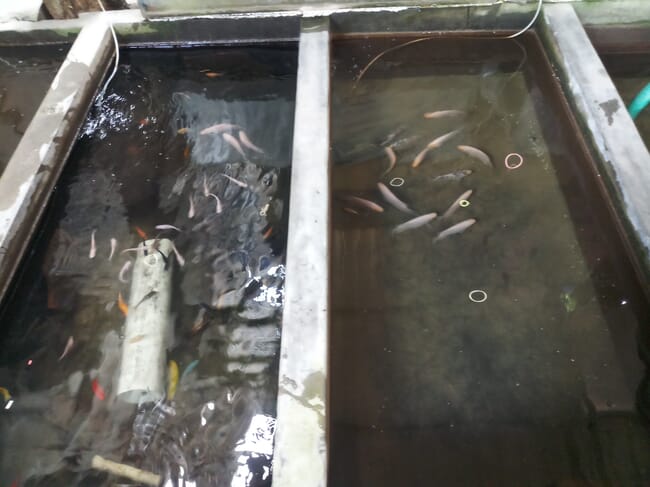 "The demand for ornamental fish has increased manifold because of the increasing popularity of aquariums. We often fail to fill the gap between demand and supply. We also import red parrot species from Thailand. The freedom to work from home has attracted large numbers of women into the trade," says Somnath Mayur, owner of Modern Aquarium and one of the prominent ornamental fish traders in the state.
The government of West Bengal has also been promoting ornamental fish farming as a livelihood option for women. The promotional campaign involves organising an Annual Bengal Fish Festival and opening doors for corporate investment in the sector.
"We build cement tanks for those involved in ornamental fishing, provide them training and also give free fish for rearing. The trade has been really helpful for women working in small groups," says Dr Chandraval Dutta, assistant director of fisheries, Howrah district, West Bengal.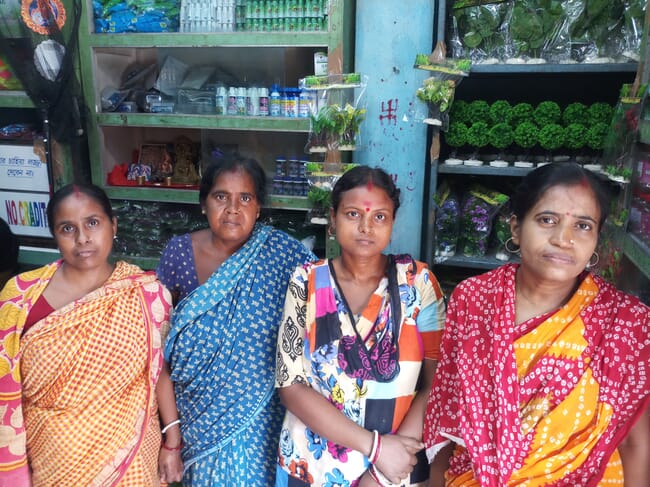 But experts also point out to the shortcomings of ornamental fish farming in Bengal.
"We still lag behind Chennai, which is far ahead of us because of the lack of vision by entrepreneurs, including women. They are still stuck in the old techniques of fish breeding and rearing and have shown no modification while their counterparts in down south have expanded their business and have started to sell accessories of aquariums along with the fish. But it is not the case in Bengal. Even no attempts have been made to reach to new markets. But it would not be proper to blame the women entrepreneurs, also, as they also lack correct guidance from those entrusted with their training. We can do much better if proper attention is paid," says Bhaskar Das, a fish-breeding consultant in Kolkata, the state capital.