The 2018 EAS event, which is run in conjunction with the World Aquaculture Society, is taking place in Montpellier on 26-29 August and AMC Ltd and AQUATT have committed to presenting the award, despite EAS suspending their own student poster awards for this year.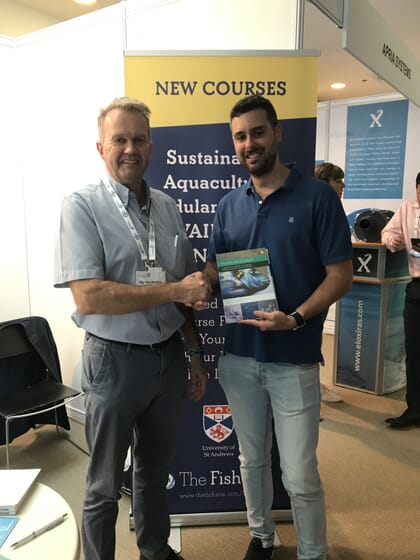 As Margaret Eleftheriou, chair of AMC limited explains to The Fish Site: "Because of the conjunction of the event with the WAS, the WAS awards will be held on the first day of the conference and consequently the EAS has decided that as there will be no time to judge the 122 student posters, they will suspend their awards for the current year.
"We decided, however, to go on with the Lindsay Laird Award which we feel is too important an initiative, especially in these grimly uncertain days, to simply let slide away. The dissemination of the new knowledge and research from young researchers is especially important, for they are the future of the industry, something which is implicitly acknowledged by the award and its sponsors.
"What is gratifying to us as promoters of innovation and excellence in aquaculture, is that all previous winners of the award have not only gone on to publish their award-winning poster as a peer-reviewed scientific paper, but also then contributed further excellent innovative work which has also been published internationally. And the latest, Francisco Guardiola, who won the 10th anniversary award at AE2017 in Dubrovnik last year, has extended his research into the wider field of agriculture," she adds.
The ward was established in 2008 by AquaTT and AMC and has recognised young students for their contributions to science in honour of the late Scottish scientist Lindsay Laird - a Senior Teaching Fellow in the Zoology Department at the University of Aberdeen, who worked closely with the expanding Scottish aquaculture industry and served as the Chair of the Organic Fish Producers' Association, Vice-Chair of the Scottish Fisheries Executive Committee and on the Board of Directors of the European Aquaculture Society from 1994 to 2000.
The award is presented annually to the author of the most innovative English language poster submitted by a student to the annual Aquaculture Europe conference, which concerns research in any one of the following areas:
Environmental impacts in aquaculture
New species
Hatcheries/early life history
Stock production
Fish diseases
New technologies
Genetics/genomics
As part of the prize for this year's Lindsay Laird Award, 5m Publishing is offering a copy of Cleaner Fish Biology and Aquaculture Applications, edited by Jim Treasurer.