In a recent study in Fish and Shellfish Immunology, researchers explored the growth rates and immune responses of Pacific white leg shrimp fed differing diets. Preliminary results indicate that shrimp fed a low fishmeal diet supplemented with a plant-based (phytogenic) product showed similar growth rates, nutritional performance and immune responses to shrimp fed high fishmeal diets. These results suggest that phytogenic supplementation can be incorporated into low fishmeal diets to compensate for the reduced performance associated with partially replacing fishmeal with other protein sources.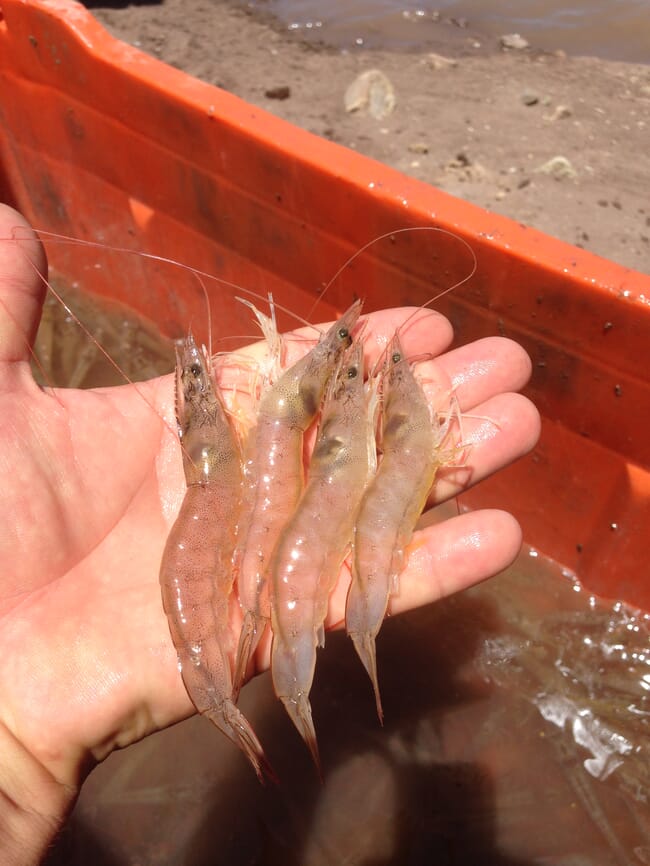 Fishmeal is a key ingredient in formulated aquaculture feeds. It is nutritionally dense, has a high protein content and is easily digestible. However, using and producing fishmeal has economic and ecological drawbacks. High quality fishmeal is expensive and creating the product can deplete wild fish stocks. Though alternatives to fishmeal are on the market, these products yield poorer results in terms of performance and health outcomes when compared to traditional fishmeal.
In this study, researchers assessed the effects of the commercial feed additive Digestarom PEP MGE on the growth, immune response and nutritional performance of white let shrimp, Litopenaeus vannamei. The researchers split a group of 540 juvenile shrimp into four cohorts and fed them four different diets for 63 days. The control group was fed a standard fishmeal formulation, and the experimental groups were fed a low fishmeal diet, a low fishmeal diet with a small dose of the phytogenic additive and a low fishmeal diet with a higher dose of the additive.
After 63 days, results showed that the feed additive compensated for the negative performance and health consequences of the low fishmeal diets. The shrimp fed the feed additive and low fishmeal diet showed similar survival rates, feed conversion ratios and hemocyte counts when compared to shrimp in the high fishmeal cohort.
This would suggest that the additive, Digestarom PEP MGE, can be included into low fishmeal diets fed to shrimp. The phytogenic supplementation can offset the negative performance and immunological effects of reducing the concentration of fishmeal in shrimp diets.
Read the original abstract here.