The Galician company recently started investigating octopus production and Ignacio González, the company's CEO, has announced that: "we will continue to research how to continue improving the well-being of the octopuses, studying and replicating their natural habitat, with the expectation to be able to sell aquaculture octopus starting in the year 2023".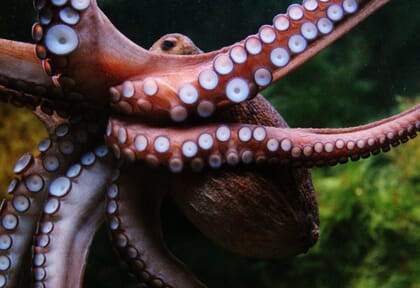 The Pescanova research team is working with 50 common octopuses (Octopus vulgaris) - the species most consumed in Spain - born in captivity in 2018. The research was launched by the Spanish Oceanographic Institute (IEO), which achieved the survival of juvenile specimens born in aquaculture. Once the organisations reached an exclusive agreement about the patented production method, Pescanova moved forward with the research at their facilities.
The octopuses, of which half are female, have reached adulthood and one of them has already laid some eggs, which she will be taking care of for approximately one month, when they hatch and the octopuses will be born.

According to Ricardo Tur, who leads the cephalopod projects at Pescanova, "the octopus requires very specific marine conditions for development, such as the availability of food and optimal oceanographic factor connected to temperature, salinity, ocean currents, and the animal's well-being". In fact, the survival rate of a wild octopus is 0.0001 percent while, with the results that Pescanova is obtaining until now, this figure is estimated to be raised to 50 percent in aquaculture.

Pescanova, which has its roots in wild-capture fisheries, has said that the octopus project has been inspired by the scarcity of wild octopus, coupled with rising demand for them in countries including Spain, Italy, Greece, Japan and the United States.
The company plans to undertake the next phase of its research at the Pescanova Biomarine Centre, in Pontevedra, which it aims to open in 2020.