This is one of the key findings of the Scottish Pancreas Disease (PD) Mapping Project – a comprehensive survey of the disease, which was recently undertaken by MSD Animal Health.
The results of the project also suggest that herd immunity and improved husbandry practices may also be proving effective, as PD has now fallen down the list of most prevalent diseases found in farmed salmon.
The year-long study, which was undertaken by MSD in collaboration with producers of farmed salmon in Scotland, was based on survey work across 96 sites, covering the Western Isles, Orkney, Shetland and mainland Scotland itself.
The survey covered both vaccinated and unvaccinated populations to evaluate vaccine efficacy, comparing comprehensive historical data collected since 2008 and a similar mapping project completed in 2015 with the recent findings.
In 2015 SAV 2 was dominant in the Northern Isles and northern region while SAV 1, 4 and 5 prevailed in the southwest, indicating a north/south divide between subtypes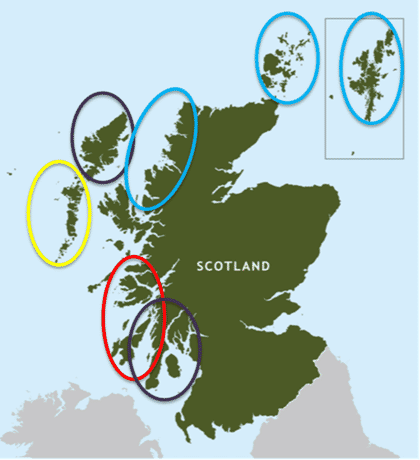 Methodology
The methodology used was similar to that of the 2015 project, which was to assess the prevalence of salmonid alphavirus (SAV) and neutralizing antibodies, which indicated a challenge has been present. Where positive SAV was identified, the virus was subtyped to determine which of the six subtypes of SAV were found. This has enabled the mapping project team to provide the most comprehensive view yet of the geographical distribution of SAV subtypes.
Results of samples can highlight the following:
Negative virus and antibody: no exposure to the site to PD at that precise moment in time.
Positive virus: active, circulating viral infection.
Positive antibody and positive virus: mid to late stage infection.
Positive antibody only: previous infection.
Serology samples were the predominant diagnostic method used during the survey. Samples were taken at periods during the production cycle when infection pressure is likely to be at its highest.
The results from the recent project compared with the 2015 data shows huge geographical changes regarding PD spread and SAV subtypes. When looking back at Shetland Isles for example, along with SAV 2, subtypes 1 and 5 are now present. West coast regions are being exposed to all 4 subtypes as shown in Figure 2.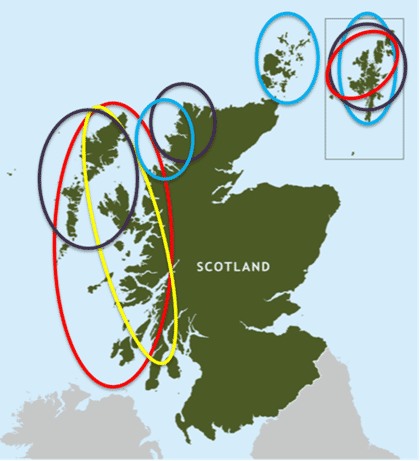 The Northern Isles (Orkney and Shetland)
The effect of long-term blanket vaccination shows evidence of a significant reduction in the viral load, with a reduced number of positives.
It shows that the virus is being kept at a level that is not causing any significant level of clinical disease.
In the sites surveyed, there was no evidence of any SAV subtypes being found.
These results may also be influenced by improved fish husbandry practices and the effect of "herd immunity" amongst the fish.
The table below shows an excellent example of the reduction in positive results in the Northern Isles comparing historical data. With Orkney and Shetland being a proven hotspot for PD, it is clear to see the benefits of a blanket vaccination approach leading to herd immunity and driving down the viral loading on sites.
The Western Isles
The PD Mapping project detected SAV 1,4 and 5 in positive samples.
Antibodies were found on a number of sites where fish had been vaccinated.
West coast mainland
Antibody positive and negative virus returns were found on vaccinated sites.
SAV 1,2 and 5 positive samples were detected on unvaccinated sites.
One company has adopted blanket vaccination since 2010 which has resulted in a zero return for detection of PD in the recent survey time points.
Liam Doherty, Aqua Technician at MSD AH, said: "MSD AH is grateful to all those across the three regions in Scotland who worked with us to conduct our major PD mapping project over the past year.
"The results have enabled us to produce the most comprehensive mapping of PD subtypes across 96 sites, covering both vaccinated and unvaccinated populations.
"The data we have received and been able to compare with historical data collected since 2008 strongly suggests that blanket vaccination is proving effective in limiting outbreaks.
"We have detected positive antibodies in fish populations where vaccination has taken place suggesting that herd immunity is developing. This combined with better husbandry practices is providing positive outcomes for farmers in terms of the impact that PD causes.
"It is important never to be complacent with regard to pancreas disease and MSD Technical Services and AQUAVAC Monitoring Services provide a solid platform in which to monitor the movement of SAV subtypes around sites and regions."