Mississippi is the largest catfish producer in the US – in 2018 its 160 catfish producers harvested fish worth $164 million. The state is also responsible for about 90 percent of the industry's catfish fingerling production.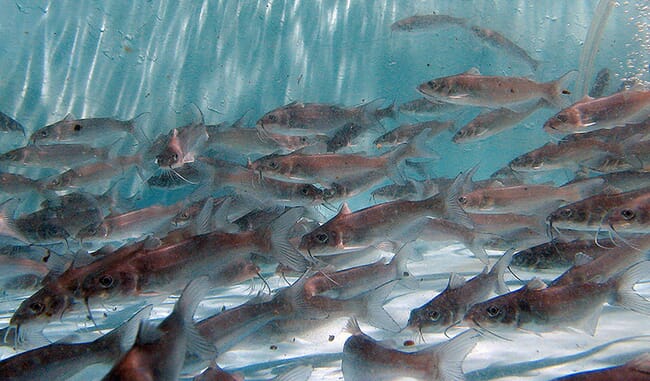 Licensed and delivered by DelTaq Fish Health, using an MSU-designed platform, the oral catfish vaccination service vaccinated 350 million stock channel and hybrid fingerling catfish against enteric septicaemia (ESC) in 2018.
MSU researchers in the Mississippi Agricultural and Forestry Experiment Station (MAFES) developed the methods to minimise ESC-related losses. Two complementary technologies were developed—a live-attenuated, patented vaccine and a patent-pending vaccine delivery method. The technology is currently used on fingerling populations, however, research is ongoing to develop vaccination strategies for larger fish.
"MAFES is very pleased to see these technologies commercialized to enhance the profitability of our growers," said George Hopper, MAFES director and dean of MSU's College of Agriculture and Life Sciences.
Leading the decade-long development of the vaccine and delivery method is MSU research professor David Wise, who said higher survival, better feed conversion and better catfish growth due to the vaccine translates into more pounds of fish harvested per acre for the state's producers.
"We've determined that vaccinated fish populations produce $2,000 to $2,400 higher net revenue per acre than those unvaccinated. That's about a 30 percent increase in production," said Wise, who also is coordinator of the university's Thad Cochran National Warmwater Aquaculture Center.
"During the fingerling stage of production, essentially every catfish raised in the Delta will be exposed to this bacteria," said Wise, noting its persistent nature. "We typically vaccinate from mid-June to mid-August before water temperatures decrease, triggering outbreaks that typically occur in the fall."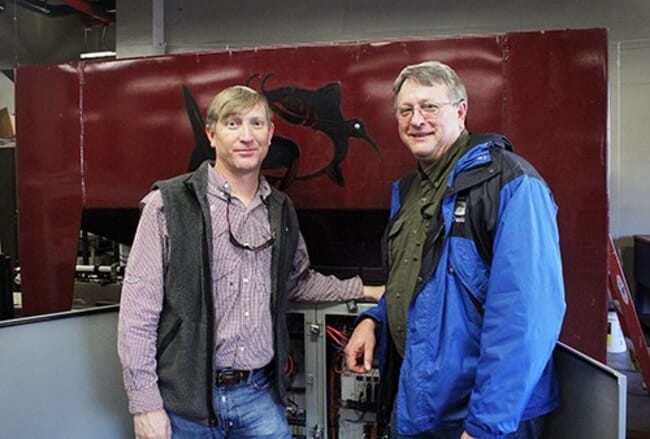 Prior to the development of an effective vaccination programme, treatment options were limited to administering medicated feed or restricting feed. According to Wise, both can be effective but are associated with inherent limitations. Medicated feed is expensive and only effective during the infection stages, as fish do not eat once clinical signs of disease are present. Feed restriction is effective in slowing the infection's proliferation and increasing survival, but slows growth and increases the time required to produce a market-sized fish.
Most problematic in the fingerling stage of production, the disease also limits food fish production due to the development of chronic infections, overall poor fish health and limited size of fish used to stock grow-out ponds.
This is not the first vaccine to treat ESC, but has been the most effective, explained Wise, who attributes part of its success to the delivery method and timing.
"Previously, vaccines were administered to newly hatched fish or 'fry' around seven days of age via bath immersion during transfer from the hatchery to nursery ponds. While this was the most economical and least labor intensive method available, the vaccines were given to fish that did not have a fully developed immune system. This severely limited the effectiveness of previous attempts at vaccinating catfish in a commercial environment," he said.

Wise said the key innovation in the vaccination process is the combination of an effective vaccine with a mechanism that applies vaccine to feed at the point of delivery. The delivery system, developed by the MSU Department of Agricultural and Biological Engineering, applies a metered dosage to pelleted fingerling food, allowing for precise vaccine delivery, which is essential for commercial application.
"Catfish must be around 35-45 days old to readily accept a commercial diet which serves as the vaccine carrier. An oral delivery route allows the in-pond vaccination of fingerlings with fully developed immune systems," Wise said.
Last year, DelTaq, led by aquaculture veterinarian Hugh Mitchell, began commercially administering the vaccine. He said it's rare that something with such a potential impact is delivered to an industry.
"The rigorous research that has gone into this vaccine is unprecedented in my experience of working with fish vaccines for almost 30 years," said Mitchell, who pointed out the delivery method could be used in the future to administer other vaccines that guard against different diseases. "The application technology is revolutionary. It may be a gateway for the development of other vaccines because it provides a practical and effective mechanism to orally apply vaccines in food fish production."