Olam's New Feed Mill to Give West African Aquaculture a Big Boost
NIGERIA - Although aquaculture is a popular enterprise providing employment for many thousands of West Africans, a number of factors have limited its growth. These include the lack of the requisite technical skills among entrepreneurs, and the lack of access to capital. But by far the most important factor is the unavailability of good quality, moderately priced feed, writes Francis Ekow de Heer, for TheFishSite.
Most small scale fish farmers use self compounded feed based on agricultural by-products, to save money. These include palm kernel cake, groundnut cake, millet or corn bran, wheat bran and soya bean meal. The larger fish farms use commercial, mostly imported extruded fish.
Out of a total national fish demand of 2.7 million metric tonnes, Nigeria produces some 800,000 metric tonnes. The nation therefore spends 125 billion Naira annually on fish imports. Nigeria's per capita fish consumption is 11kg, some distance away from the global average of 21kg.
Aquaculture is believed to have better potential for bridging the supply gap. Oil spillages and piracy in the Delta Region, where most fishing vessels do business, are among the factors that have drastically reduced the viability of river and sea fishing.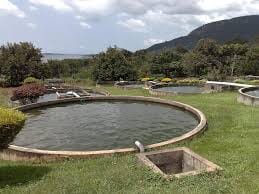 The Nigerian economy is facing challenges which have affected the fishing and other industries. The 45 per cent fall in the world price of crude oil, the nation's major export revenue source, has necessitated the devaluation of the naira, and severe cuts in foreign exchange spending.
Declining oil revenue sources have also led to restrictions on foreign exchange access for imported goods, including fish. It is reliably learnt, for example, that by the end of the first quarter of this year, permits had been issued for only 520,000 tonnes of fish this year.
In March this year, the Association of Indigenous Seafood Stakeholders of Nigeria raised the alarm that a fish scarcity could occur in the near future.
Ghana's annual total consumption is over 1 million metric tonnes, half of which is sourced locally. The government spends $400 million on fish imports per year, and it is keen to promote aquaculture in order to cut this huge bill.
Ghana is currently implementing an IMF loan package which has involved major spending cuts. The national currency has lost about 40 per cent of its value during the last year. Under the $85 million Aquaculture Development Plan launched in 2013, Ghana hopes to hit an annual target of 130,000 metric tonnes by 2018.
Experts believe that the availability of good quality feed by the majority of fish farmers is crucial to the achievement of this target. Israeli-based Raanan Ltd produces 20,000 metric tonnes per year, part of which is exported within the sub-region.
The Ivory Coast's national fish consumption is 300,000 metric tonnes, 67 per cent of which is imported. The SEDP, a private company, is spearheading the establishment of a national aquaculture network to maximize domestic fish production, to improve per capita fish consumption from the present 13.5kg, and reduce expenditure on imports.
And although Senegal is a major seafood exporter, earning over $240 million dollars from the export of non-fillet frozen fish, there is considerable concern about overexploitation, leading for example to the virtual non-availability of the once abundant grouper fish. The National Aquaculture Agency (ANA) has set modest targets of 30,000 metric tonnes by 2018, and 50,000 metric tonnes by 2023.
However, soon fish farmers in West Africa will be able to enjoy regular supply of moderately priced feed thanks to Olam's International's $150 million integrated animal feed mill, breeding farms and hatchery project that is expected to start operations next year.
At full capacity, it will produce 600,000 metric tonnes of poultry and feed mill, making it by far the largest feed producer of feed in the West African sub-region.
Olam's massive production target seems to be a realistic assessment of the capacity and requirements of the Nigeria and West African market. Interestingly, Olam will be using wheat bran, a by-product from its flour mills in Ghana and Nigeria, as raw material in the fish feed plants.
A major reason for the low output figures for fish and poultry farming in West Africa is the fact that the main diet ingredient, maize, is also the main staple diet of humans and therefore very expensive. Indeed, maize is also a raw material in the pharmaceutical and brewery industries. There are expectations that Olam, a major player in the African and international commodities, will be able to deploy West Africa's massive agro waste resources products in feed production.