In "The Case Against Octopus Farming," published in the latest Issues in Science and Technology, Professors Jennifer Jacquet, Becca Franks and Peter Godfrey-Smith and Dr Walter Sánchez-Suárez, argue that "octopuses are particularly ill-suited to a life in captivity and mass-production, for reasons both ethical and ecological".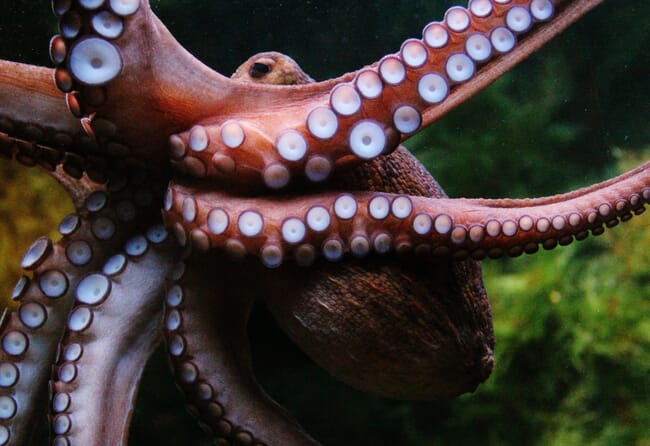 The authors state that: "Farming octopus is counterproductive from a perspective of environmental sustainability [as they need to be fed diets containing fishmeal] and misguided from a perspective of humane food production."
They point out that about landings of wild octopus amount to about 350,000 tonnes a year and that "overfishing of octopus combined with growing demand is driving octopus prices up". As a result the incentive to farm the cephalopods is increasing, and so are the investments going into the sector.
"Given the growing gourmet markets and rising octopus prices, some people have turned to the idea of aquaculture as a way to make money and to smooth out the inevitable variability in the supply of wild-caught animals. Octopuses grow fast and have short life spans (typically just one to two years), features that make them potentially appealing for farming," they observe.
As a result, they point out, a number of governments, universities, and private companies have recently invested major resources in farming octopus, with Spain leading the way on common octopus farming – in land-based tanks, open-ocean net pens, and ranches where wild-caught octopuses are raised in captivity.
Other initiatives they point to include one in Portugal and Greece, where Nireus Aquaculture has funded octopus farming research; one on the Yucatan Peninsula of Mexico involving Octopus maya; the experimental farming of up to eight different species of octopus in China; and Nissui's success in hatching octopus eggs in captivity in Japan – where they predict "a fully farmed market-ready octopus by 2020".
"Such efforts are occurring despite the fact that octopus farming has the same environmental consequences as other types of carnivorous aquaculture. And, like other carnivorous aquaculture, octopus farming would increase, not alleviate, pressure on wild aquatic animals," they argue.
Ethical concerns
The authors of the study also point to the ethical concerns of farming animals, like octopuses that "exhibit cognitive and behavioral complexity, and they appear capable of experiencing pain and suffering".

And they argue that octopuses are incompatible with contemporary factory farming techniques.
"Aquaculture depends on tightly controlled and monotonous environments, with constant ambient conditions, simplified and sterile enclosures, and rigid feeding schedules, aimed at supporting high stocking densities. Many octopus species appear to be largely asocial and show little tolerance of other individuals of the same species. Farming such species that, in addition, are carnivorous will almost inevitably require that individuals be kept isolated in small containers, with no scope for environmental enrichment and very poor overall well-being," they warn.

With industrial octopus farming on the brink of a breakthrough, the authors urge investors in the sector to pull out.
"It is our hope that if such an option does become practical, society will recognize the serious welfare and environmental problems associated with such projects and octopus farming will be discouraged or prevented. Better still would be for governments, private companies, and academic institutions to stop investing in octopus farming now and to instead focus their efforts on achieving a truly sustainable and compassionate future for food production," they conclude.